The best gaming mouse might make the difference between winning and losing. Whether you're playing solo or multiplayer, a cheap gaming mouse will not cut it. A decent gaming mouse will not necessarily make you more skilled, but it will help improve your abilities.
To help you choose, we've listed the 10 best gaming mouse out there. We also added tips on selecting the best gaming mouse that suits your style and the games you play. Let's start!
What Makes the Best Gaming Mouse Great?

What makes a gaming mouse different from a normal one? Although they both allow you to move a cursor, scroll, and click, a gaming mouse has more functionalities. If you're not sure which mouse to acquire, here are some pointers you can go over:
1. Resolution
Video: How High DPI Mouse Affect Your Gaming Experience
A mouse's resolution or DPI (dots per inch) determines how fast and correctly the pointer moves. It is essentially a measurement of how sensitive your gaming mouse is. The resolution also pertains to how well the mouse renders to the screen's cursor movement.
A higher DPI means the gaming mouse is more sensitive. Even the tiniest movement results in a lot of movement on the screen. On the other hand, a lower DPI means mouse movements are less likely to be registered.
But some of the greatest gaming mice on the market today are equipped with adjustable DPI. You can alternate between fast-moving low DPI for insane moves and slow-moving high DPI for accuracy and control.
2. Sensors
One of the most significant aspects of a gaming mouse is its sensor. It allows the mouse to work and is in charge of tracking motion across varied surfaces. There are two major categories to consider: laser and optical.
An optical mouse sensor uses an LED to light the surface where the gaming mouse is traveling on. The light is reflected off the surface and relayed to the mouse's sensor. However, some clear or reflecting surfaces may not be ideal for an optical sensor mouse.
A laser mouse sensor has a tiny infrared laser that surveys the surface multiple times per second. It is more accurate and can function on a variety of surfaces.
3. Ergonomics
The ergonomics of a gaming mouse are also critical. You'll be using it for several hours, so make sure it's comfortable and has a decent grip. There are three types of grip:
Palm Grip – your palm is on the back of the mouse, with your fingers on top.
Claw Grip – your wrist is on the mouse mat, but your palm doesn't touch the mouse. The fingers grip the mouse's edges and buttons.
Fingertip Grip – your wrist and palm are above the mouse and mouse mat. You grip the mouse at its edges and buttons using your fingertips.
Because grip type is typically related to hand size, knowing yours will help you know what gaming suits you best.
4. Customization
Top-tier gaming mice will sometimes include detachable weights that allow you to customize their weight. On some versions, you may even adjust the center of balance.
Other gaming mice have extra buttons that you may program with macro commands. A decent gaming mouse will offer adjustable settings to improve performance.
5. Build
A gaming mouse should be made of non-stick material that can withstand sweaty, greasy palms. Also, it should have a high build quality while remaining lightweight. Most gamers prefer lighter mice that are ideally under 100 grams.
2022 Best Gaming Mouse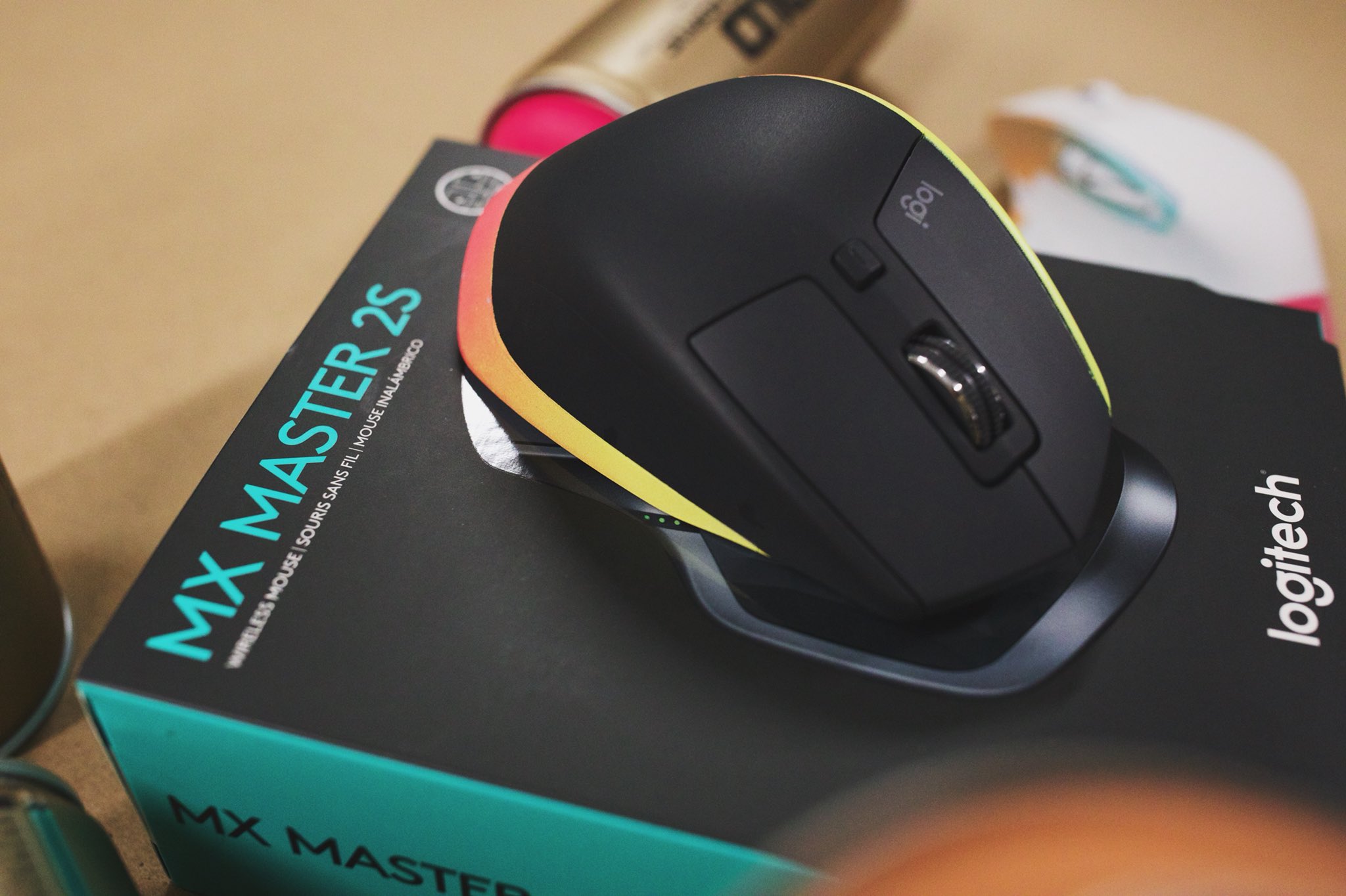 The Mx Master 2S WL Mouse is a cutting-edge wireless mouse that combines unrivaled precision and advanced features to enhance your productivity. With its ergonomic design and customizable buttons, this mouse is designed to fit comfortably in your hands and adapt to your needs.
Featuring advanced wireless technology, the Mx Master 2S allows you to connect seamlessly with your computer without any lag or interruption. The high-precision sensor provides accurate tracking on any surface, even glass. This gaming mouse has a rechargeable battery that lets you play wirelessly for up to 70 days on a single charge.
Pros
Ergonomic design

High precision tracking

Multi-device control
Cons
Right-handed orientation

Limited gaming capabilities
Image: https://twitter.com/TechyPreacher/status/1570297041414389760/photo/
Video: Logitech G502 Lightspeed Review
This one's very unique. The Logitech G502 Lightspeed is the best gaming mouse as you can use it wired or wirelessly. It's the best of both worlds. Not only that, but it's really well-made and comfortable. The configured CPI is stable whether you move the mouse fast or slow. Plus, its sensor has an exceptionally wide CPI range.
The gaming mouse also has amazing click latency, creating fluid and quick cursor motions. Plus, due to its design and thumb rest, the gaming mouse is highly suitable for a palm grip. Smaller hands, on the other hand, could find it difficult to use it with any grip style because of its huge bulk.
Additionally, although you can adjust its bulk with the weights included, it is still quite heavy without them. And it's not an MMO gaming mouse because of its size and the lack of buttons.
Pros
Has wireless charging

Has wired and wireless options
Cons
Expensive

Not fit for small hands

Heavy

Not suitable for MMO games
The Glorious Model O is one of the best gaming mouse that's new to the PC gaming business. Nevertheless, its creators have already succeeded in capturing the trend for an ultra-light gaming mouse. The lightweight mouse is only 68 grams due to its honeycomb construction. But it still feels well-made and comfortable in hand.
It's also one of the few ambidextrous mice on the market right now. It has six buttons, including two on the side, and is easily programmable through the companion software. Additionally, its sensor's performance is quite precise and reliable, and the gaming mouse has a broad CPI range.
Pros
Lightweight

Ambidextrous design

Low click latency

Programmable buttons
Cons
Not great for people with small hands
Image:https://twitter.com/rockpapershot/status/photo/1 
Video: Razer Naga Trinity: Overview
Thanks to its interchangeable side panel design, the Razer Naga Trinity is a fantastic, versatile mouse. Whether you prefer FPS or MMO games, you can choose from the three side panels that work well for you. Also, this wired mouse has very little latency, which is fantastic.
Additionally, the gaming mouse works with Razer Synapse 3. This Razer Synapse software enables great customization. However, it won't be ideal for traveling or if you have smaller hands because it is somewhat bulky. The Razer Naga Trinity, however, is extremely well-built and perfect for gamers that like a wider and taller body.
Pros
It has three different side panels

Programmable buttons

Great design

It is well-built
Cons
The buttons are a bit difficult to get used to

Stiff cable

Not travel-friendly

Not suitable for small hands
If you want a simplistic gaming mouse with a honeycomb body, the HyperX Pulsefire Haste is the one. It is one of the best gaming mice out there. The mouse is sturdy, well-made, and features a comfortable design that works with any grip style and most hand sizes. But if you want a better grip, it also comes with additional grip tape.
It has feet that make moving around it easy. Additionally, it has a decent click latency and a wide, consistent CPI range, but you can't tweak it precisely.
Although it doesn't offer as many customizable inputs, it should still be sufficient for most gamers. Even if the program doesn't support macOS, at least you may save your preferred profile to the onboard memory.
Pros
Lightweight mouse

Has onboard memory

Additional grip tape included
Cons
Not very customizable

macOS is not supported
Video: Corsair Dark Core RGb Pro SE Review
The Corsair DARK CORE RGB PRO is one of the best wireless gaming mouse. It has a superb sensor with a maximum CPI of 18,000 and allows you to change the CPI. Additionally, it boasts a maximum polling rate of 2000Hz and a remarkably low click latency.
Unfortunately, it's not the best for ultra-light gaming because it's heavy and doesn't enable weight optimization. However, it is one of the best gaming mouse is very cozy and made for right-handed folks utilizing a palm grip.
Pros
Customizable RGB lighting

18,000 max CPI

2000Hz polling rate

Low click latency
Cons
Grip is a bit slippery

It is heavy
The ASUS ROG Gladius III is the best wireless gaming mouse due to its hot-swappable switches. It is rather lightweight and built of matte black plastic. Most hand sizes can use it, but small hands could find it difficult to reach the forward side button. It has Bluetooth connectivity and can be paired with up to three devices.
It performs well in terms of click latency, relatively short lift-off distance, wide CPI range, and ability to change CPI. However, the sensor on this gaming mouse can sometimes be faulty. But you can adjust for this by increasing your chosen CPI slightly.
Pros
Low click latency

Somewhat lightweight

Adjustable CPI
Cons
Heavy

The sensors are sometimes inaccurate
Image: https://twitter.com/msigaming/status/1527997639274291200/photo/1 
Video: Mouse Review: MSI Clutch GM41
This remarkable ultra-light gaming mouse from MSI is called the CLUTCH GM41. Lightweight, rather well-built, and ambidextrous, it can be used by all hand sizes. It performs well in terms of click latency and minimum lift-off distance and has RGB lighting. Plus, you can change the CPI in increments of 100.
Additionally, it boasts a high-quality, braided charging cord and feet that glide smoothly. But take note that the cable is really rigid.
Pros
Wireless charging

Very comfortable

Lightweight
Cons
Stiff cable

Limited RGB customization
Video: Redragon M686 Vampire Elite Review
Redragon may be new in the PC gaming equipment industry, but it's growing to be one of the best. The company has launched its version of a wireless gaming mouse that rivals the Razer Basilisk V3. Its Redragon M686 Vampire Elite has 8 programmable buttons, including macros, and quick USB-C charging.
Additionally, it has an ergonomic design with grooves where right-handed users can rest their ring and pinky fingers. Many gaming mice fail to think about those digits, which causes them to drag on the mouse pad.
The M686's chassis is smooth and almost gel-like, and its side grips are soft rubber. Even with the left and right click buttons, it can be a great gaming mouse but lacks resistance. The scroll wheel is tactile and has a small wobble, but it still moves quite smoothly.
Pros
Grooves for ring and pinky fingers

It has programmable buttons
Cons
The scroll wheel is a bit wobbly

The battery reading is sometimes wrong
Image: https://twitter.com/CORSAIR/status/1251295387492642816/photo/1 
Video: Corsair Scimitar RGB ELITE Review & Unboxing
The SCIMITAR RGB ELITE feels very well-built and features a 12-button side panel that you can adjust. But take note of the buttons' size, which is fairly small. The wired gaming mouse has Windows and macOS customization software, a short lift-off distance, and excellent click latency.
It works best with a claw grip for all hand sizes. Unfortunately, it lacks L/R tilt buttons on the mouse wheel and has a relatively stiff cable.
Pros
Compatible with Windows and macOS

Amazing click latency

Well-built
Cons
Tiny thumb buttons

Rigid cable

Bit bulky

No L/R buttons
Wireless Vs. Wired Gaming Mouse
Video: Wireless vs. Wired Gaming Mice
The gaming mouse industry has perfected the tiny device down to its screws. However, one question still plagues the eSport and gaming community: Is wireless better than a wired gaming mouse?
Let's go over and compare the major differences between the two to see which suits you better.
Wired Gaming Mouse
Wired mouse are still more popular to some since they are more dependable and practical. Because they are plug-and-play, wired ones are straightforward to use. Plus, it's always less expensive than a wireless mouse.
However, its cable is its biggest disadvantage. Cable drag can make it difficult to use the mouse. On top of that, unnecessary friction might slow down your response time during games. Additionally, the cable is the weakest link of a wired mouse as it can be easily broken.
Pros
Cons
Uncomfortable due to the cable dragging

Cable is prone to damage and breaking

Has limited range
Wireless Gaming Mouse
Wireless gaming mice provide superior comfort than wired ones. They give more mobility that translates into better tracking and quicker movements when playing. Plus, a modern wireless mouse has a longer range and is a better alternative if you're frequently on the road.
On the other hand, all wireless mouse have batteries that eventually die out. And these batteries can add to the weight of the mouse. Additionally, wireless gaming mouse are always more costly than their cabled counterparts. But given the improved technology, the greater cost is unavoidable.
Lastly, another drawback is signal interference. When there are other devices nearby, they might cause certain wireless mouse to lose contact with your PC.
Pros
Very comfortable

Longer range

Highly durable
Cons
Runs on battery

Expensive

Heavier due to the battery

Sometimes have signal problems
Conclusion
It's challenging to pick which is the best gaming mouse. But when you require quick, precise clicks, the options above will meet your needs. You need a mouse that matches your gaming style, whether you're playing fast-paced FPS games or MMOs.
The Redragon M686 Vampire Elite makes you last longer due to its ergonomic design. But if you need a great mouse, the Logitech G502 Lightspeed and Razer Basilisk V3 are the two best options.
Of course, if you have a great gaming mouse, your keyboard should also be top-notch. Check out our selections here.
What do you think of the gaming mouses we reviewed in this article? Do you think they will up your game? Let us know in the comments below!
---