Choosing the right hardware is paramount to success in live streaming. Getting the top streaming cameras for PC gaming is a requirement if you want to stream professionally. Certainly, it is essential to get your channel off the ground and keep it growing.
However, there are things to consider when buying a camera, such as a frame rate, resolution, price point, and overall quality. This guide narrowed it down to the 10 best streaming cameras for Twitch or YouTube Live. Read on to learn more!
Selecting the Best Camera for Live Streaming
1. AC Charging
The biggest benefit is convenience — you don't have to worry about running out of power. If you have difficulty finding power outlets, you can still use your camera with an AC charger. It's important to have a reliable camera that can be charged quickly. Basically, the faster you can charge it, the less downtime there may be when uploading to the stream.
2. HDMI Output
Capturing the signal from an HDMI on a camera is necessary for live streaming. Having a "clean" signal means being free of any UI elements visible on display. Generally, these elements may include aperture, battery life, exposure setting, and recording signal. Clean video feeds are essential for making an impression on your viewers and creating connections with them.
3. USB-C Connectivity
You may have heard about USB C and USB 3.0. This type of connector allows for faster data transfer speeds and power delivery. It's also reversible so that you can plug in the USB C cable either way, and it still works. Additionally, if you have a laptop or smartphone that uses USB C, you may consider a streaming camera that supports it since it's becoming more common.
4. Image Stabilization
The top streaming cameras for PC gaming can reduce the effects of camera shake. Image stabilization helps capture clear images well in low light than you would normally need. If you don't want motion blur in your shot during streaming and video calls, try choosing the best webcam for streamers. Your stream may look smooth without waiting for the frame rate to catch up.
5. Frame Rate and Video Resolution
While the best webcams offer at least 1080p resolution, don't go for anything that cannot produce at least a 720p resolution. The higher the resolution, the sharper the image may appear. Have a quality webcam capable of Full HD 1080p at 30 fps or 720p at 60 fps for streaming. Video quality is elevated when it has a good frame rate and resolution.
6. Type of Live Streaming
Live streaming allows you to engage with your audience in real-time and share your experiences. The top streaming cameras for PC make video conferencing and live streaming easy. Additionally, you will have a better time streaming if you have a comfortable chair to work with.
If you enjoy capturing photos and movies, buy a camera. Streaming on Twitch or YouTube Live is similar in many ways. But there are differences to consider before you decide which suits you great.
Twitch
Twitch is a live broadcasting network where gamers may watch others play. This platform streams at up to 60 fps. Streamers can interact with their watchers while they play games or talk to their followers during their stream. However, some streamers do not play games but instead talk about them.
Youtube
YouTube Live is a streaming service from Google that allows users to watch live streams of content creators. This platform streams at 720p or 1080p HD resolution. It is more of a general live-streaming app for all types of content. Generally, you can stream music performances, sports events, vlogs, and more.
10 Best Cameras for Streaming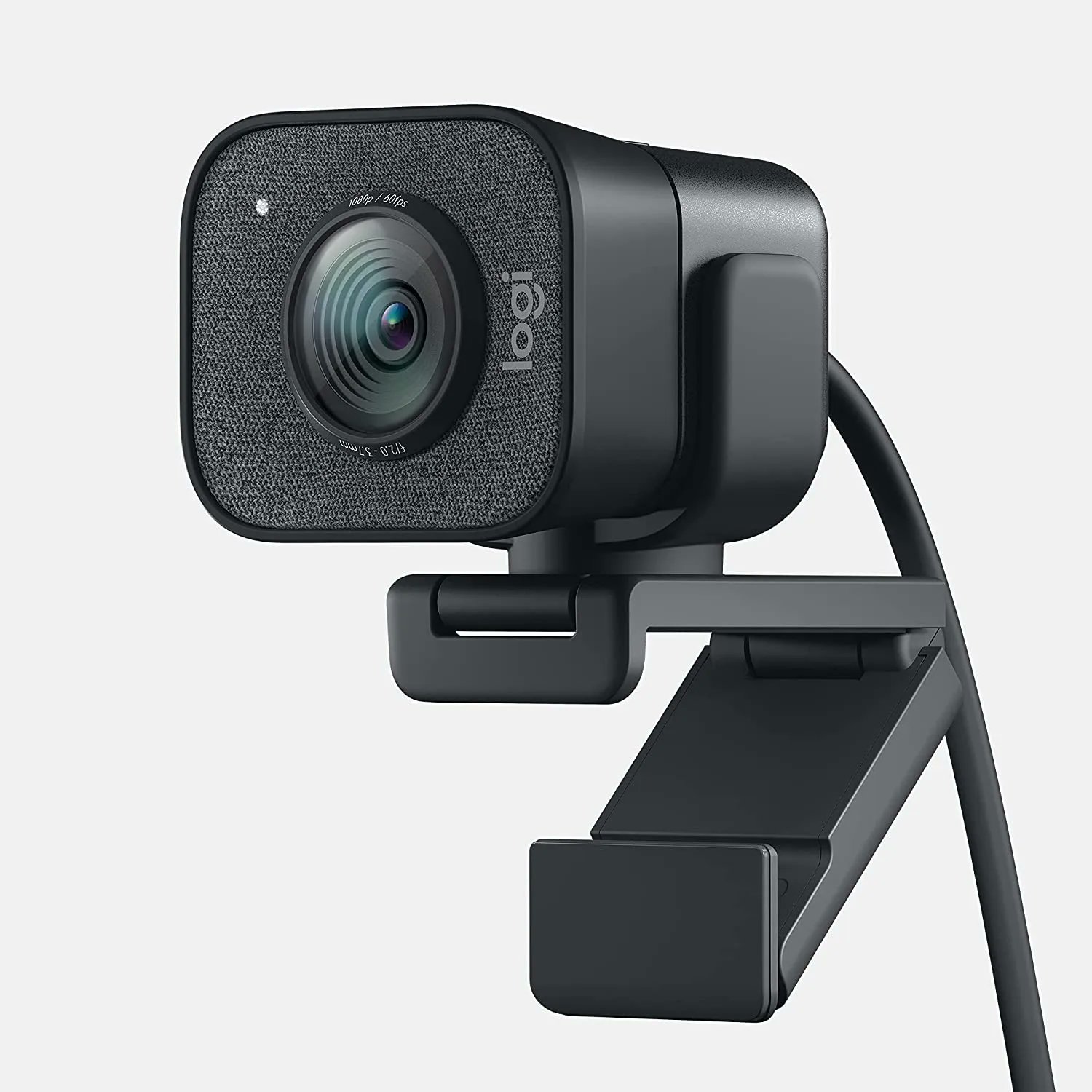 The Logitech for Creators Streamcam Premium Webcam is the ultimate tool for creators who want to produce high-quality videos. With its advanced features and cutting-edge technology, this webcam delivers exceptional performance and stunning results. 
Featuring Full HD 1080p resolution at 60 fps, the Logitech for Creators Streamcam captures every detail with outstanding clarity. Another outstanding feature is its versatile mounting options. It comes with a monitor mount and a tripod mount, giving you the flexibility to position it wherever you need. Compatible with popular video editing and streaming software, it is easy to integrate into your existing workflow. 
Pros
Many recording options

High-quality video

Handy design
Cons
The Logitech C920 HD Pro is the best webcam you can get for streaming and recording. It has a Full HD 1080p camera at 30 frames per second, backed up by Logitech Fluid Crystal Technology. Plus, it supports H.264 video compression, so you can send large files quickly without compromising quality.
The Logitech C920 comes with a 78-degree field of view that is compatible with Logitech's Webcam Software for Windows. This 3.7-inch webcam has a 5-megapixel camera with image quality, sharpness, and color reproduction. It uses cutting-edge background removal technology to replace your desktop with a solid color during video calls.
The camera has autofocus, face tracking, and automatic light correction. To make your videoconferencing entertaining, its software includes a variety of backgrounds and avatars. It is an excellent replacement for your laptop's built-in webcam. However, if you want a superior audio experience, the Logitech Brio or Logitech C922 is a better option.
If you're looking for a great camera with a wide field of view for streaming, Logitech C920 is one of the best webcams out there.
Pros
Its field of view is expansive

There is a 6-foot USB cord included

Excellent video quality is present
Cons
The software is flawed

Its camera cannot be turned
Designed to elevate your video streaming experience, the Logi Streamcam Plus is the supreme high-definition streaming webcam. With its advanced features and exceptional video quality, this webcam allows you to capture and share content effortlessly. It works seamlessly with popular video conferencing platforms, streaming software, and operating systems.
The Logi Streamcam Plus ensures crystal-clear video quality for your live streams and video recordings with state-of-the-art 1080p resolution at 60fps. Equipped with advanced autofocus technology, the Logi Streamcam Plus keeps you in focus all the time. This webcam's intelligent exposure adjustment ensures optimal lighting, making sure you always look your best on camera. 
Pros
P

rovides a smooth video

It can be rotated for vertical video

The package comes with a screen and tripod mounts
Cons
Quite

 expensive

It lacks a privacy shutter
Video: The Best Camera for Streaming in 2022
The Canon EOS M50 Mark II is an added caliber to Canon's mirrorless camera lineup. It is a mid-range mirrorless camera with DIGIC 8 Image Processor. Its video capture resolution boasts 2160p and HD 120p for slow motion. As a sleek camera with Wi-Fi connectivity, it boasts a fun and user-friendly mode.
The Canon EOS M50 Mark II features a brand new 24.1 megapixels APSC sensor, which is an improvement over its predecessor. Additionally, the new sensor has dual pixel AF with ISO 100-25600 for faster and more accurate focusing in live view, video recording, and movie mode. It also enables 4K UHD video recording up to 30 fps.
The new camera's 45-point AF system is among its most intriguing features. This feature can make it easier for users to get excellent picture quality while shooting stills and videos. You can achieve different focal lengths from wide angles to telephoto range lenses. Thanks to its zoom lens type, it offers 5-Axis Image Stabilization.
The Canon EOS M50 Mark II is one of the best webcams if you want to stream your moments in spectacular 4K video resolution.
Pros
24 MP APS-C imaging

10 fps bursts and wide focal coverage

Supports Wi-Fi, Bluetooth, and webcams
Cons
S

hort battery life

Lacks USB charging support
Image source: https://twitter.com/RobeytechDeals/status/1453850439494119430?s=20&t=E1vmItEGWmxRhK7EdSf99w
The Razer Kiyo Pro Webcam is a compact, portable webcam with a built-in mic that makes it easy to stream and share your content. It is an HD 1080p webcam for streaming quality content. The camera's wide-angle lens captures more of your surroundings.
This HD webcam is simple to set up and use right out of the box. Plug in the USB cable, connect to your computer or mobile device via Bluetooth or Wi-Fi and start streaming immediately. You can adjust settings such as brightness and contrast using the Razer Synapse software. Enabling HDR at 60 frames per second may give your video a full spectrum.
Compared to 4K cameras, the Razer Kiyo Pro's light sensor performs better in most cases. Thanks to its adaptive light sensor, it can record in 4K and has an automatic low light correction. Additionally, it has a USB 3.0 connection that transmits a strong signal for the best video quality. 
If you're a streamer looking for the top streaming cameras for PC that offers versatility, the Razer Kiyo Pro webcam is perfect!
Pros
Good s

pecifications and image sensor

Full HD 1080p 60fps webcam

Has a good degree of field of view
Cons
It costs a lot

The low light performance can make its color tricky
Image source: https://twitter.com/WalkUnnaa/status/1593589477548691457?s=20&t=E1vmItEGWmxRhK7EdSf99w
The Sony a7 III ILCE7M3 is a mirrorless camera, part of the Sony Alpha series. It features a 24.2-megapixel full-frame sensor and a BIONZ X image processor. Also, its sensor has an expanded sensitivity range of up to ISO 204,800. Its processor enables fast continuous shooting at up to 10 fps with autofocus or 11 fps with fixed focus.
And when recording, it can capture footage at up to 4k resolution at 30 fps or 1080p resolution at 60 fps in XAVC S format. It also supports 24p and 60 fps for viewing on an external device. Since it is an interchangeable lens camera, it has a large optical viewfinder, 1/8000th second shutter speed, and 693 AF points.
It also has 5-axis steady shot stabilization for up to 5 stops of anti-shake correction. This camera can capture 4K UHD (3840 x 2160) at 24 fps or Full HD 1080p at up to 120 fps for slow motion. The camera has Bluetooth for wireless sharing and remote control via a smartphone or tablet. Its E-mount lens mount allows you to use multiple lenses from almost any manufacturer.
If you want an entry-level full-frame camera with advanced features, the Sony a7 III ILCE7M3 should be among your list of the top streaming cameras for PC gaming.
Pros
A 4k HDR video is present

Its battery lasts a very long time

A significant feature is its 693-point AF system
Cons
There is only one UHS-II card slot

Its touchscreen controls are limited

Features a complex menu structure
Image source: https://twitter.com/BLV_Aozakura/status/1594623391193235456?s=20&t=E1vmItEGWmxRhK7EdSf99w
The Elgato Facecam is a great HD webcam that's easy to use and includes a built-in microphone. It's compatible with Mac, PC, iOS, and Android devices. Also, it includes a professional-grade lens and a modern image sensor. The camera has an 82-degree field of view to capture the entire room or the person sitting across the table.
Elgato's software is easy to use and includes some cool features. It is among the best webcams available for indoor use. Additionally, it has top-of-the-line CMOS, Sony, and Starvis sensors. Facecam can record fine detail using these systems, with little to no noise. You can use this as your best webcam for Skype video calls or streaming live gameplay.
Though it lacks low-light performance, you can spice up your workstation with a ring light to achieve picture quality during streaming. If price is not an issue for you, a wider field of view and sharper image quality can be provided by Elgato Facecam.
Pros
A good privacy shutter is present

It includes 1080p 60 fps uncompressed video

If the lighting is right, it has good picture quality
Cons
It costs a lot

Lacks a microphone

Low-light or HDR modes are lacking
Image source: https://twitter.com/RDelinfo/status/1593561891019915264?s=20&t=E1vmItEGWmxRhK7EdSf99w
The Panasonic LUMIX G100 is a compact, lightweight camera. It can capture Full HD video, and 20.3 megapixel still images with the ability to record 4K video internally. With an ultra-high sensitivity of ISO 25600 in photo mode, the LUMIX G100 delivers white balance and clear images even in dark situations.
The Venus Engine processor can help to minimize noise for more natural color reproduction and light correction. Its high-speed autofocus system utilizes 49 points of DFD technology to track and capture moving subjects quickly and accurately. Focus remains locked on your subject as it moves around the frame, even when shooting at high shutter speeds.
Its design includes a Micro Four Thirds sensor and a 3-inch touchscreen display. The camera shoots up to 12 fps in RAW or JPEG mode with continuous AF and AE. It has a 180k-dot electronic viewfinder and built-in Wi-Fi for file sharing, remote control, and image transfer to mobile devices. Also, its redesigned grip can make it easier to hold the camera steady.
If you're searching for a device with fast focusing performance for image quality and HD videos, the Panasonic LUMIX G100 may be your best option.
Pros
A large viewfinder is a feature

It's feasible to shoot vertically

A major benefit is its audio quality
Cons
It lacks a jack for headphones

Problems with the DFD autofocus exist

It doesn't have in-body image stabilization
Video: Dell UltraSharp 4K Webcam
The Dell UltraSharp HDR 4K Webcam is designed with a wide-angle lens that captures more content than traditional webcams. Additionally, the webcam supports 1080p or 720p at 60 fps and 4K at 30 fps. It supports facial recognition software, allowing you to log in to your computer using your face.
The Dell UltraSharp also has an interface for your field of view, having 65°, 78°, and 90° options. It has clear audio and a wide field of view for even more flexibility. This camera automatically focuses on your face when you are using the webcam.
The HDR feature allows you to take clear pictures even when there is little or no light in the room. You can also adjust the exposure level manually to get clear images without any glare on your screen. This feature gives you more control over your recordings. Dell won't let you down if you seek an alternative to webcams like the Razer Kiyo Pro and Logitech C922.
If you want a high-definition, 4K webcam with a full HD for picture quality, Dell UltraSharp should be among your list of the top streaming cameras for PC gaming.
Pros
Its resolution comes with 1080p at 60 fps

The software allows for customization

There are three different FOVs on it
Cons
It is expensive

Lacks a microphone

Restricted Mac support
Image source: https://twitter.com/JayCayGames/status/1371575474212671488?s=20&t=E1vmItEGWmxRhK7EdSf99w
The NexiGo N660P is equipped with a high-quality, ultra-sensitive CMOS sensor with a 1920 x 1080 pixels resolution and 60 frames per second. With this high-performance sensor, the camera can capture clear images even in poor lighting conditions. Also, it comes with noise-canceling microphones that can pick up sounds from all directions.
The lens of NexiGo N660P allows you to get close-up shots from a distance. The camera also supports an autofocus function that adjusts the focus according to different environments. It has rich shooting modes such as single photo-taking, time-lapse, and video recording. Plug it in because its 6.5-foot USB cord is sufficient for any work.
The NexiGo is simple to set up and compatible with Windows, Mac, and Chrome OS desktop computers. If you are not searching for a wider view, this can be your best webcam for the price. Because of its incredible lighting, you won't need another ring light to live stream in a dark environment.
If you are looking for the top streaming cameras for PC that is half the price of a comparable Logitech, try the NexiGo N660P.
Pros
It supports plug-and-play USB 2.0

A privacy shutter is on its streaming webcam

It has microphones with built-in noise cancellation
Cons
The fixed

 focus must be improved

Color accuracy is not consistent
Which is Better for Streaming: Webcam or DSLR?
If you're just starting to stream, you might be wondering which camera is the best one to use. The truth is that there's no one-size-fits-all answer — it depends on what kind of content you're creating. Check the differences between the two below.
Source: https://inevent.com/blog/tech-and-trends/dslr-vs-webcam.html#:~:text=Go%20with%20a%20webcam%20if,install%2C%20use%2C%20and%20inexpensive.
Conclusion
Choosing a streaming camera is not that difficult; you can stream with any standard webcam. However, you need the top streaming cameras for PC gaming to create higher-quality content.
The Canon EOS M50 Mark II is a mirrorless camera with a reliable image processor, while the Logitech Brio 4K webcam has an impressive video resolution.
Additionally, you can boost your stream quality and attract more viewers with a quality microphone. So, check out our catalog of microphones on our website.
This article provides additional knowledge to help you be more informed about choosing the best camera. Whatever you choose, the list of products here won't disappoint you. Also, please comment and share your thoughts on these webcams; what do you think is best?
---