Are you tired of picking accessories that don't go well with your gaming setup? The best gaming accessories may help you enjoy your favorite games better.
However, finding these gamers' arsenal can be challenging, especially with the many options available in the market.
This guide can help you pick the perfect gaming accessories to boost your battlestation. Read on to learn more!
Considerations for Buying Gaming Accessories
1. Ease of Use
Gaming accessories must help you improve your skills by making the game fun. This includes everything from how simple it is to set up and how intuitive its interface is.
If you buy a controller which is hard to use, then it might not be as effective as anticipated. The last thing you need is a controller that makes it hard for you to move around quickly.
Reading other online reviews is the most effective way to determine if a product is simple.
2. Features
Check whether the product can make it more customizable than others on the market at the moment.
A gaming mouse has features like adjustable DPI, ergonomic design, and customizable buttons for extra control during gameplay.
Microphones are another story because they often require their own software drivers. It would be best to research related info to get the most bang for your buck.
3. Compatibility
The perfect gaming accessories can make a huge difference in your sessions. They won't be useful if they aren't compatible with your computer or console.
Gaming controllers, screens, keyboards, and mice can all be purchased separately. But you need to make sure that they are compatible with your system.
Others have wireless capability, while some devices require cables or wires for connection. Check whether a game or product is compatible before shopping.
4. Customer Service
Another important factor that must be considered when buying gaming accessories is customer service. This includes support and warranty terms when buying from online stores.
You need to contact customer support if something goes wrong with your product from the store after delivery.
Check whether there are hidden charges, such as shipping fees or taxes, before making a purchase. These could increase your final cost significantly beyond what you expected.
5. Price
The price shows how much effort was put into making each product unique and special in its way. Some accessories can help improve performance but only up to a certain extent.
Even if certain things may be more expensive, this does not necessarily imply that they are of higher quality.
If you are a serious gamer, get products that fit your budget and needs without compromising quality and performance.
7 Gaming Accessories for Your Battlestation
The EURPMASK Hook Holder is a simple yet incredibly useful accessory that can hang your gaming headset, controller, or any other gadget. It fits nearly all workstations thanks to its ability to clamp onto ones from 0.27" up to 1.53".
This hook holder is perfect for gamers with limited space on their desk and who want an easy way to keep their devices organized. It has a built-in cable loop for cable management. It is made from ABS plastic, is easy to set up, and can carry up to 1kg.
The holder has been made to offer universal compatibility with all devices like smartphones, tablets, laptops, and more. It also has an adjustable arm that can rotate 360 degrees for flexibility when using your device in different positions on the table or desk.
If you want a simple and cheap solution to hang your headset or earphones on the wall, EURPMASK may suit you.
Pros
It is remarkably durable

There is an integrated cord clip included

It swings out again and has non-intrusive storage
Cons
There is no lock on the swivel head

Multiple cords cannot be stored in the cord loop
The Havit Headphones Stand is a multifunctional stand that can be used as a headphone holder, cable winder, charging dock, and display shelf. It has been created to keep your headphones organized and well-protected from dust, dirt, or scratches.
Also, it has an RGB lighting system with 5 lighting modes that you may pick from to create a stylish gaming environment. The strip light may be turned on and off with a single button. When you power off or put your computer to sleep, the light returns to its initial rainbow configuration.
The USB ports on the headphone stand may transport data for the mouse, keyboard, and U disk. It has a 5V charging rate and a 3.5mm AUX integrated USB hub. However, it is suggested that you use a USB port on a computer to charge this gadget.
The Havit can be the perfect device available if you seek an RGB headset stand to create a chic gaming atmosphere.
Pros
It has stylish storage

Supports 7.1 Surround Sound

RGB Lighting Base with lighting modes
Cons
It is relatively light

To turn on the system, a PC connection is necessary

The PC does not control the RGB and other features
This Razer Gaming Mouse Bungee is a support system with a rust-resistant spring arm for your gaming mouse. The bungee provides a stable platform for your gaming mouse and prevents it from moving around when you are playing.
It is compatible with almost any mouse, and both left-handed and right-handed people can use it. Due to its drag-free cord Cable control, up to 3.2 mm, its wire management system can assist you in keeping all of the cords in their proper locations.
This mouse bungee can help you attain maximum performance by eliminating drag and keeping your mouse cord out of the way. It has a larger surface area than its predecessor, which can assist many gaming mice.
Try this second Razer gaming mouse bungee version if you want a perfect accessory for your desk.
Pros
Has a solid build quality

It makes up its non-slip base

It is useful for managing the cables of wired mice
Cons
Pulls the mouse around

It cannot be raised or lowered

Its footprint is greater than usual
The J+S Vision has been a brand in the eye care business for over 6 years. It makes some of the most popular blue light-blocking glasses for gaming setups and other devices. While it effectively reduces blue light, it can also protect your eyes from UV rays.
It boasts lenses that block out 90% of harmful blue light (400 – 430nm). In fact, it is ideal for anyone who spends much time looking at a laptop or smartphone screen. But it also includes computer monitors and television to help you avoid the risk of getting headaches or eye strain.
It has a traditional broad rectangular frame that covers a wide field of view and is appropriate for both men and women. Even after hours of gaming, these glasses won't feel heavy on your face because of their lightweight design.
If you are looking for blue light-blocking glasses to have ultimate fun sessions without worrying about damaging your eyesight, get a J+S Vision.
Pros
It is ideal for prolonged use

A one-year warranty is included

It has decent eye protection included
Cons
Only medium size is available

It is not a pair of bifocal spectacles

Un-adjustable
The Turtle Beach Recon Wired Gaming Controller is a high-quality controller designed for the Xbox One and PlayStation 4. This controller has a full set of programmable buttons and controls, making it exceptional for any game.
This controller has an analog stick design similar to an Xbox 360 controller. It includes a directional pad that makes moving around easier. This controller may work great with your system, regardless of your console.
The Recon Tech Controller has an ergonomic design with a textured grip for comfort and control. Also, the D-pad has been designed for precision, while the bumpers have been designed to provide quick trigger feedback.
It has been created to give gamers ultimate control. The programmable buttons are placed at different heights, which makes it easy for you to reach them quickly while playing. Additionally, you can modify the controller's sensitivity to suit your preferences.
If you want a high-quality design and can customize your gaming experience, feel free to shop the Turtle Beach Recon Wired Gaming Controller.
Pros
The grippy pads are quite comfortable

There are many audio fine-tuning options

Customizable rear trigger buttons
Cons
No wireless option

Complicated layout

If you're also using headphones, it becomes awkward with cables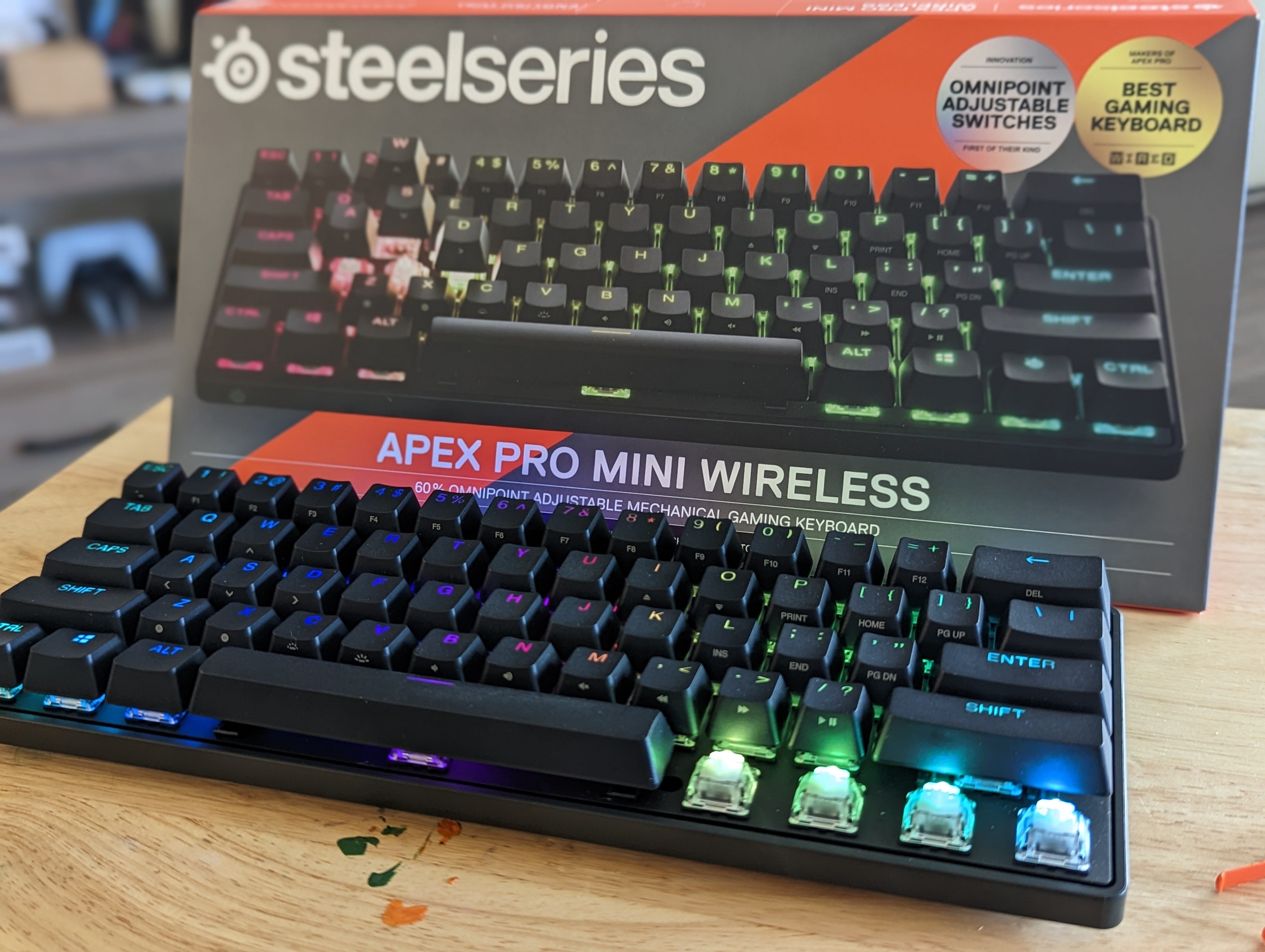 Designed to cater to the needs of passionate gamers, this compact yet powerful keyboard combines advanced features, cutting-edge technology, and exceptional build quality to deliver an unparalleled gaming experience. With its wireless connectivity, customizable features, and industry-leading mechanical switches, the Apex Pro Mini is a game-changer in gaming keyboards.
Built to last, the keyboard features a durable aluminum frame that adds stability and enhances the overall aesthetic. Your gaming setup can be customized with vibrant RGB lighting on each key. Elevate your gaming experience to new heights with the Apex Pro Mini and outperform your opponents with precision and style.
Pros
Durable and high-quality

Compatible with MacOS

RGB lighting
Cons
The Havit Large Gaming Mouse Pad is a premium gaming mouse pad with dimensions of 35.43 X 15.75 X 0.12inch. Its size is good for large gaming keyboards and big gaming monitors. Also, it offers enough space for you to use your mouse freely.
It has a super smooth surface providing great glide and accuracy for your mouse. With its fine mesh cloth cover, you may ensure the mouse moves smoothly and accurately. High-quality, long-lasting materials are used to create the mouse pad.
The 3-mm thick anti-skid rubber base successfully keeps the expanded mouse pad from slipping. Its design is simple but elegant, making it suitable for any environment. This feature makes it decent for gamers who use their mice at fast speeds.
If you value precision and control over your gaming mouse and its movements across the screen, the Havit Large Gaming Mouse Pad is your ideal solution.
Pros
The base is sturdy and non-slip

It is simple to wrap up due to its size

It has a surface with good performance
Cons
Price is expensive

It appears to draw dust

It may be challenging to keep things tidy
Benefits of Gaming Accessories
Gaming accessories are essential for any gamer. They're not just for show: they enhance your gaming life. Here are a few of the many benefits of these accessories:
Improved Performance
They can help you get an edge over other players by improving your performance. This is especially true if you use them with a gaming headset.
You can hear the audio that others can't, giving you a competitive advantage over other players. In addition, you won't miss any important details when playing your favorite games.
Better Mobility
They can also be used as mobility tools. You can move around more freely than usual. For example, wireless keyboards and mice allow you to use your computer from anywhere.
Similarly, game controllers give users more control over their characters. You can move around more easily and react quickly to your surroundings.
PC Gaming Vs. Mobile Gaming
The two different types of gaming are vastly different. It's not just that one is on your phone and the other on your PC; the modes are very different.
PC games are often more expensive than mobile games because they're more complicated to create and design. Mobile games are cheaper than their PC counterparts because they're easier to develop.
Conclusion
Gaming accessories power your gaming setup. Thanks to these accessories, you can deal with the many issues gamers frequently face.
The Razer Mouse Bungee is a superb platform for your mouse, while the EURPMASK Hook Holder is a practical accessory to hang your devices. You can visit our website to see the available accessories for your gaming setup.
Surely, the selection of gaming accessories in this guide won't disappoint if you want that extra edge to ensure you win. Kindly leave a comment below and tell us what you think about these excellent gaming accessories for your setup. Happy gaming!
---