Are you searching for high-clarity desktop speakers for a better audio experience? There is a rule when picking out PC speakers: you have to pick the best. So, if you are in the marketplace for the best computer speakers and need help making the right decision, then this guide is for you. Read on!
What to Look for When Purchasing Desktop Speakers
There are considerations you have to factor in whether you buy a hi-fi speaker, a subwoofer, or a monitor. Here are several features and performance factors you want to look out for:
1. Cost
The sound quality produced by the computer speaker is determined by its price. Choose a pair of speakers that do not strain your budget. Some have features like adjustable volume control or built-in microphone. Consider what value these extra features at an affordable price may bring to your THX (Tomlinson Holman's eXperiment) experience.
2. Control
No matter what type of speaker system you choose, you'll need to be aware of the control features available. Some speakers come with remote controls, and others don't. If they do, they may not be as easy to use as those with volume knobs or buttons. You must check exactly what type of controls these speakers offer before making your purchase decision.
3. Connectivity
Common connection options include USB, optical, and 3.5mm analog audio. USB connectivity is also ideal if you want to plug and play. Optical connectivity may be your best consideration for having multiple devices. Additionally, analog connectivity uses a  3.5mm audio jack, perfect for electronic devices like smartphones or tablets.
4. Sound Quality
The best computer speakers have balanced highs, mids, and lows. Consider a pair of speakers that provide full-range sound. Generally, the deep bass should be punchy, clean, and tight. Modern desktop computers, like powered speakers, have built-in audio chipsets that can be used with external speakers through Bluetooth and analog connectivity.
5. User-friendliness
Choosing the right speaker determines how easy it is for you to operate it. If you want to upgrade your current set, ensure they are compatible with your existing system. Consider the inclusion of 3.55mm aux, digital optical, Bluetooth, and USB inputs. Generally, the best computer speakers are usually the ones that don't require any setup at all.
6. Size and Components
If you want your computer speaker to be portable, go for smaller models with high power output and bass response. On the other hand, if you want the best sound quality, pick larger models that offer deep bass tones and high-end clarity. Consider a subwoofer that produces low-frequency sounds or a satellite that provides higher-frequency sounds.
7. Professional Features
Professional speakers are made for professional use in studios and recording rooms. On the other hand, computer-oriented speakers are designed specifically for computers and other similar devices. Some users also opt for powered speakers with Bluetooth capabilities, enabling wireless music streaming from most mobile devices.
7 Quality Desktop Speakers For Your Setup
The best desktop speakers are imperative to an amazing listening experience. Listed below are the 7 top recommendations that can make a major difference to your mood.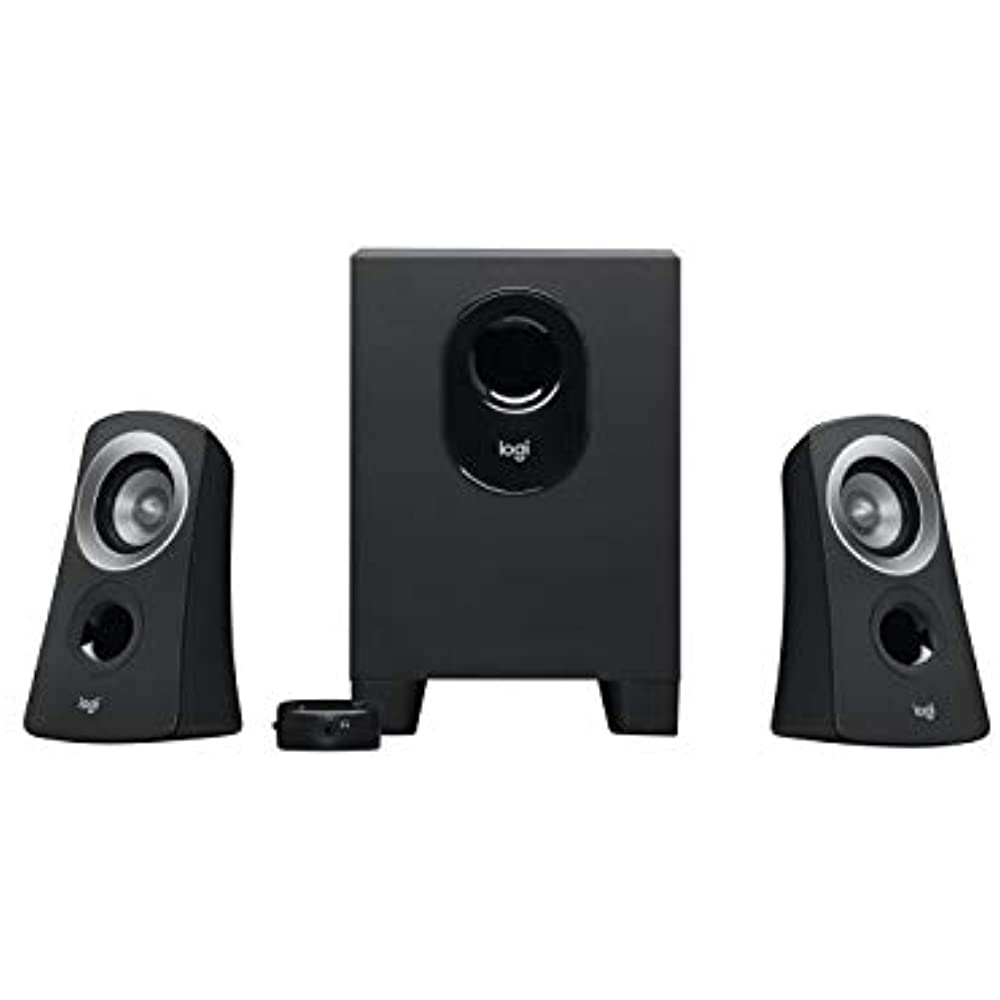 Image Source: https://twitter.com/kanadianbest/status/1474571895521611776/photo/1
The Logitech Z313 2.1 Multimedia Speaker System is designed to take your audio experience to the next level. With this powerful speaker system, you can immerse yourself in rich, high-quality sound that brings your movies, music, and games to life.
Compact and easy to set up, this speaker system is perfect for enhancing your audio experience. The down-firing subwoofer adds depth to your audio, making explosions rumble and bass lines thump.
Pros
Overall, it has good audio

It doesn't require too much space

Several connection options
Cons
It has no subwoofer

There isn't any 360-degree audio

There is no headphone output on it
Featuring its sleek and modern design, the Logitech Z407 speakers provide not only outstanding audio performance but also a touch of style to your workspace. The compact yet powerful subwoofer produces deep bass that resonates throughout the room.
With built-in Bluetooth technology, you can connect your devices wirelessly and enjoy hassle-free audio streaming. The Z407 speakers also offer wired connections, including a 3.5mm audio jack and a USB port, giving you versatile options for connecting to your computer or other devices.
Pros
Price is budget-friendly

Has a good audio performance

Its design is adaptable, and compact
Cons
Its wireless control is perplexing

The hardwired cords are a little short

At high volumes, its subwoofer can distort
The Logitech S120 2.0 stereo speakers are a compact, portable, and affordable way to upgrade your desktop, laptop, or any device's sound system. These 2.2-watt speakers have nominal output power that provides full-range sound. Additionally, consider it the right speaker for a monitor lacking built-in speakers.
Along with the Logitech stereo speakers, these computer speakers are designed to provide you with a good audio output at an affordable price. With its bandwidth 20KHz up to 50KHz, the built-in volume controls and bass control knob allow easy adjustment. They also feature an auxiliary input jack on their base for easy connection without an additional cable.
Therefore, if you value affordable computer speakers that can be used with any device with a 3.5mm jack, the Logitech S120 2.0 may suit your desk greatly.
Pros
Its price is very affordable

Comes with a headphone jack

Its compact size blends with any desktop
Cons
It lacks a USB connection

The cable lacks build quality

Audio quality needs improvement
Video: Bose Companion 2 Review
The Bose Companion 2 comes from Series III with two bookshelf speakers. These bookshelf speakers can be placed on a desktop or mounted on the wall. Their main features include 3-inch drivers for accurate sound reproduction and 1-inch soft dome tweeters for smooth high notes. Additionally, they deliver a bass response, ideal for your desk in your room.
These bookshelf speakers connect to your computer with the included stereo RCA cable or 3.5mm input. They have been designed to be compact, so they can fit easily on your desk without taking up too much room. You can adjust the volume directly from your desktop or laptop with an integrated volume control dial.
The Bose Companion 2 is the best buy for those who want louder audio output than most other bookshelf speakers today.
Pros
The price is affordable

With its compact size, ideal for any space

The 3.55mm input makes the bookshelf speakers useful.
Cons
It has no wireless connectivity

The AUX wire is a bit shorter

Speakers lack real deep bass
The Klipsch ProMedia 2.1 is a THX-certified speaker. This accreditation guarantees good product performance. The Klipsch has two satellite speakers with 3-inch midrange drivers that provide a THX audio experience. Its full bandwidth bass response can be felt with a channel speaker system that includes a subwoofer and a potent digital amplifier.
The Klipsch computer speakers are simple to set up and ready to use immediately for your computer, laptop, gaming system, or music player. This system of Klipsch also includes external inputs so you can choose which suits your needs best. You may choose a stereo mode for traditional stereo sound and a surround mode for surround sound.
If you are looking for a THX-certified speaker with Microtractrix Horn Technology, consider Klipsch ProMedia 2.1 among the best computer speakers.
Pros
The design is straightforward

There are some distortions when playing loudly

The range of its frequency response is 35 Hz to 22 kHz
Cons
Everybody cannot afford the price

It is merely a 2.1 speaker setup

When compared to other PC speakers, its low-end bass impact is inadequate
Video: Presonus Eris 3.5 Review
The PreSonus Eris E3.5 is a 3.5-inch pair of near-field computer speakers. These computer speakers boast composite drivers that produce a powerful bass response and balanced sound reproduction. The speakers are supported by the Studio One Prime and Studio Magic plug-in package for a wider selection of spellcasting components and better music.
Also, the 1-inch ultra-low-mass silk-dome tweeters of the Eris E3.5, a near-field monitor, can remove harshness for musical tuning. Thanks to the speaker's broad dispersion features, you may always hear the same clarity and detail. These computer speakers have a stereo audio input for your smartphone and a headphone jack for convenient streaming.
If you value superb detail and clarity with a crossover frequency response of 2.8 kHz, the pair of Eris monitors are worth a look.
Pros
Its price is a major plus

The sound is exceptionally clear and well-balanced

Outstanding audio and headphone inputs are provided by it
Cons
A subwoofer is needed to get good bass

The bass is strong but might be more robust

The computer speakers on your desktop cannot be angled
The Audioengine A2+ speaker is a compact, easy-to-use stereo amplifier that delivers rich, wireless range. It has built-in Bluetooth aptX and Wi-Fi for streaming music from your phone, laptop, or computer. The speakers also have analog inputs, which can connect to various music sources for your space.
In fact, the A2+ computer speakers' drivers have a 6.5-inch Kevlar woofer and 0.75-inch silk dome tweeter housed in an aluminum cabinet for high performance. The front panel has a volume knob, a 3.5mm auxiliary input jack, an optical digital input jack, and a USB input jack. The RCA variable output makes connecting the small Audioengine S6 or S8 subwoofer simple.
If value drivers are designed to work together to produce a more coherent sound than other systems in its price point, try the Audioengine A2+.
Pros
Commendable as a stereo speaker

Comes with Bluetooth connectivity

Its sound is outstanding, particularly the bass
Cons
It doesn't have a remote control

There is no method to switch between inputs

Compared to less expensive PC speakers, it is not a budget-friendly option
Wired vs. Wireless Speakers: Which One Suits You?
A wired speaker can be connected through wires and usually comes with a power cord. It produces high-quality sound, which can be adjusted according to your liking. However, it requires electricity, so you may always have to connect it to the main power source. It became popular because it can offer better audio than its wireless counterparts.
A wireless speaker offers convenience and flexibility compared with wired ones. It transmits signals from your computer or laptop to your speaker system through radio waves or infrared rays (IR). Bluetooth speakers are one of the most popular. They offer balanced sound and are easy to install. However, they do require batteries to work properly on your desk.
The Benefits of Using Desktop Speakers
The computer speaker is an important part of your computer system. There are several benefits of using a good computer speaker. If you need to listen to music on your computer, you must have speakers to use with your device. Many different types of speakers are available today, so you must choose one that can meet your needs for your desk.
They have multiple input sources
Computer speakers can receive audio signals from any source. These include your phone or tablet through Bluetooth or USB connections and wired connections like AUX cables or headphone jacks. This makes it easy to connect your devices without switching out cables each time you want to use them with different inputs.
They are portable and easy to set up
Since computer speakers only need power from an outlet and a signal, they are much easier and more affordable than other audio setups. These include home theaters or surround systems. You can place them anywhere within reach of your desk and connect them quickly. If you love listening to music on your computer, use computer speakers instead of headphones.
They enhance audio quality
Computer speakers enhance audio quality by increasing the volume and adding more bass to the sound. They don't have any distortion when you lower the volume. Some users purchase a speaker with a pair of field monitors for listening to music. Other gadgets come equipped with Bluetooth, making it simple to connect them with other devices.
Conclusion
Good speakers can help establish a productive home or office atmosphere. The effect is much more noticeable if you blast your music while you work or study. To sum up, a good speaker should be high quality and with a clear sound for stable performance. What's more, it should be budget-friendly and provide good after-sale service.
The Creative Pebble V3 Minimalistic 2.0 has clear dialogue audio processing, while the Logitech Z407 can provide sound without distortion.
Hopefully, all the tips in this comprehensive guide can help you decide which high-clarity desktop speaker to buy. The list of the best computer speakers provided here won't disappoint you.
Whatever you decide to buy, the most crucial aspect of your task is completing it while you are in a positive frame of mind. Visit our website today and complete your dream desktop!
What do you think about the speakers we've mentioned? Do you fancy one of them? Let us know in the comments below!
---