Do you want a laptop stand that serves your needs and complements your space? Having a laptop stand enables you to have your laptop in one place and conveniently charge it. Getting this accessory is ideal because it allows you to move around anywhere.
However, purchasing one that fits your needs can be difficult with so many stands on the market. Don't worry; this guide can help you find the most aesthetic and durable laptop stand designs to serve you well.
Tips for Choosing a Laptop Stand
1. Design
Look for a laptop stand that is lightweight, foldable, and has a small design if you want a model that can be used on any surface. Generally, a portable laptop stand with a folding design makes it easy to pack and carry around.
The best laptop stands come with height adjustment levers. If you want to work in bed, your laptop stand must be precisely constructed with weight, height, and angle adjustment choices. Suppose your laptop needs a firm base. Therefore, search for one with rubber feet or pads so that it won't move about when put on various surfaces.
2. Features
The popular portable laptop stands usually hold up to 15 pounds. Some may only be enough to hold about 10 pounds or less. So, please choose a model that can hold your computer in place and prevent it from sliding around or falling over. You'll want something sturdy and stable if you need to use it as a desk or table.
Other models feature built-in storage compartments for small items such as an external keyboard and mouse. Before buying any laptop stand, ensure it has ergonomic height and eye level to prevent neck and back pain. You may also look for a ventilated cooling laptop stand designed for sitting and standing while working with your Macbook at your home office.
3. Cost
Many portable laptop stands are out in the market with affordable price tags. The price determines how much you may spend buying your adjustable laptop stand. If you're looking at getting a new laptop stand, chances are good that you're serious about using this device daily. Otherwise, why would you go out of your way to get something to keep your laptop safe?
The price may depend on how much material is used in making it and how much time it takes to make it. Consider if there are any additional costs involved with using this type of stand. If needed, purchase additional software for extra functionality. You may obtain more features and advantages from your stand if you buy an ergonomic laptop stand.
4. Portability
The first thing you should look for in a portable laptop stand is its weight and size. If the laptop stand is too large, it may not be easy to carry it around. Suppose the stand is too light or small; it might not provide enough support for your computer. The best portable laptop stand should be made of high-quality materials that may remain sturdy even after being used for years!
A portable laptop stand can be helpful when your office isn't setup yet. Generally, a mobile laptop stand may allow you to adjust your laptop screen at any angle. You may also not worry about cable management with an adjustable laptop riser that doesn't consume space. It must have flat sides that can rest on the bed's surface and be wide enough to cross your lap.
5. Market Review
Take some time to review what other people have said about their experience with using portable laptop stands. It is important to research each type of laptop stand and see which ones fit your needs best. Choose a product that comes with a warranty. If there are any problems with it, you can get replacement parts easily without spending too much money.
Finding the adjustable laptop stand for your needs involves reviewing comments from previous users. These reviews can provide valuable information about how well each particular model performed over time with previous owners. You do not want wasted time if you find out you have made a wrong decision in your earlier purchase decision.
7 Creative Laptop Stand Designs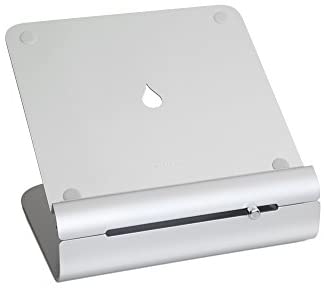 The Rain Design iLevel 2 Adjustable Height Laptop Stand is the perfect solution for improving your laptop experience. Designed with ergonomics in mind, this stand offers a range of adjustable heights, allowing you to find the perfect viewing angle for maximum comfort and productivity. 
With its sturdy aluminum construction, the iLevel 2 stand provides a stable and secure platform for your laptop. It elevates up to your eye level, reducing strain on your neck and promoting healthier posture. Not only does the Rain Design iLevel 2 Laptop Stand improve ergonomics, but it also enhances cooling for your laptop. 
Pros
Lightweight and sturdy

Adjustable height

Easy to setup
Cons
Video: Nexstand K2 - Portable Laptop Stand
The Nexstand is an adjustable laptop stand ideal for home and office use. The stand has been designed to be lightweight and portable. It only has a folded size of 14" by 1.5" by 1.5" and weighs 8 ounces. You may raise the screen height to your eye level using its 8 height adjustment settings for optimal comfort and improved ergonomics.
The laptop stand can be placed on a desk with a cooling surface, which is ideal for your laptop. It is made of industrial-grade nylon and superior metal fittings and can hold up to 20 pounds. The design allows you to place your laptop at a more comfortable angle, from 5.5" to 12.6" of lift. This can help reduce eye strain and neck pain when using your laptop for long periods.
The Nexstand can be your best laptop stand if you have a limited budget but are searching for a riser that works with 11.6-inch or larger laptops.
Pros
Its price is reasonable

Accommodates bigger computers

The additional height settings provide greater adaptability
Cons
Stability is lacking

Less compact and could make your bag heavier

The contact points of firm rubber are less likely to stick to your laptop
The LORYERGO is an ergonomic laptop stand with 10 adjustable angles. It is designed so that people of all ages can use it. You can raise your laptop at an adjustable height for the right angle for improved posture while working. Feel free to turn your laptop to share your laptop screen because the base is 360° rotatable. This is a great entry point for a portable stand for easy transport.
This portable stand has a compact design that can also be folded and stored when not in use. Even heavier computers up to 15.6 inches can be supported within its 11-lb weight limit. The movable laptop stand can securely hold your device flat with anti-slip padding and anti-skid legs. It can provide heat dissipation, keeping it operating cooler as you use it.
Like any other best laptop stands, LORYERGO has the features you need to achieve your work with max comfortable.
Pros
Adjustment is simple

Its price is reasonable

It includes a non-slip rubber
Cons
It carries a little weight

If not assembled properly, screws would bend
The obVus Solutions laptop stand is a simple, sturdy, and adjustable stand that can help improve your posture, reduce neck pain and increase productivity. It has various features that make it versatile and includes a convenient phone stand to increase productivity. A channel underneath the laptop stand also makes for simple cable management.
Whether standing, sitting, or somewhere in between, this foldable laptop stand can let you adjust your laptop to eye level. It is compatible with laptops with 10" to 17" screen sizes. The stand has six heights, ranging from 2 to 21 inches. You can adjust the tilt angle to fit your body type. This laptop stand helps make you more comfortable working at home.
If you are searching for a portable laptop stand that provides ergonomic comfort to users, try the obVus Solutions.
Pros
Comes with a phone holder

Portable and straightforward to install

It features an additional stand with several angles
Cons
Doesn't support Bluetooth

Keyboard locking mechanism needs improvement

It is necessary to enhance the keyboard's USB-C charging
The MOFT is an adjustable laptop stand that can be used with laptops without bottom vents. It can accommodate different types of laptops up to 18 pounds. The size is designed for 15.6-inch laptops, while the large size is designed for 17"-19" laptops. It can be adjusted from 15 to 25 degrees to find your best viewing angle at your desk or table.
The high-lifting mode can raise a laptop by 3 inches and force users to sit upright. Your screen may be raised by two inches to accommodate standing usage. It features a wide base that securely places your laptop on any surface. The ergonomic design also helps reduce neck pain by giving users an alternative position when working on their laptops.
If you value a portable laptop stand with a flexible hinge mechanism for quick adjustment between different angles, the MOFT may be the top pick.
Pros
Its price is affordable

Unfolds to two heights

Its portability is a major plus
Cons
To adjust heights, practice is necessary

When carried, it is not flat with the computer

When the stand isn't in use, the laptop sways a little
Laptop Stand vs. Cooling Pad: Which Suits Your Needs?
A computer or laptop riser is essentially what a laptop stand is. Your laptop can be raised off the ground so you can use it quickly and effectively.
A laptop pad is an electric cooling pad positioned beneath your computer and has two or more fans. Its primary purpose is to utilize the laptop's fans to supply additional air.
To know which one best meets your needs, consider the distinctions between them as shown below in the table:
Benefits of Portable Laptop Stand
Video: Should You Really Buy a Laptop Stand?
A laptop stand is a device that can raise your computer screen to eye level, which means you can work in a more comfortable position and avoid back pain. Your laptop may be held at an ergonomic height, so you won't have to bend over or strain your neck to see the screen.
The best portable laptop stands come in a variety of configurations. These stands may have some models designed specifically for use at home and others designed for the office. Here are a few of the most important benefits:
Improves Your Posture
Sitting with your back straight and resting against a chair makes your spine less likely to experience pain or discomfort.
Supports Your Laptop's Weight
If you intend to use your laptop for several hours, it's good to set it down on something sturdy. A good laptop stand must support your laptop's full weight.
Elevates Your Computer Screen to Eye Level
Laptops are designed to be operated while working on a standing desk. They can cause neck and back pain while lying flat on your lap.
Conclusion
A laptop stand is a device that allows users to place their laptops at an angle that is comfortable for them. Laptop stands are often used by people who spend a lot of time on the computer and suffer from back problems.
Try the Nexstand if you appreciate height adjustment options for greater ergonomics and max comfort. The Besign LS03, however, can give you an open aluminum design with enough airflow to keep your laptop from overheating at your office.
People who use computers for long hours need breaks, so that a laptop stand can come in handy. This guide lists the best portable laptop stand designs to boost productivity. Whatever model you choose from these top-picked stands will not disappoint.
For more laptop essentials and accessories, visit our website by clicking here. Also, do you own a laptop stand? How does it help you with your daily tasks? Share your thoughts with us by leaving a comment below!
---