There are about 3.24 billion gamers around the world right now. And professional and casual PC gamers account for over half of that number. Unlike console or mobile gaming, gamers need to upgrade or change the components for the PC gaming setups. That's because you must have a reliable setup if you want to play PC games with no hiccups.
But before saying yes to the PC components, the wise, thrifty, and casual gamer must do comprehensive research. A PC gaming setup should be tailored to the individual player, much like the player's preferred PC games.
To help you know the right gaming PC component, we've compiled the ultimate guide to the best gaming setups to enhance your gameplay.
Top 3 Elements That Make Up A Gaming Setup
Before we dive into enumerating every ultimate gaming setup, you should know the top five most important elements that make up a gaming setup:
1. A Strong Primary Device
The primary device in any PC game setup is by far the most crucial element (i.e., CPU, graphics card). Without a strong primary device, you can't run your favorite games, transmit audio, and execute commands as you move around the game.
Most games only need a quad-core processor. But you can get a hexa or octa-core processor to play games like Red Dead Redemption 2.
On the other hand, consider looking at the best yet affordable graphics card. Your device's graphics processor should be given priority if you play graphically demanding games like Elden Ring or God of War. Nvidia's GTX 1060 is a good example of a mid-range card.  While AMD Radeon RX Vega 56 and  Nvidia GTX 1080 are good high-end alternatives.
2. Ergonomic Gaming Setup
Many gamers (especially professionals) overlook the potential benefits of ergonomics for both gaming and overall health. That's why you should get an ergonomic gaming setup if you frequently engage in long PC gaming sessions. When improving your ergonomic configuration, take into account the following features:
Gaming keyboards – mechanical keyboards are more ergonomic than membrane ones. These gaming keyboards are more accurate and tactile than membrane keyboards.

Gaming chair – a PC gaming setup is not complete without a gaming chair. A gaming chair gives you physical support and puts you in the best possible posture to play at your best.

Gaming desk – a gaming desk is just as important for an extended gaming session as a gaming chair. You can also opt for a standing desk so you can switch from sitting to a standing position.

Gaming mouse – gaming mice are essential in clicking or pointing in games. That's why you need one that provides a secure grip with additional keys to perform many simultaneous actions. You can also get a gaming mouse with magnificent incredible DPI response, RGB lights, and fluid response and movement.
3. Good Audio-Enhancing Devices
Sound is another crucial element to improve your gaming experience. You can use high-quality external speakers or a pair of gaming headphones for a more surreal gaming experience. Plus, noise-canceling gaming headphones can cancel out sounds that could distract you from winning is another benefit.
Best Gaming Setups to Enhance Your Gameplay
PC gaming setups are growing in popularity these days, and there are many different styles you can draw inspiration. And without further ado, here are the seven best gaming setups to enhance your gameplay:
1. High-Performance Dark Room Gaming Setup
Image: https://unsplash.com/photos/Bp_-zo3Nl28
Most gamers find solitude in a dark gaming station with little to no LED lights. It's nice to play your favorite video games in a dark space. You can focus more on the game than the fancy LED lights and gaming collectibles on your floating shelves.
SAMSUNG Odyssey G7 Series
Not all gaming monitors are fit to play in the dark. But the SAMSUNG Odyssey G7 Series is a great example of a gaming monitor for a dark gaming space. The reaction time at its maximum frame rate at 60Hz is good, resulting in less blur. Plus, it offers a native 240Hz refresh rate and G-SYNC and FreeSync compatibility.
However, its limited viewing angles make it less suitable for co-op gaming. Moreover, its VRR has some faults and issues.
Pros
Can show deep blacks

G-SYNC and FreeSync compatible

Less blur

Great refresh rate
Cons
Restricted viewing angles

Its VRR is not good
AMD Ryzen 5 5600X
AMD Ryzen 5 5600X is another excellent gaming component for a dim gaming environment. It is reasonably priced and a great option for mid-range gaming setups. The processor is a great fit for 1080p gaming, and its TDP runs slightly lower than other mid-range processors.
Moreover, the processor has a higher overclock threshold. It also comes with a cooler. Even so, the AMD Ryzen 5 5600X consumes less energy and doesn't overheat. However, the processor lacks integrated graphics, which most Ryzen processors don't have.
Pros
Amazing with 1080p

With cooler

Better overclock threshold

Highly affordable

TDP is low 
Cons
2. Ultrawide Gaming Setup
Image: https://twitter.com/IGN/status/1421727450212491268/photo/1
Although many gamers would choose a two or triple-monitor setup, the main focus of this setup is the ultrawide monitor. You can perfectly play Death Stranding and Horizon Zero Dawn and see more of the in-game surroundings. But note that you need high-performing graphics cards because ultrawide monitors can be highly demanding on graphics.
Samsung Odyssey 49-inch
Playing your favorite video games on the Samsung Odyssey G9 provides a responsive and fluid gaming experience. It's all thanks to its reduced input lag, quick response time, and high refresh rate. The monitor is also compatible with G-SYNC and FreeSync to lessen screen tearing.
The downside of the Samsung Odyssey is there are restrictions on its 240Hz refresh rate. You can only achieve the refresh rate with specific graphics cards that support compression. Moreover, it has poor black uniformity, making it a poor choice for nighttime gaming.
Pros
Lower input lag

Fast response time

Exceptional refresh rate
Cons
Poor black uniformity

Not good dark gaming rooms
GeForce RTX 3070 GAMING OC 8G
Gigabyte's GeForce RTX 3070 GAMING OC 8G is a great GPU. It has a more compact design, three cooling fans, and special blades designed to lessen air turbulence. The fans also have an idle fan stop feature to save energy and reduce noise. And as for performance, the GeForce RTX 3070 is exceptional in 1440p gaming and can even support 4K.
However, the GPU is quite expensive and loud. Also, its power limit can't be increased, making the GPU overclock more often.
Pros
Compact

Great for 1440p and 4K

Idle fan stop feature
Cons
Overclocks too often

Power limit can't be increased
3. Multitasking Dual Monitor Gaming Setup
Image: https://unsplash.com/photos/0oqMvhc1ntw
If you're a multitasker, a dual-monitor gaming setup is the right one for you. It's a perfect gaming setup if you're streaming on Twitch.
Using streaming software or tools while gaming is challenging when you have only one display. You can choose a horizontal or vertical monitor as your second monitor; each has its benefits.
ASUS TUF Gaming VG279QM
ASUS TUF VG279QM monitor has a lightning-fast response time, little input lag, and an optional black frame insertion feature. Plus, the 280Hz refresh rate offers superb motion handling. It shares the same superb build quality, excellent ergonomics, and straightforward design as most ASUS TUF models.
Although the low-resolution screen is disappointing, and it's not a good option for console gamers. The gaming monitor lacks advanced codecs supported by the most recent consoles and has an unusually high input lag at 60Hz.
Pros
Incredibly fast response rate

280Hz refresh rate

Low input lag
Cons
Not suitable for console gaming

Low-resolution screen
Intel Core i7-13700K
The Intel Core i7-13700K is competitively priced with AMD Ryzen 7 7700X. Thus, making it the best CPU for gaming at its price point. It also performs exceptionally well because it has 8 P-cores and 8 E-cores for 24 threads across the entire CPU. With a base clock on its P-cores of 3.40GHz, Intel rates its Turbo 3.0 speed up to 5.4GHz.
However, it draws more power and creates higher temperatures. You need to install the best cooling system to alleviate the temperature buildup.
Pros
Best for multitasking and gaming

Supports DDR4 and DDR5

Competitively priced
Cons
Tend to get hot over time

Need an excellent cooling system
4. Light It Up Gaming Setup
Image: https://twitter.com/tufsig_collects/status/1622014867950694401/photo/1
If you like to play video games during your free time, you might want to take inspiration from this colorful and bright gaming setup. Aside from the needed components like a PC case and gaming mouse, you can use Nanoleaf Aurora light panels. The Nanoleaf Aurora light panels can illuminate your gaming station and entire room and give a funky or retro feel.
Acer Predator XB271HK Gaming Monitor
Acer Predator XB271HK is a nice 1440p monitor with a quick refresh rate, wide viewing angles, and exceptional low input lag. The gaming monitor comes with exceptional ergonomics. Thus, it is simple to set up in the best viewing position or rotate the screen.
On the other hand, the response time is a bit slower than other displays. The Acer Predator XB271HK also has a low contrast ratio, so the blacks in a dark room appear gray.
Pros
Supports G-SYNC

Exceptional low input lag

Ergonomic

Faster refresh rate

Wide viewing angles
Cons
Slower response time

Low contrast ratio
Corsair K70 RGB MK.2 SE Keyboard
The Corsair K70 RGB MK.2 SE is a multifunctional gaming keyboard perfect for this gaming desk setup. You may choose the switches, including Cherry MX Brown, Speed, Blue, Red, and Quiet Red.
The Corsair K70 RGB MK.2 SE includes many extra features, including a USB passthrough, configurable RGB backlighting, and assigning macros to every key. Although the aluminum plate on top seems sharp and could be irritating, the keyboard is well-built.
Pros
Well-built

Can assign macros

RGB backlights
Cons
Aluminum plating can be sharp
5. Psychedelic Gaming Setup
Image: https://twitter.com/Razer/status/1122153432154951680/photo/1
If you want an Alice in Wonderland feel to your ultimate gaming setup, you might want to check this one out. The Cheshire Cat inspires the colors for the psychedelic gaming setup. You can also add some plants to your gaming room. Placing them in the right spots can give shadows to make the gaming room more intriguing yet fun.
Intel Core i9-12900K
Most gamers say the Intel Core i9-12900K is the world's fastest gaming processor. That's because it can go up to 5.20 GHz and has 16 and 24 core threads, providing excellent multi-thread performance.
Moreover, the processor can support PCIe 5.0 and 4.0 for faster data transfers.  And the processor is compatible with fast DDR5 and DDR4 for higher frame rates. The only downside is it consumes a lot of electricity and often overheats. Sadly, it doesn't come with a cooler, so you'll need a strong cooling system to play for hours without overheating.
Pros
Fast DDR5 and DDR4 compatible

Faster than most processors
Cons
Corsair Vengeance RGB Pro 64GB Memory
Corsair Vengeance RGB Pro 64GB Memory is the most colorful DDR4 RAM kit you'll ever find. The RGB light bar with ten embedded LEDs provides diffused RGB lighting. Plus, you can adjust the lighting effects with iCUE. The build quality is as durable as it gets due to the aluminum heat spreader. That's why it's a must-add to your gaming setup.
The DDR4 kit has an outstanding 3000MHz performance, but you can configure it up to 4400MHz. Additionally, the Corsair Vengeance RGB Pro 64GB Memory has great overclocking potential. The only downside of this kit is that it has a tall profile, has no room for tuning, and has subpar timings.
Pros
RGB lighting

Extremely durable
Cons
Has a tall profile

Subpar timings

Can't be tuned
6. Three Monitor Gaming Setup
Image: https://twitter.com/HalberdDesks/status/1206921990671486977/photo/1
A three-monitor gaming setup might be too much for some gamers. But if having multiple monitors is your preference, this one's for you.
Since three monitors will cover a larger area in front of your eyes, they will undoubtedly improve the gaming experience. And setting up multiple monitors improves usability and visibility. You'll definitely love playing single-player shooters, racing, or flying simulators with three monitors.
ASUS VG279Q
You must get the ASUS VG279Q if you want a triple monitor setup. It's a decent 27-inch, 144Hz monitor with an IPS panel. ASUS made this gaming monitor with a straightforward design with excellent ergonomics. And it also produces good picture quality with remarkably accurate colors and excellent peak brightness.
Due to the lightning-fast response time and the black frame insertion capability, your character's motion will look fantastic. It also supports FreeSync variable refresh rate technology to lessen tearing in games. The downside of the ASUS VG279Q is its poor contrast ratio, which doesn't appear nice in a dark room.
Pros
FreeSync compatible

Excellent peak brightness

Has ergonomic design

Produces accurate colors
Cons
Not suitable in dark gaming rooms

Subpar contrast ratio
Acer Nitro VG240Y
Despite its low cost, the Acer Nitro VG240Y display checks off many necessary boxes for a three-monitor gaming setup. Although it may not be large or wide, it still offers ample screen real estate. The Acer Nitro VG240Y has an IPS panel, good color quality and contrast, a 1ms response time, and a 1080p screen resolution.
But the gaming monitor has a dim blacklight and limited overdrive. Moreover, it's not ergonomically made. You can only tilt the stand up to a certain angle.
Pros
Fast response time

Highly affordable

Compatible with G-SYNC and FreeSync

Excellent color quality and contrast
Cons
Dim backlight

Limited overdrive

Not ergonomic
7. Less is More Gaming Setup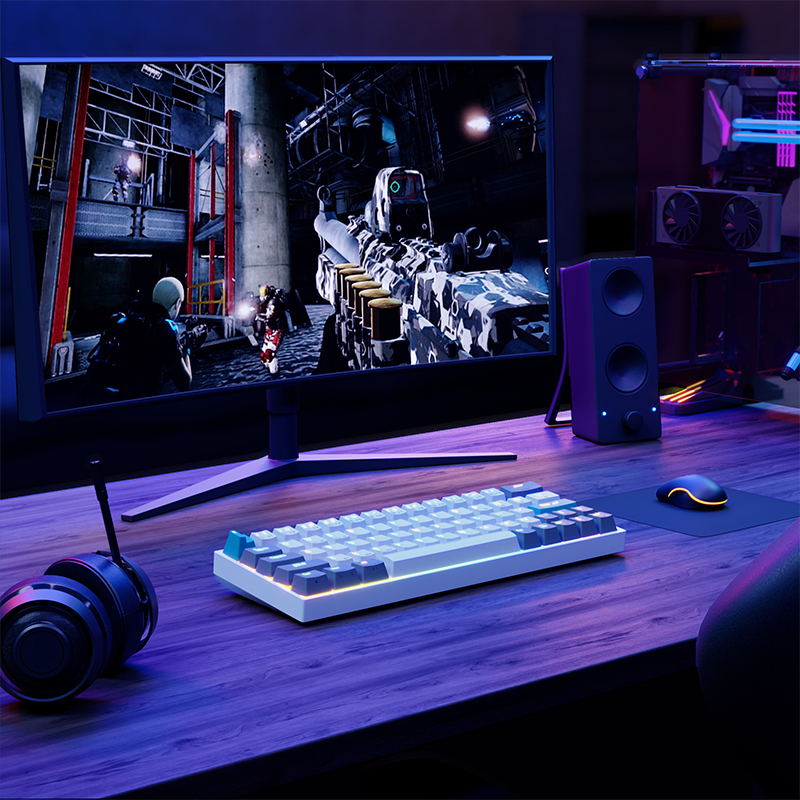 Image: https://twitter.com/TmgPeripherals/status/1519377921533784066/photo/1
You may have heard of the phrase "less is more," which embodies a minimalist take on gaming setup. And having a "less is more" gaming setup is quickly gaining popularity with gamers. The PC gaming setup is designed in particular for gamers who don't like showy gaming systems.
If your personal preference is you need everything in order, you can create minimalist gaming setups to create more elbow room when playing PC or video games. Plus, this kind of gaming setup is a nice alternative for those who enjoy tidy setups. You can also do cable management and add Alex drawers from IKEA to store things to declutter your gaming desk setup.
ASUS ROG Strix Impact II
The ASUS ROG Strix Impact II is a powerful gaming mouse you can include in your minimalist gaming setup. What's great about the Strix Impact II is you can use the mouse wired or wirelessly.
The ASUS ROG gaming mouse boasts a solid build and an ambidextrous form that works with any grip style and most hand sizes. Moreover, it has low click latency, a short lift-off distance, and a wide CPI range. Sadly, it's a bit heavy, doesn't support Bluetooth, and only allows you to change the CPI in steps of 100.
Pros
Short lift-off distance

Low click latency

Great CPI range

Ergonomic

Suitable for every grip style and hand size
Cons
No Bluetooth connectivity

Heavy

Can only change CPI per 100
ASUS ROG Strix Go Core Moonlight White
ASUS ROG Strix Go Core Moonlight White headset is affordable, cozy, and portable. Although its sound quality is just around average, its sleek appearance and folding form make it stand out. That's why the ASUS ROG Strix Go Core headset is a nice addition to a minimalist gaming setup.
Pros
Budget-friendly

Portable

Comfortable to wear
Cons
Average sound quality

Cable can't be removed

No software for an equalizer
Better Experience with Top-Notch Gaming Setups
Image: https://www.pexels.com/photo/a-boy-raising-his-hands-while-gaming-7862617/
Professional gamers know that the expert-level strategy involves more than just talent and experience. It also involves your gaming setup and how you use it.
Our ultimate guide to the best gaming setups to enhance gameplay can help you identify the necessary gaming components. How will you be able to align the crosshair for the ideal shot if your mouse isn't precise?
These components define whether you'll win or lose your PC or video games. You must create a balance between ability, equipment, and passion for achieving great success in the gaming industry.
---