Setting up a gaming station doesn't stop finding the perfect computer and accessories. You'll need a comfortable gaming throne supporting your back and lumbar area while playing for long hours.
If you're searching for the perfect gaming throne to finish your setup, we have the best recommendations! But first, why is it important that the gaming throne you purchase is right for you? Here's why.
The Importance of Finding the Right Gaming Throne
Image: Google
Sitting for long hours with minimal movement is not recommended, but gaming won't allow you to move for long periods. So, having a chair with the right comfort and support is important, and we'll explain why you need to find the right gaming throne below.
Comfort
If you've been sitting for a prolonged period, your back will ache, and you'll feel discomfort. But if you use the right chair with the right support, you will be comfortable sitting for hours. Ensure your gaming chair is high-quality and comfortable by checking the materials used.
Proper Posture
Slouching or sitting improperly for long hours in a game will worsen your posture. There are high-quality gaming chairs that support proper posture, and you won't have to sacrifice your game room's aesthetic because hundreds of designs are available today.
Lumbar Support
The lumbar area needs support, especially when you play for hours. Many gaming chairs today have pillows on the lumbar area to support the back to avoid straining and back pain. You won't have difficulties finding the perfect lumbar support since most modern gaming thrones offer this feature.
What to Look for When Choosing a Gaming Throne
Though many gaming chairs are created for video gaming, not every chair has exclusive features. You will notice many differences with each chair, so be careful when choosing one. Here are the things you need to look for before purchasing.
Materials
What kind of fabric are you most comfortable with? Do you want an all-leather chair or a more breathable material? You need to answer these questions when choosing the material for your chair.
Adjustability
Gaming chairs have adjustable heights, headrests, and armrests, depending on your chosen type. Ensure that the gaming chair you choose is easily adjustable so you can control it to your liking and won't have issues when moving.
Stability
You might get too excited in a game or surprised by an enemy. You don't want to fall off your seat because of a game, so you must have a stable gaming throne. Ensure that the materials used to build the chair are sturdy. It should not easily rust as well. This way, you won't worry about falling even when you suddenly move.
Wheels and Swivel
A gaming throne without wheels and a swivel is boring, so this feature is what many gamers look for in a chair. The wheels should be sturdy and big, with a stopper so you won't roll around while playing. Also, it's best if the chair has a swivel so you can easily turn whenever you want.
Weight Capacity
Your gaming throne should be able to bear your weight without breaking. Most gaming thrones have their weight capacity indicated, so always check the description of the chair you are choosing.
Top 9 High-Quality Gaming Thrones
Now that we've discussed what to look for when buying a gaming throne, here are the top 9 high-quality chairs you should consider!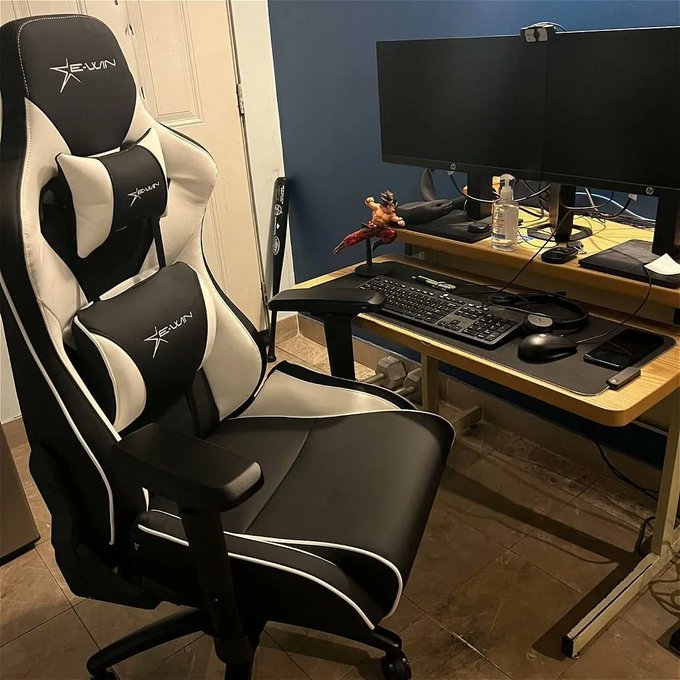 Photo: https://twitter.com/EwinCanada/status/1556433765144170498/photo/1
One of the most ergonomic chairs on the market, the E-WIN Champion Series Gaming Chair features an angle-adjustable backrest that lets you adopt a sitting position for working, playing, or even napping. This chair is also made of E-WIN 2.0 PU leather, which is stain-resistant and can be washed regularly without causing surface damage.
Furthermore, the interior of the E-WIN Prime Champion Series Gaming Chair is made of high-density foam rather than the more common high-resiliency foam, elevating the chair above the competition. The E-WIN Prime foam's elasticity guarantees the chair's long comfort life and exceptional durability.
Pros
Angle-adjustable backrest

High-quality leather

Comfortable
Cons
With the Corsair TC70 Remix Gaming Chair, you can unwind while playing your favorite games for extended periods of time. This chair's combination of materials gives it a sleek yet inviting appearance. The TC70 can maneuver about on most terrain with ease thanks to its split-spoke wheelbase and 2.4-inch dual-wheel casters.
Pros
Reputable brand

Smooth wheel casters

Ergonomic design
Cons
Expensive

No tilt-angle lock
With a built-in massager, you won't want to get up from this chair. The Dowinx gaming throne can also be used as an office chair because of its minimal yet classic design. It has a 360-degree swivel and an improved armrest to ensure the best comfort. You can rest your feet with the footrest that can easily be put away and lay your head on the headrest pillow.
Dimensions
Diameter: 22.5"
Height: 17"
Width: 16"
Weight Capacity: 350 lbs
Pros
Easy assembly
Multiple color options
Cons
The massager does not massage your back; it only vibrates
This stylish and premium gaming chair is made from high-quality PVC leather that has stain resistance and extra dense foam padding for extra support and comfort. The E-WIN Knight Series Gaming Chair also has a breathable open-cell structure, which limits the heat being trapped. Furthermore, the chair's angle-adjustable backrest can help you find your perfect sitting position whenever you are gaming.
Pros
Good-quality PVC leather

Angle-adjustable backrest

Comfortable
Cons
photo: https://twitter.com/CrossingMaluhia/status/1499450121297215488/photo/1
Love pink? The Darkecho pink ergonomic gaming chair is for the girly gamers out there! You won't have a difficult process of assembling this chair when it's delivered, and you'll love the lumbar massage too.
Dimensions
Diameter: 27.5"
Height: 55"
Width: 27.5"
Weight Capacity: 330 lbs
Pros
Can bear the weight of up to 330 lbs
Easy control for reclining
No difficult settings for assembly and use
Cons
The armrests are not sturdy enough
photo: https://twitter.com/OFMINC/status/1289313447172333570/photo/1
If you love to watch movies, stream all day, or play games when you have time, the OFM collection gaming chair will be your best friend! This comfortable, durable gaming chair supports your back and head. You can adjust the height, tilt, and flip the armrests if you are not using them.
Dimensions
Diameter: 30.5"
Height: 48.25"
Width: 28.25"
Weight Capacity: 275lbs
Pros
Its modern design is perfect for any aesthetic, not distracting when used in an office setting
A 360-degree swivel gives you the full view of the room
Moveable armrest
Affordable
Cons
Some concerns suggest that the lumbar support is uncomfortable
photo: https://twitter.com/petvideoverify/status/1613235089151852544/photo/1
If you're into relaxing while gaming, Soontrans Blue Gaming Chair is the perfect one. It is designed for long hours of gaming and can be adjusted based on your preference. This gaming chair will fit anywhere, especially in a professional environment. You may choose from various color combinations for another color instead of blue.
Dimensions
Diameter: 33"
Height: 49.2"
Width: 24"
Weight Capacity: 250 to 300 lbs
Pros
Comes in four colors
Has a 90 to 150-degree recline
Sturdy wheels and swivel
Cons
No sturdy support on the back, and the weight
photo: https://twitter.com/Foritain/status/905231234523123712/photo/1
The leather seat and steel frame ensure the utmost comfort and sturdiness while playing games, watching streaming videos, or attending meetings. You can adjust this gaming throne to your liking because the seats, armrest, and head support can easily be adjusted. It comes in multiple colors.
Dimensions
Diameter: 13.8"
Height: 34.6"
Width: 27.2"
Weight Capacity: 280 lbs
Pros
All leather and stainless steel frames for optimum support and comfort
Has sturdy wheels and a 90 to 180-degree swivel
Affordable and high-quality
Easy height adjustment
Cons
Narrow compared to other gaming chairs
photo: https://twitter.com/gtplayerchairs/header_photo
If you're looking for a chair with the services of a gaming throne but can still be used in an office scene, then the GTPLAYER Gaming Chair is the one for you. A headrest and neck pillow will support your head to avoid straining, and a set of armrests will support your arms while gaming.
Dimensions
Diameter: 20"
Height: 50.99"
Width: 22"
Weight Capacity: 300 to 350 lbs
Pros
Comes with a footrest and lumbar support
Budget-friendly price
Metal legs
Cons
Makes noise upon sitting down
Armrests are not easy to put back once removed
When is a High-Quality Gaming Throne Needed?
Since this is the most time we engage in technology, the perfect seat will give you the best gaming experience. If you're waiting for the sign to purchase a gaming seat, this is the sign! Here are the times a gaming chair will give you the support you need.
Working For Long Hours
Working for hours is never a good time, especially if you are sitting down. There is no record in history that sitting for hours without moving is good, so a comfortable seat will greatly help. A gaming throne is not just for playing a favorite online game; the user can also sit while working without developing back pain.
Game Nights
You will need a comfortable seat for a game night with friends. Wherever the location of your gaming area is, you can have an aesthetically pleasing chair. Choose a chair that brings comfort and will complete your gaming area's design.
Study Sessions
To enhance focus while studying, you should have a comfortable seat. Gaming thrones are not only used to play games or to watch your favorite series online; they will help you engage in studying. If you choose a chair with a massager, we guarantee it will make your study sessions more enjoyable.
Movie Time
If you've played for hours and want to do something else, you can watch a movie while sitting in your gaming chair. Feel like a king with a built-in massager and lumbar support while sipping a cold drink and eating popcorn. Yes, you can use your gaming chair for a movie marathon!
Which Gaming Chair is for You?
Now that you have various gaming chair options for all types of budgets and needs, you can finish your gaming room setup in no time! It all boils down to what works best for you, so research these chairs to know which will complete your gaming room. Enjoy gaming with your new gaming throne!
Visit our website today at Dynamic Setups, and we'll bring your dream gaming setup to life! Also, comment below on what you think is the best gaming chair. Let's talk about it!
---