Do you find your current workspace desk lacking the potential for comfort and flexibility? Having a standing desk can make you more productive, healthier, and just plain feel better.
Standing desks are the modern-day desk of the future. Comfort and flexibility make them worth considering for anyone like you who wants more than a traditional office setup.
However, choosing the best standing desks for your home office is no easy task. This guide can help you find the best one for your home office through the reviews of the top brands on the market today. Let's begin!
Buying Your Standing Desk: Essential Points to Consider
Stability
Any standing desk has to be stable, so you can use it for long periods without worrying about it toppling over. Check how stable the surface area (material stability) and how sturdy (mechanical stability) the base of your desk is. Considering stability can help prevent injuries or other falling-related problems while working.
Weight Capacity
The weight capacity of your desk can be determined by the type of material used in making it. Check the number of pounds your desk can carry in the manual. It would give you an idea of how much weight it can hold to its surface before it breaks or tears. You may also see the reviews, particularly what people have said about the product.
Adjustment Range
Adjustable standing desks for small spaces are a good choice for people working at different heights. Their ranges can be used to compensate for an individual's leg length. Adjusting the desk height is another way of ensuring you are comfortable while you work. It is ideal for persons with back problems who work throughout the day.
Types of Standing Desks
The best way to choose a standing desk is to know what you are looking for and how it will fit your needs. Check the following types before purchasing one for you.
1. Fixed-Height Standing Desks
The purpose of the fixed-height standing desk is to lift your computer to eye level when standing. It is a table with a fixed torso height. Since these are non-adjustable, you cannot have your desired height range when needed.
2. Height Adjustable Desks
This workstation can be adjusted to any desired height. Electric, hand crank, gas, or spring assist levers can operate these desks. They come in laminate, bamboo, L-shaped, and normal, big, and gigantic sizes.
3. Electric Standing Desks
Electric adjustable desks are easier than hydraulic or hand-crank types. Press up or down to change the height. These desks raise and lower more smoothly than manual options, so you won't lose anything when adjusting the height.
4. Standing Desk Converters
Standing desk converters or risers can turn your sitting desks into standing ones. The setup takes seconds. Start working while sitting and standing right out of the box. With this standing desk conversion kit, you don't have to dismantle or trash your old desk.
5. Pneumatic Standing Desks
Pneumatic standing desks use air to lift and lower the work surface. The piston moves into the chamber when the lever is pushed. This further compresses the chamber's air, raising the work surface. When the piston leaves the chamber, it expands the air and lowers the work surface.
Best Standing Desks 2022
Best Height Adjustable Desks
Elevate your productivity and well-being with our electric DIRECTION BAMBOO stand-up desk. This is designed to enhance your work experience and promote a healthy lifestyle. With industry-leading height adjustability, one-touch presets, anti-collision safety, and a quick 10-minute installation, this desk is perfect for your home office or corporate environment.
Choose from a variety of base and top colors to personalize your workspace. Elevate your productivity and well-being with our electric stand-up desk.
Pros
Eco-friendly

Durability

Aesthetically pleasing

Lightweight

Resistant to moisture and warping
Cons
Limited space

Vulnerable to scratches and dents

Higher cost

Limited design options
Our height-adjustable Executive Desk blends aesthetics, utility, and creativity. We designed this desk to be appealing, inviting, creative, ergonomic, and space-efficient. The Executive Desk has a spacious L-shaped desktop for you and your visitors. The desk's return has a lockable cupboard and shelf to safeguard and organize your items. 
It also has a built-in drawer that holds your phone, keys, and wallet to organize your workspace. Additionally, this desk has sturdy legs. Two of the desk's legs lie on the floor, offering a sturdy foundation. At the same time, the third is attached to the return, providing optimal support and balance throughout the workplace.
Pros
Ample workspace

Efficient use of space

Improved productivity

Easy accessibility

Versatile arrangement
Cons
Space requirements

Mobility challenges

Assembly complexity

Room layout limitations
Experience our 55 X 28 INCH ELECTRIC ADJUSTABLE SIT TO STAND DESK WITH USB PORT convenience and health benefits, featuring a smart control panel at the edge for easy adjustments. The control panel provides real-time height information and allows you to control the desk effortlessly. 
The spacious 55" x 28" desktop with two cable holes comfortably accommodates two computers while keeping wires organized. Safety is a top priority, and our sit-stand desk is equipped with an anti-collision device to provide added protection during use. Additionally, it features an open-compartment headphone hook and a cable management tray, providing a tidy storage space for various items. 
Pros
Smart control panel

Memory presets

Adjustable height range

Cable management

Safety features

Storage solutions

USB port
Cons
Expensive

Mobility challenges

Space requirements
Introducing our DIRECTION DESK MODESTY PANEL ACRYLIC DESK, a sleek and contemporary addition to any workspace. This desk features a transparent acrylic modesty panel that adds aesthetics while maintaining a professional look.
In addition to its stylish design, this desk prioritizes practicality. It includes built-in cable management features to keep wires organized and untangled, promoting a clutter-free workspace. With a clean and streamlined appearance, you can focus on your tasks without the hassle of tangled cords.
Pros
Modern and stylish design

Privacy and focus

Versatile compatibility

Spacious work surface

Sturdy construction

Cable management features
Cons
Limited customization

Susceptible to scratches

Fingerprints and smudges

Potential glare
The Autonomous SmartDesk 2 Home Office Standing Desk has a smooth, silent dual-motor system that can elevate up to 300 lbs with the push of a button.
Although it looks like any other desk, the straightforward designs make it easy to alter. Thanks to the simple style, it can blend nicely with most modern and small spaces.
Its features include four programmable height settings to accommodate various needs. This fully adjustable standing desk is constructed on a strong, steel sit-to-stand frame. A simple and easy user control panel is also available.
Autonomous is your great option if you are looking for an all-around standing desk for your small apartment.
Pros
Although it is affordable, it works

It has a quick and quiet adjustment

It has a wide variety of height options, which is perfect for tall people and low chairs
Cons
The tabletop space is scratchable

Fingerprints are visible

The sturdiest alternative on the market is not this one
Best Standing Desk Converters
With the FlexiSpot M2B converter, you can go from sitting to standing as quickly and easily as possible. Thanks to its single-hand design and two gas springs.
This desk converter has customization options. You can place it into your existing furniture. Overlooking the space for your office is not an issue when you use a riser like FlexiSpot M2B. Since most users aspire to have an ergonomic workplace, correct posture is essential to achieve.
This workstation rises vertically and collapses into itself. Making the necessary spatial modifications for comparable products is not necessary. You will never need to use both hands, as is the case with certain other brands.
The FlexiSpot M2B Riser is for all heights. With 12 height settings, you may alter your riser at will. With this desk, you can seek the proper height for you.
Add FlexiSpot to your wish list if you want to keep your momentum going all the time.
Pros
It is sturdy

Effortless height adjustment system

The workspace is spacious, as is the keyboard area
Cons
It only supports loads up to 35 

lbs.

Heavy displays are not compatible with it
Review: WNST-3-FS-124 Winston Workstation Review
Innovative WNST-3-FS-124 Winston Workstation can make your work coupled with a healthier lifestyle. If you have one of these, you may be able to switch between sitting and standing throughout the day without much trouble.
This model features an easy height adjustment for various users. You can have a sit-stand workstation with just the push of a button.
This riser features cable management to make the news more thrilling. The column of this desk has cable clips. Additionally, the cables can be kept neatly arranged and out of the way with the beam, which is perfect if you only have a small room.
With two simple installation choices, you can adjust your current desk into a healthy office if you wish to update your area. These include clamps for desks and freestanding.
Winston has a sizable space. It is a piece of furniture with a massive tabletop space and an extra storage tray that lets you carry everything you need when standing.
Winston will not let you down if you want a desk converter designed for stability and offers the advantage of standing while working in your small home office.
Pros
It boasts a professional design and a strong, streamlined structure

Has a better workplace

Meets most user's needs
Cons
It has a large increase in the minimum keyboard height

Not for you if you're on a tight budget
TechOrbits' standing desk converter is extremely adaptable and supports good posture while allowing you to switch between sitting and standing whenever you desire. Grip the handles and stand up to adjust the height to your comfort and posture.
This workstation's wide storage lets you keep all your tools within reach. The upper shelf of this dual-level desk converter can support up to 33 lb. In contrast, the lower shelf can support up to 4 lb.
Generally, the 32" broad black stand-up desk riser fits your computer or laptop, dual monitor display, keyboard, mouse, speakers, and other office essentials.
The desk's medium-density fiberboard (MDF) wood construction makes it both aesthetically beautiful and tough.
TechOrbits can offer you the best setup for increased productivity, whether working from home or in the office. It is a great desk converter if you value flexibility.
Pros
Easy to assemble

Might be economical

It has a stable MDF wood structure.
Cons
As hefty, it is not easy to lift

There is no in-and-out movement for the keyboard tray

Distance to the keyboard depth is still insufficient

The desk shape is a rectangle, so some room is lost when you sit at a corner desk
Best Pneumatic Desks
Burutpike Mobile Laptop Desk has a pneumatic system. Compared to other standing desk options, it is affordable.
The height of this mobile standing desk may be adjusted from 28.7" to 44". Since it comes with a one-handed operation, transitioning from sitting to standing is feasible.
You can move this desk to an open space in your apartment to maximize efficiency. With its four-wide leg design, the weight limit is limited but not an issue. It claims stability even when it is adjusted to the maximum height range.
The portable table can be stored and placed in a corner when it's unnecessary to roll it. Additionally, the wheel desk is portable, appropriate for use in confined locations, and helps you conserve space.
If you want an ideal solution to help you stay alert and become more productive, maybe a rolling desk like Burutpike is suited for you even in a small space.
Pros
Easy to put next to a bed or roll into a corner

Easy assembly and cleaning

It has a strong frame and a top that is well-coated
Cons
It may not do so well in a busy office

Raising and lowering require quite a bit of force

Other mechanisms, except height adjustment, are good
HUANUO Mobile Standing Desk claims to have an ergonomic adjustment. The movable desk may be raised and lowered easily with a side handle from 24.5" to 37.5". Additionally, the gas spring lift mechanism is responsible for this.
Standing desks for small spaces are suited for you if they are easy to move. Huanuo is made for that. It has four heavy-duty swivel casters, two of which are lockable, so you can easily move it wherever you want.
This adjustable standing desk can easily tuck under furniture at least 3.5" high thanks to the base's easy-rolling wheels.
For more stability, a steel foundation decreases wobbling. The static load capacity is up to 44 lbs. It also has smooth rust-resistant paint and a clean-up-friendly finish.
Its sleek design can blend into any home décor as it is a desk with a multipurpose function perfect for your multitasking.
Pros
Easy to put together

Ideal for small spaces

It is sturdy and moves up and down quickly
Cons
Not made of impact plastic, only compressed board

The price is a bit high for a mobile standing desk
Video: ApexDesk PneumaticSit-Stand Mobile Desk Review
ApexDesk is a sleek, durable, portable standing desk. This portable standing desk is lightweight and easy to transport with four wheels. It's versatile and good for many situations.
Additionally, it's built of black laminated MDF. You may modify the desk's height with compressed air, like office chairs.
The height may be adjusted quickly and quietly on the ApexDesk Mobile Pneumatic Laptop Rolling Desk to any position between 33.5" and 45.5". When elevating, pull the hand lever and press the top with the other.
The tabletop of this ApexDesk model, which is 28 inches long by 20 inches broad, is the brand's smallest one. Certainly, the ApexDesk is worth buying because its strength and elegance.
Pros
Well-made

Easy to move

It has a fast and quiet lifting
Cons
The price is high

It has excessively sharp edges and rough surfaces
Best L-shaped and Corner Standing Desks
Video:  UPLIFT Workstation V2 Commercial L-Shaped Standing Desk Review
The UPLIFT Workstation V2 Commercial L-Shaped Standing Desk is a hybrid electric sit-stand desk that allows you to work in either standing or sitting positions.
Presently, it is in its third version. Pre-drilled metal inserts are fashioned into each laminate top for simple assembly and disassembly.
Compared to other electric standing desks on the market, this one can adjust more quickly, quietly, and smoothly. By saving up to four height settings within your desk's keypad, the Advanced Digital Memory Keypad enables you to free up some space.
You'll get continuous support for your professional gear and personal belongings, even at your top levels.
Uplift Desk - V2 Commercial L-Shaped Standing Desk may be a fantastic fit if you desire the flexibility to move around while working during the day.
Pros
Good height adjustment

It has more years of warranty but with various exceptions
Cons
The 6-axis is annoyingly touchy

It is popular but has cheap quality
Fully Jarvis L-shaped Standing Desk
The upper and lower crossbars of the frame give the Jarvis L-Shaped Standing Desk its distinctive look. These frames provide greater lateral stability. Its lifting columns get wider near the bottom for a more sturdy basis.
Since it is a corner desk, you won't feel confined to the space. That's what this desk is claiming, as perfectionists design it.
Thanks to its programmable handset, the height may change with only one touch. Noise attenuation pads are placed between the desk and the frame to reduce noise or vibration. Jarvis L-shaped may be a great choice if you want a good-looking desk that lasts long and is easy to put together.
Pros
Least expensive electric L-desk option

It is a good choice for a home office
Cons
The vertical groove that connects the two desktop pieces seems awkward

Side tables are 27" deep for popular cubicle designs
Autonomous SmartDesk Corner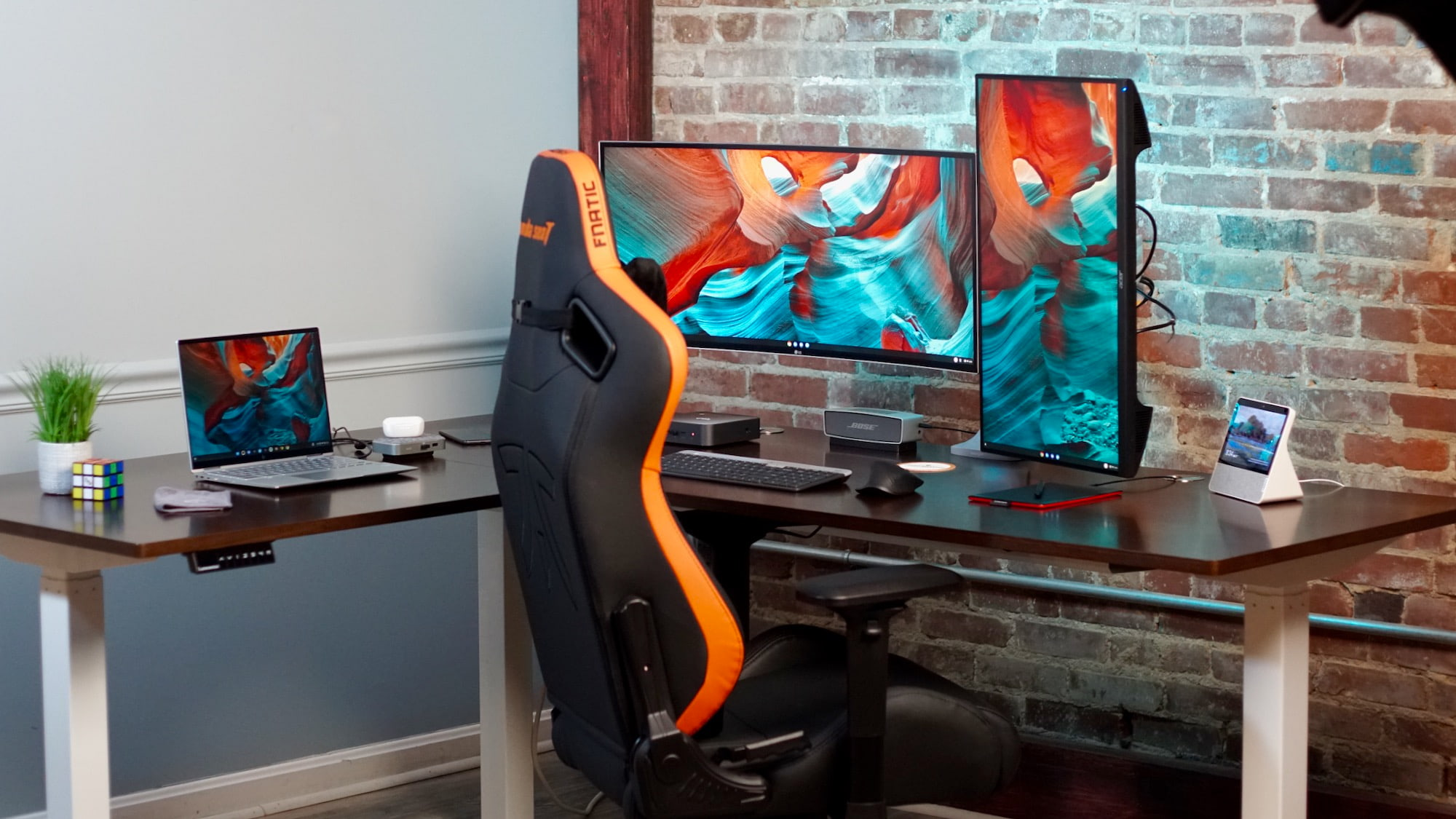 The L-shaped workstations from SmartDesk are constructed of sturdy, white MDF that looks great. Two metal inserts are included to fit into the desk's rear cutouts for neatly concealing cables.
It comes with the necessary components, including the assembling tool. The construction is step-by-step, and it is simple to follow directions.
L-Shaped SmartDesk has three synchronized electric motors. After the frame is fitted into the SmartDesk top's pre-drilled holes, the controller is bolted into place.
Each tabletop has two robust I-beams. The L-Shaped SmartDesk's height is adjustable thanks to telescoping legs with electric motors. A wide base provides stability.
Pros
There are four programmable height settings and quiet, quick motors

The desk is stable, and even when completely extended, it does not sway
Cons
It is expensive

No automatic stop protection while repositioning the desk
Advantages and Disadvantages of a Standing Desk
Are standing workstations the best option for your office? Let's examine a few of the differences among different workstations.
Benefits of Standing Desks
Standing desks are more effective than conventional desks because they allow you to move your body and work in a better posture.
Moving your body regularly throughout the day can improve your circulation, breathing, and other physical activities that help you stay healthy. Standing up also helps relieve stress by reducing the time spent sitting down.
Additionally, standing desks for small spaces are beneficial for people with back pain or joint issues because they allow you to move freely without causing strain on the back and joints.
Conclusion
Standing desks are the new way to work, offering many health benefits. They help to improve posture and reduce the risk of developing chronic diseases. You can get the Uplift Desk for yourself, or the UPLIFT Desk - V2 Commercial L-Shaped Standing Desk is also a good choice.
Many people find they have better concentration while standing than sitting down. Whatever your reason for buying a standing desk, the list of best standing desks you have read cannot disappoint you. Good luck!
Are you wondering how to use a standing desk for your setup? We'll show you how a standing desk can be a great thing to have. Visit our website today!
What do you think of standing desks for small spaces? Let us know in the comments below!
---