Are you always on the move and seeking to make your workday more comfortable? If so, an electric standing desk could be just what you're looking for to keep away from your normal desk.
Standing desks are a great way to reduce back pain and improve overall health. They can help you gain more energy, which is essential for working at your best.
Finding the best desktop standing desk is not an easy task. Fortunately, this guide can provide you with a list of the top-tier electric standing desks available today. Read on!
What to Consider When Buying Electric Standing Desks
Weight Capacity
The weight capacity of a full-standing desk can be determined by the material used to make it. See how many pounds the work surface space can support in the instructions. It would give you a better sense of how much pressure it can bear before fracturing.
You can also read the reviews, especially the comments made about the product. A good desktop standing desk surface must hold at least two monitors.
Height Adjustment Range
People who work must consider height settings. There are adjustable height desks suited for a monitor mount with a keyboard tray. Their ranges can be utilized to account for a person's leg length. Make sure you're comfy while working, whether it is a fixed-height desk or an adjustable-height standing desk.
Standing desk converters tend to be affordable. It is perfect for people with back issues who spend the entire day at work.
Memory controller
Good memory controllers are important. They can help to ensure that the desk will remember the position of your legs, arms, and head throughout the day.
Full-standing desks with memory controllers can keep track of all the data you enter into the system. This helps to ensure that your data is stored properly and that there is no chance for any errors.
Ease of Installation
If you have ever tried installing an electric standing desk, you know how difficult it can be.
Most of the time, these desks require professional installation. A pre-assembled electric standing desk eliminates the need for additional installation supplies or tools when you purchase one. The cost of these parts will end up costing much more than if you were to buy them new online.
Warranty
It can become a major inconvenience if something goes wrong with your sit-stand desk. A warranty will ensure that you get support when needed and that you can return the product to its manufacturer if necessary. Additionally, it ensures that you can access repair or replacement options if your sit-stand desk is damaged while in use.
Best Electric Standing Workstations
Overall Best Electric Standing Desk
The Direction Desk Laminate is a strong and long-lasting material. Having a standing desk frame give out on you at an inconvenient time is a thing of the past. This desk is made to last and will work well for at least five years or your money back. With a height adjustment range of 24"-50.5", convenient one-touch settings, and a failsafe mechanism to avoid unintentional accidents, this lift is as user-friendly as possible. 
This electric desk can be ready to go in within ten minutes and can hold up to 220 pounds. It's intended to inspire a more wholesome way of life. Choose a color scheme that works for your home or professional office using a monochromatic base with a complementary accent color.
Pros
Offers a variety of base and top colors to choose from

Height adjustability ranges from 24" to 50.5."

With its quick 10-minute installation process and user-friendly one-touch presets
Cons
Limited weight capacity of 220 pounds.

Lack of Customization Options

It may be priced higher compared to some other standing desk options.
Best Value Electric Standing Desk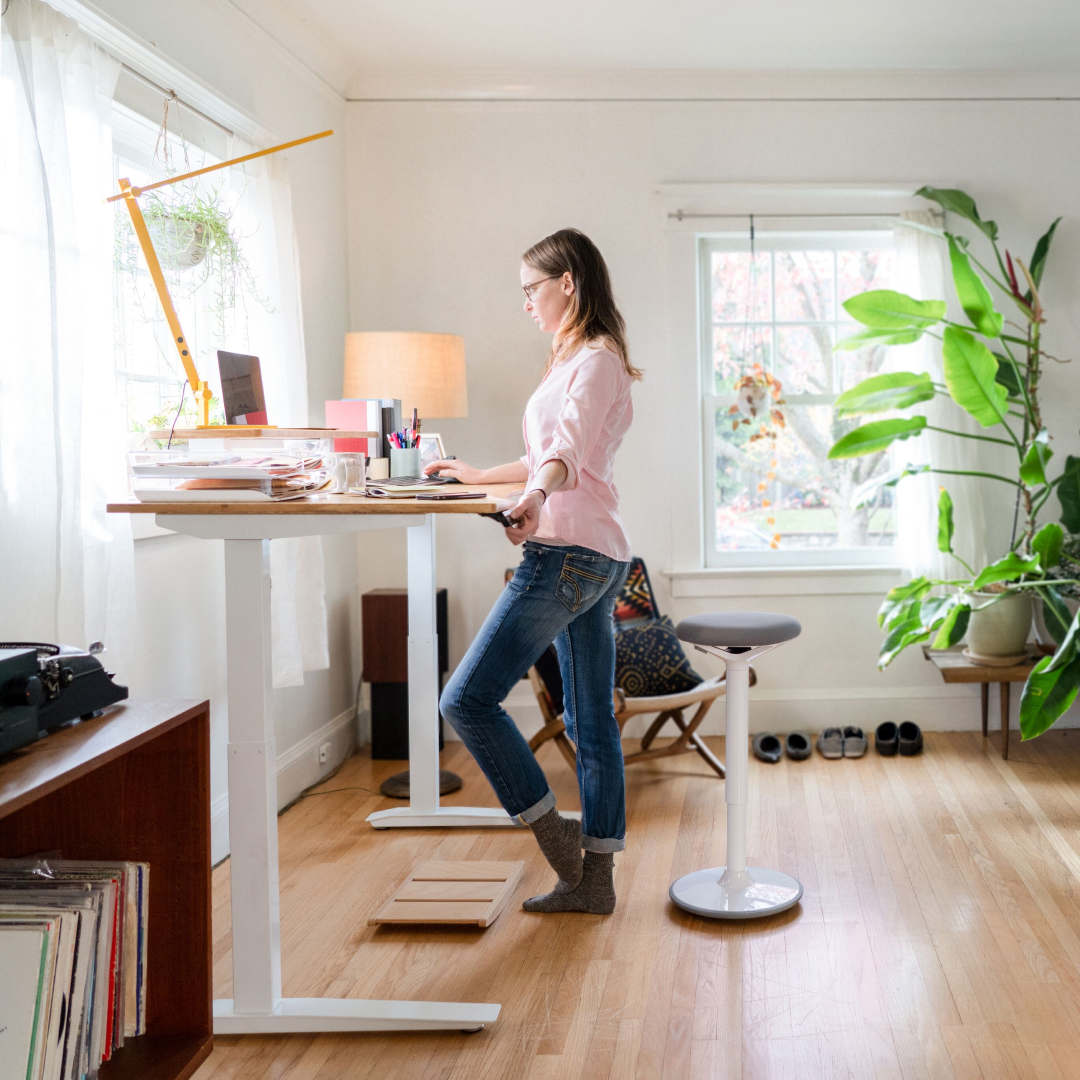 The 60x30 direction desk bamboo desk is a comfortable electric stand-up desk that can be adjusted to help you get more done. Its industry-leading height range of 24" to 50.5" makes it simple to select the most comfortable ergonomic configuration for a healthy way of life. 
One-touch settings and an anti-collision safety feature make making adjustments quick and easy. The maximum weight that can be safely stored on this massive desk is 220 pounds. There's no need to worry about spending more than 10 minutes on the setup process.
Pros
It promotes comfort and productivity during work.

The one-touch presets enable quick and convenient adjustments.

Sturdy and Spacious
Cons
The desk is available in a specific size of 60x30.

Users with heavier equipment or multiple monitors may need to consider the weight distribution and ensure it meets their needs.

The customization options may be limited compared to desks with more extensive customization choices.
Best Electric Standing Desk for Gaming
The Direction Butcher Block Desk is an outstanding illustration of the complementary relationship between aesthetics and utility. This electric desk is the gold standard for workplace ergonomics, with a height adjustment from 24" to 50.5". The anti-collision safety mechanism and the simple settings allow for fast customization and heightened safety. 
Thanks to the high 220 lb capacity, you can pack everything you need. The initial setting is substantially simplified by the 10-minute setup period. Choose the ideal stain and undertone from Acacia, Bamboo, or Birch. The desk's depth and width can be adjusted to meet your needs. Any office would benefit from having a desk like the Direction Butcher Block Desk.
Pros
Ergonomic Comfort

The anti-collision safety mechanism prevents accidents

This desk can accommodate all your equipment and supplies, offering ample space for work essentials.
Cons
Limited Finish Options

Complex Customization

Price Point
Best 4-Leg Electric Standing Desk
The Direction Electric Corner Desk provides additional workspace and a comfortable seat. This electric desk can be adjusted from a low of 24 inches to a high of 50 and a half, giving you plenty of room to find your ideal working position. The lifting columns and the feet are made of sturdy, powder-coated metal. 
The desk's ability to sustain up to 330 pounds means it is sturdy enough to hold all your office equipment. The top is constructed of high-quality MDF board and laminate, making it sturdy and versatile. The Direction Electric Corner Desk is a versatile and feature-rich piece of furniture that can be used in a home or professional setting to maximize efficiency.
Pros
Maximizes your workspace by utilizing the corner area effectively.

This desk allows you to find the perfect ergonomic position for sitting or standing.

The powder-coated aluminum lifting columns and feet ensure durability and stability, providing a solid foundation.
Cons
The options for customization in terms of design or color may be limited.

Assembly may require some time and effort.

Electric standing desks tend to be more expensive.
Best Electric Standing Desk Converter
The white 55x28-inch electric adjustable sit-to-stand desk is stylish and functional, thanks to its height adjustment capabilities and built-in USB port. This desk's handy control panel displays the current height and allows you to modify it to the ideal working height. By easily switching between the chair's two memory settings, you can take advantage of the health benefits of sitting and standing. 
The large desktop is more manageable by including a connection hole and a cable management tray. Anti-collision technology and an open-design headphones hook make this product risk-free to use. It comes with a USB cable for powering upThisis elegant, feature-packed sit-to-stand desk allows you to work longer and more easily.
Pros
Adjustable height

The built-in USB port provides convenient charging for your electronic devices.

The cable management tray and connecting holes help keep your workspace tidy and free from clutter.
Cons
The desk's 55x28-inch size may not work for those who need a larger or smaller work surface.

Limited Color Options

Assembly Required
Advantages and Disadvantages of Electric a Sit Stand Desk
Electric desks are one of the most popular office furniture items. Below are some of the advantages and disadvantages of using an electric desk.
Advantages
The main advantage of an electric desk is its ability to move around with you as you work, which can be very useful if your working environment changes over time. This is particularly useful when working in a shared office space where desks change location frequently.
It also means that you can use various types of equipment on the same desk, including laptops, tablets, and phones. So, there is no need to carry extra equipment or worry about space management issues.
Disadvantages
There are some disadvantages to using an electric desk, though. The most noticeable one is that there is no freedom of movement regarding moving around your desk or changing positions while working. Concerns exist regarding the durability of this type of technology and whether or not any issues will arise over time.
Electric vs. Manual Desktop Standing Desks
Electric standing desks are great for people who aspire to build an ergonomic standing workstation but can be difficult to configure. Manual standing desks are easier to use and adjust, but they don't have the same level of flexibility.
Manual standing desks are more compact than electric ones and don't require much space since they're not as tall. But they can be more difficult to use if you need to move them frequently.
Electric standing desks are designed to adjust the height range and angle of the desk easily. This is especially useful when you're working at a computer all day long, which often requires sitting in one position for a long time. Electric models also tend to be very quiet. It can help you with concentration. Manual ones tend to be noisy because you need more effort when moving them around.
Conclusion
The best way to get into a standing desk is by testing different options and seeing what suits you best. Whether you want a desk featuring height range adjustment and memory preset, SHW Memory Preset Electric Height Adjustable Standing Desk is for you.
If you have limited space, an adjustable standing desk with a nice work surface like Flexispot EN1 could be perfect. You can check out our newest portable monitors available by visiting our website. 
As the world becomes more and more digital, it is ideal to stay engaged and productive. With the provided list of best desktop standing desks here, it is up to you to purchase what suits you great. Feel free to share your thoughts on these electric standing desks in the comment section. Good luck!
---