If you're looking for a way to improve your health and well-being, then a desktop standing desk is probably the best option that you can choose. A standing desk can also be one of the factors to increase your productivity and boost your energy levels.
However, finding a solution that can reverse the negative effects of excessive sitting is tough. Fortunately, this guide covers the benefits of having a desktop standing desk for a happier and healthier workspace. Let's begin!
What does standing all day at work do to your body?
Sitting all day can be bad for your health, and so is standing. When you spend long periods in one position, your muscles get weaker and more prone to injury because they have less use over time.
Studies have shown that sitting increases the risk of diabetes and cardiovascular disease, per PubMed Central (PMC). When compared with those who routinely stand up and move in different positions, sitting can cause more chances of getting sick.
There is also a study from the Americal Journal of Epidemiology that found a link between prolonged sitting and higher incidence rates of cancerous tumors in the colon or rectum.
Another showed similar results when looking at breast malignancies among postmenopausal women who spent long hours per day seated at work. According to another research from PMC, a high level of sedentary time may raise the risk of breast cancer.
Less sitting and more movement appear to improve health, according to the researchers at Mayo Clinic.
If you have the option, begin by just standing rather than sitting. You can also practice moving around while working.
Taking breaks from sitting all day can be important for your body's physical and mental health. However, it's important not to overdo it with the standing desk.
Benefits of Using Standing Desks
It's no secret that sitting down all day isn't good for people. It's better to be aware of such circumstances to avoid further problems in the future. Standing desks are a hot topic among office workers and health gurus alike, but what exactly do they do for your body?
Explore the benefits of standing desks and how you can get the most out of them below:
1. Prevents Neck and Back Pain
Standing desks can help prevent neck and back pain and maintain proper posture, especially if you're sitting for long periods.
This positioning can cause tension in your neck and lower back muscles. It may lead to physical problems such as chronic pain and stiffness. These are common among office workers who spend most of their time hunched over a regular desk.
Over time, bad sitting habits and poor job ergonomics can harm spinal structures and cause recurrent neck or back pain episodes, per UCLA Health.
Standing desks may allow you to keep good posture. It can also reduce wrist pain. Your muscles aren't usually used while sitting still all day long.
2. Helps Prevent Weight Gain
Standing desks can be a great way to help you burn more calories and stay active. While standing may seem easier than sitting, it's quite difficult for some people to do so.
Many find that they need an extra boost of energy when they first start standing up at their normal desk because of all the changes in posture that come along with this change in position.
The more you stand and the longer you do it, the more calories you burn. Sitting all day long, your body burns fewer calories than standing up.
Experts advise that engaging in at least 30 minutes of physical activity at least five days a week can help prevent problems like obesity, diabetes, and cardiovascular disease, per Science Daily.
 It doesn't just depend on how much time is spent at work. It also depends on what kind of activity you're doing.
3. Reduces Risk of Chronic Disease
Weight gain and obesity aren't the only health problems associated with our modern habit of over-sitting. Experts can conclude that long periods of sitting are unhealthy, with the study reported by The Centers for Disease Control (CDC). Standing can help improve blood pressure and lower the risk of chronic disease.
4. Improves Focus, Mood, and Motivation
Standing desks can help you feel more energetic throughout the day. Sitting makes it easy for your muscles to become tired and sore after a few hours of work. By standing up every hour or so, you may feel less fatigued than when working from a regular desk.
This office furniture can relieve stress that can come from sitting all day at work by providing an alternative form of movement throughout the day. You may notice that your lack of movement can cause you to feel tense even though you are doing anything wrong. It may lead you to think negatively.
Another reason why you should consider getting a standing desk is that it can help you concentrate better. When you're sitting down all day long, there's not much benefit from focusing on something that requires concentration.
5. Increases Productivity
If you want to be more productive, sitting is not always the way to go. A study conducted by Harvard Health Publishing found that people who used standing desks were more productive than those who sat for long periods each day.
It can help you stay focused on your work and avoid distractions. These distractions can harm your productivity level. You were likely to experience lower stress and fatigue levels while standing than those who spent more time at desks.
Standing desks can improve your mood, giving you an overall happier outlook on life. You may also sleep better at night if you're standing up while working. This is one of the reasons why many people choose to use a standing desk in their home office. With these practices, you can boost your energy levels.
6. Burns More Calories
One of the most obvious benefits of standing desks is encouraging movement.
By standing, it means your metabolism may be higher, and you can burn more calories throughout the day.
So how do you know if it's time to swap out your existing desk with a standing one? If you've been stuck at the same spot for hours, it might be time for an upgrade. This can help keep those extra pounds off.
Standing up for long periods may increase circulation throughout your body. This may lead to weight loss as well as better moods overall. This happens without even taking a single step.
If you're looking for ways to increase productivity at home while reducing stress levels in the process, consider spending extra to replace your existing desk with one that can allow you to sit and stand.
7. Better For Your Brain
Standing may be better for your brain. It can help you focus on the task at hand and stay awake. It is important for people with a busy lifestyle who need to be constantly active. They can also improve memory and brain function by reducing stress.
Finally, standing up has been shown to improve mood. It can increase dopamine levels in the brain. There is a neurotransmitter that can increase happiness and satisfaction with life and decreases serotonin levels, per Health Line.
If you're like most people, your workday is likely filled with distractions. Whether the phone buzzing in your pocket or an email popping up on-screen, it's easy to get distracted from what's happening. But standing desks can help you combat this problem by keeping you active and alert throughout the day.
5 Top-tier Standing Desks
You can find the durable and long-lasting Direction Desk Laminate right here. You'll never have to worry about a malfunctioning standing desk frame again. This desk will serve you well for the next five years or more, or your money back. The 24"-50.5" height range, the one-touch settings, and the safety function that prevents unintentional accidents make this lift the easiest to use. 
This electric desk can be ready to go in within ten minutes and can hold up to 220 pounds. It's intended to inspire a more wholesome way of life. Whether working from home or in an office, choosing a color scheme that works for you is important.
Pros
Offers a variety of base and top colors to choose from

Height adjustability ranges from 24" to 50.5."

With its quick 10-minute installation process and user-friendly one-touch presets
Cons
Limited weight capacity of 220 pounds.

Lack of Customization Options

It may be priced higher compared to some other standing desk options.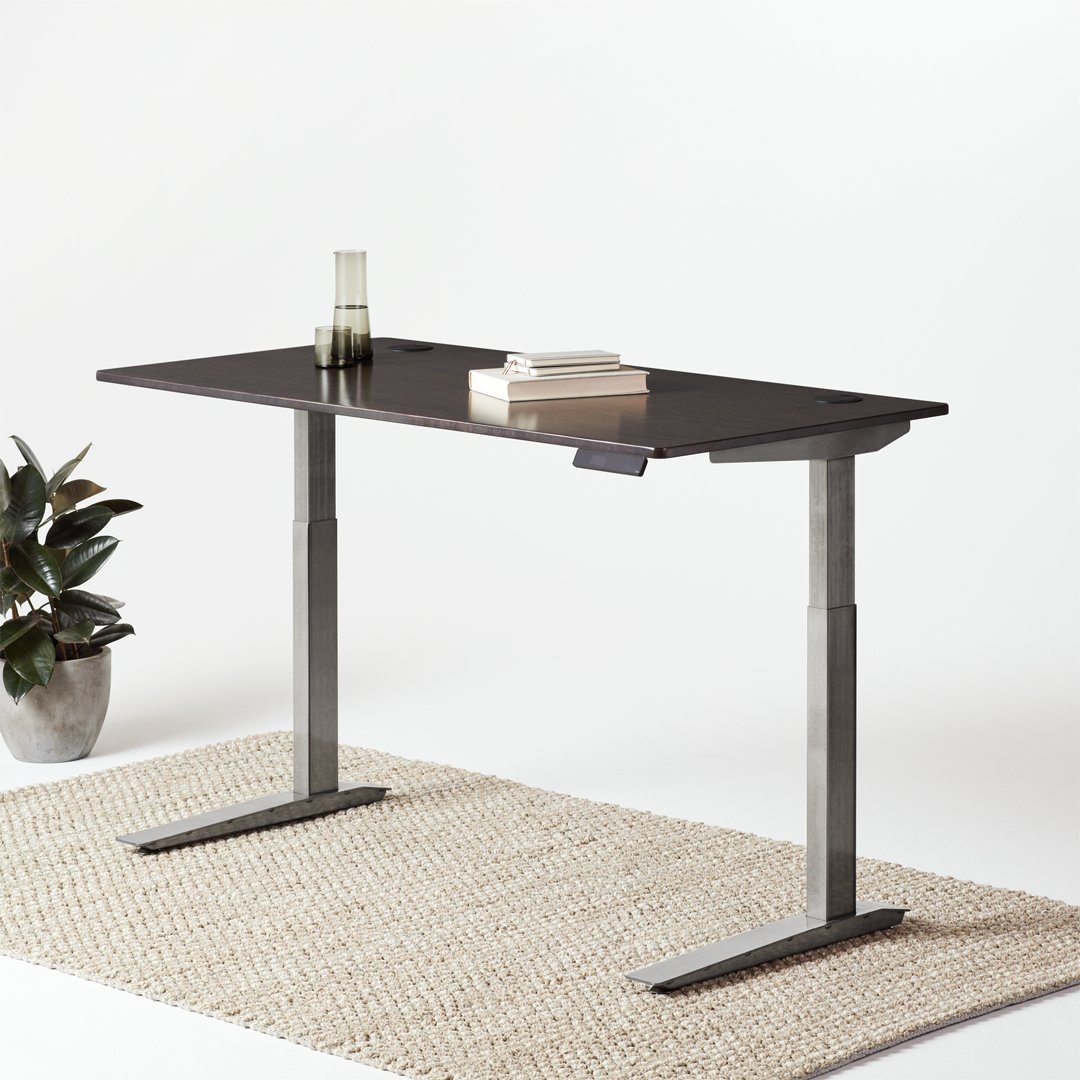 The direction desk bamboo desk, sized 60x30 inches, is an electric stand-up desk that can be adjusted to fit your height and comfort needs. With a height adjustment from 24" to 50.5", finding the perfect ergonomic position for a healthy lifestyle is easy. 
The anti-collision safety mechanism and one-touch make adjustments quickly and easily. Up to 220 pounds of tools and materials will fit comfortably on this spacious desk. The entire setup procedure takes less than 10 minutes. You can customize it to match the color scheme of your workplace by choosing from a wide range of bases and tops.
Pros
It promotes comfort and productivity during work.

The one-touch presets enable quick and convenient adjustments.

Sturdy and Spacious
Cons
The desk is available in a specific size of 60x30.

Users with heavier equipment or multiple monitors may need to consider the weight distribution and ensure it meets their needs.

The customization options may be limited compared to desks with more extensive customization choices.
comfort. With this electric desk's height adjustment options (24"-50.5"), you can find the ideal working position for you. The lifting columns and the feet are made of sturdy, powder-coated metal. The desk's 330-pound weight capacity guarantees that it can hold all of your office equipment without tipping over. 
The top is constructed of high-quality MDF board and laminate, making it sturdy and versatile. The Direction Electric Corner Desk provides the versatility and convenience to get more done at home or in the office.
Pros
Maximizes your workspace by utilizing the corner area effectively.

This desk allows you to find the perfect ergonomic position for sitting or standing.

The powder-coated aluminum lifting columns and feet ensure durability and stability, providing a solid foundation.
Cons
The options for customization in terms of design or color may be limited.

Assembly may require some time and effort.

Electric standing desks tend to be more expensive.
This white electric adjustable sit-to-stand desk measures 55 by 28 inches and features a USB port, making it versatile for any workplace. This height-adjustable desk has an easy-to-use control panel that displays the current height and allows you to select a new one. The chair's two memory settings allow you to reap the health benefits of sitting and standing with less effort. 
Computers can be neatly tucked away in the cable management tray and connecting holes on the spacious desk. The anti-collision mechanism and open-compartment earphone hook both contribute to a risk-free experience. The device has a USB port for charging. This stylish, fully-featured sit-to-stand desk will allow you to work longer without discomfort.
Pro
Adjustable height

The built-in USB port provides convenient charging for your electronic devices.

The cable management tray and connecting holes help keep your workspace tidy and free from clutter.
Cons
The desk's 55x28-inch size may not work for those who need a larger or smaller work surface.

Limited Color Options

Assembly Required
The frame of the Jarvis L-Shaped Standing Desk is distinguished by its top and lower crossbars. The lateral stability of this adjustable standing desk is higher. Near the bottom, the lifting columns widen to provide a more stable foundation among electric standing desks.
You won't feel constrained by the area because it is a corner desk space. This desk, which perfectionists created, makes that claim. It has a hardwood tabletop for the same price and a sleek design with a great finish, perfect for two monitors.
With only one touch, the height may be changed thanks to its programmable handset. To lessen noise or vibration, noise attenuation pads are placed between the desk with the same frame.
If you want a stylish and adjustable standing desk that is simple to assemble and lasts for a long time, the Jarvis L-shaped can be a wonderful option.
Additionally, if you prefer, an adjustable standing desk converter can be added to it to maximize your standing height.
Pros
An excellent option for a home office

Most affordable model of an electric L-desk
Cons
The depth of side tables for most cubicle designs is 27"

Odd looking design
Standing Desk vs. Desk Converter
Finding the best standing desk for your decor, budget, and performance needs is next-level. Making it a truly ergonomic workstation demands the inclusion of accessories such as a desk converter.
A Standing Desk Can Help you be Healthier and Happier at Work
It's fascinating to explore the world of standing workstations. You can move quicker and work more efficiently.
In addition, you'll be happier and healthier than before. Here are a few of the most well-known advantages of working at a standing desk.
A great way to be more active during the day

Gives you plenty of time left over in your workday

Improves your mood, especially for long periods of time
Finding the best standing desk converters are more affordable if you are on a tight budget. You just have to place it on any existing desk you have.
Standing Desks are a Great Way to Stay Healthy
A standing desk is an excellent choice if you're looking for ways to improve your health and keep your body strong. You don't have to buy an expensive standing desk; your normal desk can catch up with your preferred height settings if partnered with the right standing desk converter.
It can help burn more calories, improve posture, avoid weight gain, prevent neck and back pain, and even enhance productivity. Standing as you work and pausing to move around is a lot better.
Conclusion
Your time can be used more effectively if you keep away from your ordinary desk. Finding the best standing desk is not that tough. Sometimes it arrives fully assembled.
If you're interested in learning more about the advantages of standing desks, having a new desk like stunning Fully Jarvis for your home office is a wise option for mental health. Meanwhile, the stability of the Autonomous SmartDesk Corner can help you keep proper body posture.
Do you need help putting together a setup with a standing desk? Visit our website today. We'll gladly provide an idea of what the setup will look like.
The guide here may not disappoint if you want to switch your sitting heights to a more convenient and adjustable standing desk. However, the best part about standing desks is that they can make you healthier. Stay fit!
Do you agree with the benefits of using standing desk? Let us know in the comments below.
---