If working on your computer has become too physically demanding due to prolonged sitting, it might be time to consider investing in a standing desk. Generally, even affordable standing desks can help you increase productivity and prevent repetitive strains and injuries.
However, building a standing desk for your home office is not an easy task. You may need the right amount of ideas to get you started. Fortunately, there's a way out of this bind. This post can serve as a guide on how to build a do-it-yourself adjustable standing desk. Let's begin!
What to Consider During Planning Phase
1. Budget
You might have come across adjustable standing desks that are costly. An expensive standing desk may offer a higher level of quality and durability. However, you must do so on a budget when you want to build yours. This may help you get a affordable standing desk that meets all your needs and requirements.
2. Adjustment Range
With a wide range, you can easily adjust the standing height of your desk without having to move it around. It also makes it easy to put up a cable tray and storage drawer for all your files. The broader the height adjustment range, the easier it is for you to adjust your desk when sitting and standing.
3. Desk Versions
Choosing a version that adapts readily if you intend to swap regularly between sitting and standing at this one in your home office makes sense. Some may prefer a branch standing desk, while others may get a laptop desk. DIY projects may also include the renovation of an existing desk.
Electric
Electric standing desks are best for sitting and standing. You can achieve your preferred electric height adjustment smoothly. It requires expertise to make a sturdy desk even at its maximum height. This might sound expensive, but you can purchase a desk frame to lessen the burden of building an electric standing desk like this with a motorized height range.
Crank
Crank-operated standing desks do not have to be plugged in. While it frees up an outlet, you can also choose the best manual height range suited for you. Unlike electric standing desks, you would not have to worry about electrical parts breaking because there aren't any. These desks belong in the list of budget standing desk options.
Converter
A standing desk converter may help you achieve your desired standing height. Any existing desk may become useful again if partnered with a riser. Your typical stationary desk can become a weapon to get the maximum height you need for a correct body posture. Thanks to standing desk companies, DIY projects become easier suited for any home office.
4. Materials
Choosing materials for an entire desk may include consideration for durability. An expensive standing desk may be made of steel that can last for years. If you want versatility, reclaimed wood for making furniture is an option. You can also base your material on an appearance check; solid wood has an organic vibe for your home office.
5. Size
With desktop sizes in mind, consider where you'll place your office furniture. Is there enough room on one side? Will there be other desks nearby?
Base
When deciding on your desk space, consider that you may want to use it for more than one purpose. Choosing a taller desk's legs may be practical if you convert it into a stable standing desk with monitor arms.
The desk height you prefer to work may also affect how tall your sit stand desk needs to be. A lower-altitude unit may suffice if you want something simple that won't take up too much of your home office space.
Surface
Determining the desktop sizes may also require measuring your multiple monitors and any desktop materials you plan to use. Identify your customization options for keyboard trays and affordable standing desk converters.
Take those measurements and multiply them by two. This may give you an idea of how much space is needed for each piece of equipment. If there's still not enough room, consider adding a storage drawer, monitor arm, or cable management tray.
Guide on Building DIY Convertible Standing Desk
Gluing
Glue your lumbers. It is crucial to ensure that the lumber you buy is strong enough and safe enough to support your weight.
If you're using untreated wood, you may need to coat it with a polymer such as polyurethane before attaching it to your desk. This can make it waterproof and help prevent warping and swelling.
If you are new to creating projects like DIY standing desks, buying pre-finished wood is suggested. There are already pre-glued lumbers for your easy-building task.
2. Cutting
It may seem small, but cutting wood can help you build your DIY convertible standing desk. You can create a better design for your desk. It may also save you money and time by not having to buy pre-cut pieces of wood.
Cutting wood is important because it gives your design more shape and dimension. If there are no borders on the side of the desk, then the edges of this piece of wood may look very thin and unprofessional. This means that if someone looks at this piece of wood, they may not feel comfortable sitting on it because they don't know how thick it is.
In addition, it may allow you to add more features to your designs, such as drawer pulls. These features can help you organize all your stuff better and make your home office look neater.
3. Sanding and Planning
You may have heard that sanding and planning are essential tools for DIY building a convertible standing desk. But, if you've never touched either of these tools, you might wonder how important they are.
You must remove any material from the wood or other materials you're working with. The goal is to produce a smooth finish on your project.
When planning, make sure that your project looks great and has sufficient strength for its intended use. It would be best if you eradicated irregularities in the wood so that it can fit together when it comes time to assemble your desk.
4. Staining and Seal
Now that your lumber has been prepared, paint or stain it. Going darker is less complicated than going lighter when this is kept in mind. If you aren't sure what you want, start with something light because you can always make it darker later.
Either style option can be justified with arguments. Make the desk the center of attention in the room if you've put so much effort into making it.
You might need to make a decision regarding whether you want to maintain the room's current appearance.
If you choose to go with a hue or stain that will contrast what is currently in your space, your desk can be made to blend in.
Best Frames For Your DIY Adjustable Standing Desk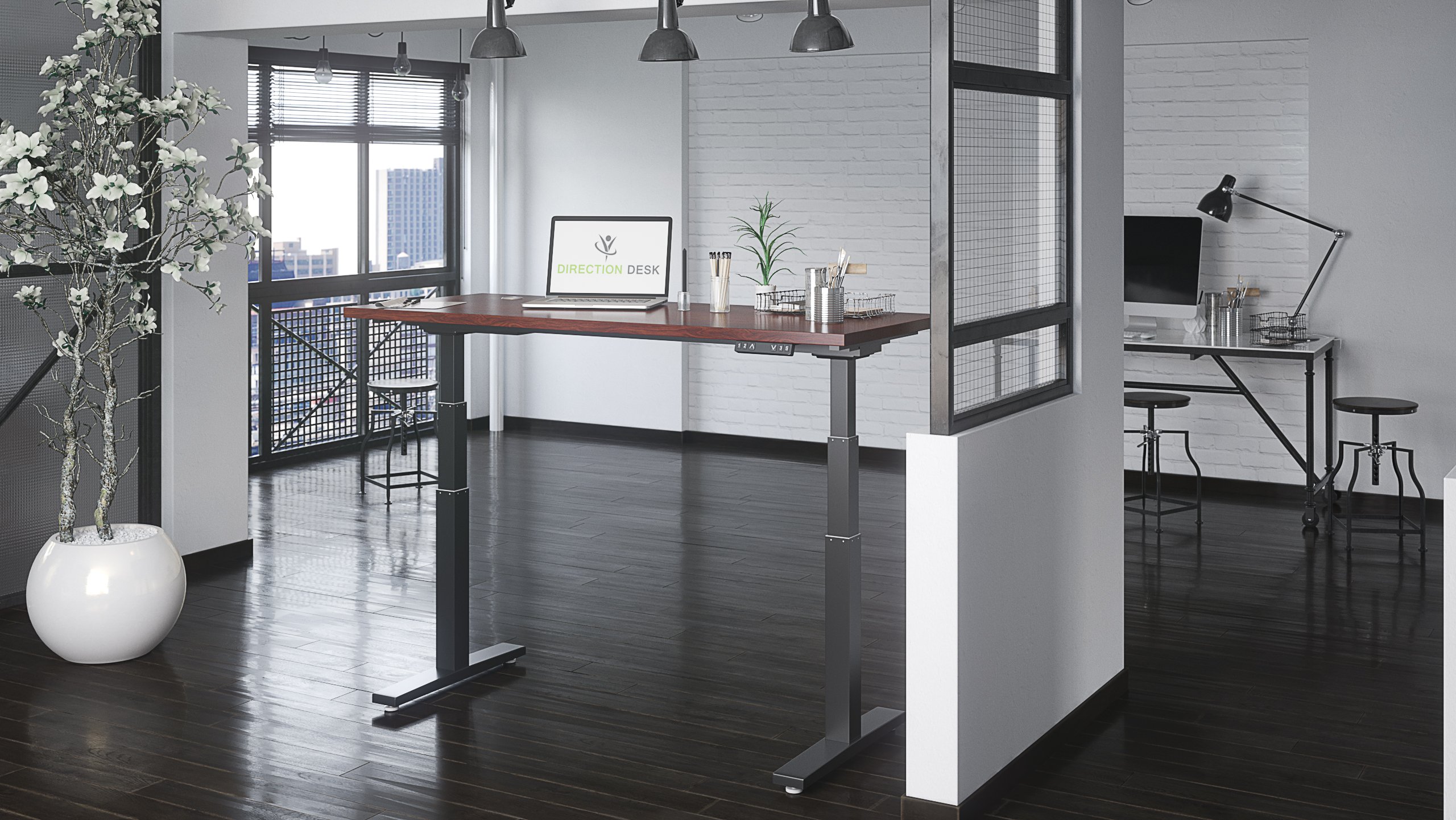 The Direction Desk Electric DIY Desk is a sturdy and reasonably priced option for building your standing desk from scratch. This desk frame is built to last and is guaranteed to function correctly for 5+ years, or you get a free replacement. Two- and three-legged frames are available so that you can pick the best option.
The basic two-leg and three-leg corner frames offer exceptional height adjustability and weight capacities for their designs. In contrast, the flexible frame allows for customization with smaller or differently shaped workstations. The Direction Desk Electric DIY Desk allows you to choose your desk setup.
Pros
Built to last

Flexible Customization

Cost-effective
Cons
Desktop Not Included

Limited Features

Assembly Required
Video: Amazon Standing Desk Review
TOPSKY Dual Motor Desk Frames can be your best material in building a desk. It boasts a solid construction that can carry up to 225 lb load capacity as much weight. You can make a sturdy desk out of this base.
Its multi-function can provide ease whenever you need to achieve your ideal height when working. With Topsky's anti-collision system, you won't have to worry about bumping onto it. The motor that raises the desk can have an anti-collision sensor. Thanks to standing desk companies, this can be incorporated into the lifting column under the desk.
Topsky can be your recipe for an affordable standing desk if you're on a tight budget. You must partner these desk legs with a sturdy desktop, especially a solid wood.
The best standing desks come with a motorized lifting system, especially if you want an electric standing desk with a quick movement.
It features a good frame height adjustment from 27.6" to 47.3" inches tall while its width frame can be adjusted from 43" up t 59" inches. While assembling this, you may not have to worry about defaulting to sitting in the same position.
While these frames can compensate for stability, their self-stop position can limit the wobbling. It also has a one-year warranty, which is great for your project.
Pros
Features a good height adjustment system

It can be easy to assemble, as it comes with comprehensive instructions
Cons
It has a cheap-like feel due to its affordable price

Some users revealed that it makes noise while moving
ApexDesk Desk Frames are easy to adjust. This expandability feature can be ideal for your reclaimed wood as your standing desk.
These desk frames have two motors with three stages, which gives them a control system with a wider range of height adjustments. A height-adjustable desk like this can provide you comfort to prevent back pain.
Regarding having maximum height, these desk frames can stand out from the competition among the cheapest standing desks. Even the most expensive standing desks can't match its other qualities, which make it a strong contender.
The ApexDesk Flex's excellent characteristics and features are a surprise, considering its reasonable price. This can do for your project in creating a sit stand desk.
A rather brief warranty duration compared to comparable items is the only significant downside you can identify after doing considerable research about these frames.
However, the quality of this frame would prevent the need for a warranty if you use its legs open to customization options. With the right techniques, you can build a well-constructed electric standing desk.
Pros
Has an affordable price with its solid construction

It comes with dual motors to adjust the height easily
Cons
Lacks room for cable management

It wobbles at a maximum height
Creating Standing Desk vs. Buying Standing Desk
Making a standing desk is the cheapest way to get one for your home office. You can use a basic furniture assembly kit with all the necessary parts and hardware under your customization options.
The disadvantage of this choice is that making a standing desk requires a lot more time than purchasing one already made. It is possible that you don't want to spend a lot of money on something that may only be utilized occasionally.
Many readily available ready-made options are reasonably priced if you don't have the room for a specially constructed standing desk. These include risers that can be mounted on top of standing desks.
Advantages of Standing Desks
It is important to know that standing desks have some advantages over sitting ones. Here are two simple explanations why you should consider switching from your traditional desk:
Health Benefits
A affordable standing desk can help lessen the risk of back pain and improve blood circulation and energy efficiency in the body. Switching to a standing option might be just what you need if you suffer from joint pain or stiffness while sitting down at work.
Increased Productivity
While this may not seem like such an obvious benefit, increased productivity can often come with more than additional time spent working on tasks during breaks between meetings or lunch breaks.
Conclusion
This guide will not disappoint you if you're looking to build your own quality desk to save space. It can give you a good overview of what is involved and how much work it takes.
Working on something as complicated as making a standing desk can be daunting. The affordable standing desk like TOPSKY Dual Motor Desk Frames is the best base you can have to get you going. FEZIBO Dual Motor Desk Frames, on the other hand, is one of the best deals if you want a solid upgrade of a desk setup.
Now that you know what you are getting into, it is time to assemble your first standing desk. Visit our website and we'll gladly help you setup your first standing desk build.
Did you find this guide helpful? Let us know in the comments below!
---