Are you looking for a type of keyboard that levels up your typing experience? It can be hard to choose which to buy because there are just so many options. Fortunately for you, this article will review the 10 most innovative keyboards and highlight their pros and cons to help you decide easier. Interested? Let's start.
Key Considerations When Buying your Keyboard
Getting an innovative computer keyboard for your home office is the best way to work more efficiently. Generally, there are different types of keyboards to choose from. This buying guide simplifies the details into a list of factors you should consider when choosing a keyboard.
1. Price
Consider how often you'll use your keyboard. Generally, more features cost money. You're probably paying for a distinctive style, functionality, or physical modification. So, browse around to find something that suits your needs and budget. To get a fair deal, compare store prices.
2. Worktype
If you know why you need a keyboard, it will be easier to narrow down your options. Generally, many people use keyboards for work or school. Meanwhile, some would purchase a gaming keyboard. If the computer will be used every day and possibly with much typing, it may be worth the money to buy a good one.
3. Keystroke types
Feel the keys. Generally, there are three keystrokes: rubber dome, scissor, and mechanical. Each type has a particular key feel since there are different types of keyboard technology. An ideal one features feather-touch keystrokes. Since there are different types of keyboards, some have been designed to reduce typing noise specifically for laptop keyboards.
4. Size
Slim keyboards that are less than an inch thick are the current trend. They are light, and their keys are often quieter. Generally, a device of this size makes sense if your workstation isn't big. However, bigger keyboards feature more media and hotkeys. This difference in size explains why laptop keyboards are smaller and more compact, which leads to te next argument.
5. Wired vs. Wireless
Wired keyboards are typical, but wireless ones are slowly taking the spotlight. Both systems have pros and cons. Generally, the wired is cheaper but less convenient because cords might tangle and limit your distance from the computer.
Meanwhile, wireless keyboards are designed to let you operate away from your computer. However, a keyboard with a USB port is not ideal for gaming because it can delay radio frequency sending.
6. Compatibility
Make sure the keyboard works with your computer because buying incompatible equipment can waste your money and time. In fact, some are picky with a number of keys. Today's types of computer keyboards connect through a USB port. PS/2 ports are outdated.
Meanwhile, wireless keyboards link via Bluetooth and are more complicated to set up than a USB keyboard. Function keys on most computer keyboards require installed software.
7. Extra Function Keys
Standard keyboards have 101 keys for entering character sets such as alphabets, integers, symbols, or functions.
More prominent computer keyboards have multimedia keys and more functionality, whereas smaller ones combine or delete keys to save space. Generally, these keys are responsible for opening apps, managing volume, etc. Also, they include power management keys, customized character layouts, and customizable shortcut keys.
8. Design
Choosing among the types of computer keyboards, one has to look for their design and architecture. Your design is an expression of your personality. A design that works for one individual won't work for another. Knowing your options is essential. So, here are the main types of computer keyboard design:
Standard
For home offices, a standard keyboard is a choice. The qwerty keyboard is the most common type for it is easy to learn and most people already know how to use it. Generally, these keyboards typically have 104 keys with a qwerty pattern. They have arrow/navigation keys, function keys, and numeric keys.
Ergonomic
If you have carpal tunnel syndrome or repetitive stress injury symptoms, ergonomic keyboards can assist you in preventing these concerns. Usually, these keyboards come with built-in palm rests. Some choose flexible keyboards that can be bent where keys are used for convenience.
Gaming
Customizable key functions distinguish a gaming keyboard from a regular one. Generally, the tactile feel of pushing mechanical keys can be felt in gaming keyboards. Mechanical keyboards as they are, faster reaction times, superior durability, decent key rollover, and loads of customization are the features. Also, ergonomic keyboards are preferred for long hours of gaming.
Typewriter
Different types of computer keyboards onboarded the market. But there are manufacturers who wish to revitalize the old vibes of a typewriter. In fact, typewriter keyboards emit the same clicking sound as old typewriters. These keyboards are designed with heavier control keys than standard keyboards.
Top-tier Keyboards For You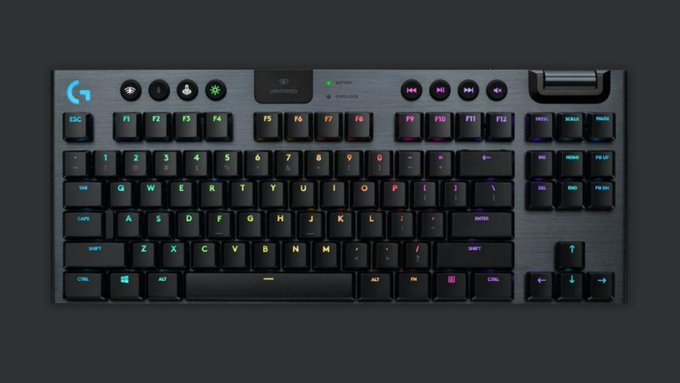 This full-sized mechanical keyboard is a high-end wireless gaming keyboard with three low-profile GL switch options. A professional-grade 1 ms LIGHTSPEED wireless capability is included on the Logitech G915 Wireless Mechanical Keyboard. You can play for extended stretches of time without interruption because of the G915's superb 30-hour battery life.
The Logitech G915 is also jam-packed with features, namely, it has fully customizable per-key capabilities, LIGHTSYNC RGB technology, programmable G-keys, and a thin and durable design. Because of its full-sized form factor, the G915 also has convenient aspects like its volume wheel and media keys.
Pros
Wireless functionality

Full-sized keyboard

Low-profile
Cons
Takes up too much space

Expensive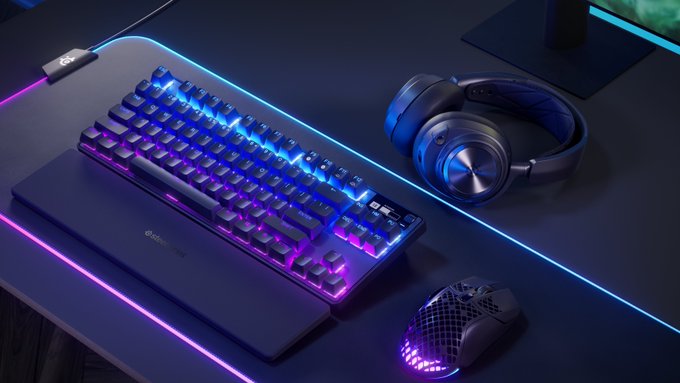 The Apex Pro MI is one of the fastest and most technologically sophisticated full-sized keyboards on the market, allowing you to win in a competitive setting by pressing the keys quickly. Another feature of the SteelSeries Apex Pro MI is its sturdy PBT keycaps, which let you type on luxurious, textured keycaps for improved keystroke feel and typing accuracy.
This keyboard's OmniPoint 2.0 function provides 11 times the response time and 10 times the actuation speed of standard keyboards. Users of the Apex Pro MI are able to combine two different actions onto a single key thanks to the 2-in-1 action key function.
Pros
High-quality keycaps

Quick response time

RGB lighting

Durable
Cons
The Apex Pro Mini Wireless boasts that it is the fastest Bluetooth keyboard in the world. This competitor says it responds 11 times faster and acts 10 times faster than all the wireless keyboards. It also has action keys that do two things at once and a wireless connection at 2.4 GHz.
With OmniPoint 2.0, the Apex Pro Mini can outperform standard and mechanical keyboards for lag-free online work and gaming. This system utilizes Bluetooth 5.0 for several devices.
Apex Pro Mini borrows 60% from its original version, SteelSeries Apex Pro, and incorporates a per-key configurable pre-travel distance function. This device grants every user the command to customize the sensitivity of their key presses.
Suppose you are a keyboard warrior whose interest is centered on speed and sturdiness with a qwerty pattern. This wireless keyboard gives more mouse movement room than full-size boards, although it may take some getting used to.
Pros
It has an adjustable pre-travel distance feature

It comes with software available for both Windows and macOS

Well-built with low latency
Cons
Video: Roccat Vulcan 120 Aimo Review
Whether you want a work machine, are a gamer, or are creative, having Roccat Vulcan 120 Aimo can let you feel the impact of German design and engineering.
Generally, the Vulcan features the Titan Switch Mechanical, responsible for speed and responsiveness. Additionally, the switches were made from the ground up for users who wanted to press keys quickly and accurately while still feeling them.
You could buy any standard keyboard but buying this type of keyboard can offer you an advanced anti-ghosting scheme, making every stroke registered.
An aluminum plate that has been anodized has a strong ergonomic design with a medium level of hardness. With this, Vulcan is built to last while protecting itself against wear and tear. Also, you won't bother any ergonomics issues with the detachable palm rest and low-profile keyboard design.
As to the AIMO Illumination, each switch has a long-life LED that can display 16.8M colors and various effects. Indeed, don't expect any dull moments with this device while being productive.
Pros
Premium Aluminum design

It has Easy-to-clean keycaps

Its switches have structural housing to reduce wobbling
Cons
Without USB pass-throughs
If you want a physical keyboard, you should look for one with a descriptive name to tell you the basics. Logitech K750 Wireless Solar Keyboard can get you excited. In fact, some users revealed that in a week of 8,000-word typing, the battery never dipped below 100%.
K750 feels no less durable with its 7.55 mm thick two long solar strips on the flat surface and numeric keypad on the right side.
You can start using it by pressing the solar button. It displays keyboard light levels (in lux). Below is the battery life. Additionally, Logitech says the battery lasts three months in darkness.
Simple and well-designed, K750 is the type of keyboard technology perfect for multimedia installations and typing on netbooks.
While most types of keyboards dip considerably in the middle, the K750 keys are more subtle, like pressing your fingertips into a soft flat surface. This cushions your fingers and helps you grab the keys faster.
Pros
It has a simplistic design; with no cables

Provides superior typing action

It has an unlimited solar power
Cons
Without Mac Solar App support yet

Its price is on the high side as a wireless keyboard
Design-wise, Qwerkywriter S is stunning for its aesthetic among types of keyboard technology. Indeed, it is a mechanical keyboard that looks like a typewriter and is easy to type.
There are scroll knobs that are responsible for page scrolling and controlling volume. This mechanical keyboard has wireless BT 3.0 and is ready for USB-C connectivity.
Qwerkywriter S is made of metal with Cast Metal Programmable Return Bar attached. Its curvaceous, matte black aluminum body and chrome embellishments are very mid-century. Additionaly, the key rollover is decent, and so are its keys' pitch and travel.
While this mechanical keyboard has a positive impression on its battery life, some users revealed that The scroll knob doesn't work in all text-based iOS apps. Your muscle memory can also challenge you to commit to using the paragraph lever. As it boasts well-built, its defining features feel more like a curiosity than a necessity.
Pros
It has a heavy-duty integrated stand

Switching between three devices is quick
Cons
Users don't like round keycap

Not a gaming keyboard
Video: LANGTU Membrane Gaming Keyboard Review
Membrane keyboards like Langtu have various benefits. One is the keyboard's light frames that come at an affordable price.
Langtu is an apt membrane keyboard to get the work done and satisfy gaming needs. Its innovative technology can justify the features it offers. Among gaming keyboards, it meets the needs of gamers.
Generally, mechanical keyboards employ a spring to press a physical switch, while membrane keyboards use rubber domes to connect electrical contacts. Langtu is a membrane keyboard that can provide comfort and speed.
Working with coffee or water is safer because the keyboard layout is water-resistant.
Its responsive keys allow hard workers to type for hours without becoming tired. Among gaming keyboards, its input device is next level. You don't need much force to press a key.
Langtu's RGB or LED lights for dimly lit places can liven up your mood when typing or software development. You can also change how these membrane keyboards work by giving them different keycaps jobs. This makes it easy to use.
Pros
Has an elegant and appealing style

It contains luminous lights

Is water-resistant

Quiet keys even when you are gaming
Cons
Too light that users doubt its durability
The office friendly Glorious GMMK PRO has an all-aluminum chassis and base plate. You may change the wire, obtain a different color rotary knob, and replace the aluminum PCB switch plate with the polycarbonate one that comes with it.
When you value sound and feel, the GMMK PRO is for you. It is designed for quality-conscious enthusiasts, gamers, and professionals.
Because it is sold barebones, this type of keyboard does not include switches or keycaps. Additionally, the design and engineering of this keyboard are outstanding, especially if you enjoy customizing lights and setting macros.
Although Glorious is a wired keyboard that stands at an acceptable height, a wrist rest is not included in the package, so further purchases may be necessary.
Pros
It is thought to be adaptable

Feels quite well-made

All keys can be macro-programmed
Cons
Only a wired keyboard

There are no wrist rest or inclination adjustments
Video: Logitech K350 Wireless Wave Ergonomic Keyboard
It is widely assumed that when you are at ease, you can concentrate better on the subject at hand. Keyboards can save your day if they are made with consideration for ergonomics. That makes Logitech K350 Wireless Wave Ergonomic Keyboard a decent overall keyboard for the home office.
K350 is a multimedia keyboard, known for its media keys and additional buttons. Generally, these types of keyboards are designed to reduce the worry of users about auxiliary functionality.
The padded palm of this wireless keyboard rest makes it easier to put your hands on this ergonomic keyboard. Next to each other, they can help you type quickly and accurately without having to familiarize yourself with the keyboard layout.
Among the types of computer keyboards, K350 has a long battery life (up to three years). Being a wireless keyboard guarantees its fast and reliable key rollover with a small, plug-and-forget receiver.
What makes it a different keyboard is its distinctive wave design and curve layout. K350's gently curved shape may reduce wrist strain when typing for lengthy durations. Despite its form, this ergonomic keyboard feels cheap, and the keystrokes are loud.
Pros
Affordable

Economical and long battery life

It has a distinctive wave design and curve layout

Comfortable when typing
Cons
The media keys are in an awkward place

Cheap-sounding keys
The Freestyle Edge upgrades its original split gaming keyboard, the Freestyle Edge RGB, with various new features. Innovation has come to the senses of the product-maker of this keyboard.
The Freestyle Edge was designed with feedback from avid gamers to fulfill the highest quality, design, and performance standards. This keyboard can also help home office workers who want to try something different.
Unlike traditional types of keyboards, the Edge lets you modify the left and right parts separately. Generally, the parts are joined by up to 20 inches of braided cable, giving you plenty of wiggle room.
So, set up the Freestyle Edge RGB based on your other input devices and accessories for the greatest desktop freedom. If you're thinking about switching to a split keyboard, remember that it will take some time and effort to get used to it.
Pros
It has fluffy wrist rest

RGB illumination is configurable per key

Once get used to it, the ergonomic design is quite comfortable
Cons
Additional cost for the lift kit

The learning curve is steep
Advantages of Having a Keyboard
The computer keyboard is by far its most important component. On a computer, you can essentially do anything using a keyboard. The keyboard is quite beneficial for home office workers.
Its advantages are as follows:
Easier to type than to use a mouse and trackpad

It is easier to type than to scroll through long lists on the screen

Becomes possible for you to use more than one program at once
Choose the membrane keyboard if you like portability. In fact, some people use a flexible keyboard made of silicone that bends and flexes. It could be a qwerty, numeric, or custom-designed keyboard for any application. Some people enjoy emulating using a virtual keyboard. A virtual keyboard is projected onto a surface by a projection keyboard.
If you use a computer keyboard instead of a mouse and trackpad, you won't have to switch between programs as often. You will be able to type quicker and more precisely with a keyboard than with any other input device you may have used in the past.
Mechanical vs Ordinary Keyboards
Generally, mechanical keyboards are more high-quality than standard membrane ones, but they cost extra.
Mechanical Keyboards
Cherry MX switches power mechanical keyboards, unlike membrane keyboards. This tech jargon explains each keyboard key. Generally, the switch has two parts: one that moves up and down and another that contacts the keyboard.
Normal Keyboards
Rubber domes give normal keyboards key resistance. These rubber spheres feel squishy when pressed. They don't offer as much resistance as mechanical switches. In fact, mechanical switches help those with sore fingers to type painlessly.
Conclusion
The computer keyboard is a vital part of the home office, especially when you must type a lot of information. Indeed, there are several types of keyboards to choose from.
Generally, the Logitech K350 is a great wireless keyboard for gaming, while the Glorious GMMK Pro is wired but offers great versatility. Check out our best monitors from different brands on out website. 
Hopefully, this article helped you decide which keyboard is best for you. Make sure to check out their store reviews if you're unsure. Please leave a comment and tell us which keyboard you think is best. Good luck!
---