Standing desks are an investment and purchasing the wrong one can halt your progress toward healthy habits. However, choosing a desk can be challenging due to the several options with varying prices and quality in the market today. Don't worry; the famous desk setups on YouTube inspire the list of the top-standing desks indicated in this guide. Read on to learn more!
5 Steps for Setting Up Desks
1. Choose Your Sit-Stand Desk
The benefits of having a sit-stand desk include better health, more energy, and greater productivity. Search for a workstation that can definitely let you sit during the day and stand up at other times. Also, you may feel less tired when you have additional flexibility in your home office.
2. Plan Ahead for Ergonomics
Ergonomic desk setups should be designed for each person. Prevent injuries by creating a space that fits how you move and function. Therefore, spending time to think about what works best for you can help you decide on your ergonomic setup.
3. Keep Clutter Out of Your Workstation
If items on your desk aren't organized, they can easily get lost or misplaced. When this happens, it slows down the work process and even leads to mistakes. This can be a bit frustrating and stressful if the clutter takes up space where your work could go.
4. Practice Cable Management
Cable management can make your workstation look professional and clean. Since it is about keeping cables organized and neat, systems like raceways and drops are essential things. You must do it if you need to set up your computer, monitor, or gaming console on your tabletop.
5. Maintain Your Workspace Clean
If you're constantly looking for things, you're wasting time that could have been spent doing something productive. Finding things takes less time when there isn't any clutter around than when everything is messy. Having a clean space can get the focus you need.
5 Inspiring Desk Setups on YouTube
1. Justine Tse's Ultimate Modern Desk Setup Tech Tour
Video: ULTIMATE Modern Desk Setup Tech Tour
Tech Youtuber Justine Tse's unique spaces, setups, and makeovers always put him on the cutting edge of creative design.
He currently has 797K subscribers on his Youtube channel, with dozens of videos about interior design, real estate, and technology.
Tse's channel has great content for tech enthusiasts and video creators. His ultimate modern setup tech tour can motivate you to build or upgrade your space. In fact, his video has hit more than 40K views on YouTube since October 2022.
His setup includes an Uplift L-Shaped Standing Desk Frame. No wonder every home office space can find inspiration in its top-of-the-line quality components and precision craftsmanship.
2. Omar El Takrori's Ultimate Video Studio Desk Setup
Video: The Ultimate YouTube Studio Desk Setup 2022
Content specialist Omar El Takrori is dedicated to advising business owners and influencers on content and process.
Takrori belongs to a team of content creators called Think Media, bringing weekly productions of tech reviews, camera tutorials, and YouTube growth videos. It has more than 2 million subscribers, and it is easy to see why.
If you need to start making an entire YouTube studio setup, check Takrori's Ultimate YouTube Studio Desk, released this September 2022. His quest might also inspire any audience with creative talent and an idea in mind.
His content about his setup includes a Husky Adjustable Height Worktable. This versatile workstation has a manual crank that raises and lowers the work surface.
3. Josh Fenn's Home Office Desk Tour
Video: Home Office Desk Tour
Content Creator Josh Fenn has been making YouTube videos about travel, tech, and EDC weekly. His expertise in documentary filmmaking and advertising media grants him more than 69K subscribers.
Fenn shared his entire setup for video editing, gaming, and music production in September 2022 and hit over 69K views. He started to talk about the upgrade he needed last year before the release of his home office tour.
What he did for his tour was a great way to give people a glimpse of his craft and get ideas for their work areas. Take note of his advice to accomplish minimum setup if you're putting up a YouTube studio or simply need to work from home.
Fenn's setup even includes a Flexispot E150 as a centerpiece. Of course, it makes sense that he designed a dark room that is both warm and inviting.
4. Mike Wat's the Modern Dream Home Office & Desk Setup Makeover
Video: The Modern DREAM Home Office Makeover
Digital Creator Mike Wat claims himself as a striving minimalist. He runs a self-title channel on YouTube with 164K subscribers.
Wat released his video titled Modern Dream Home Office and Desk Setup Makeover 2022. It may look like it was going to be difficult, but he explained well how important the planning phase is. He shows off his entire work of art, along with tips and tricks for how he keeps things organized.
A YouTube desk setup creator like him can walk you through how to create a dream home office for yourself that is both functional and inspirational. You can turn your living room into a functional setup with additional lighting and audio equipment.
The right furniture is the key to building a modern dream home office. With the setup featured in this video, he used Ergonofis' Sway Table for the room's minimal and natural vibe.
5. Andres Vidoza's the Ultimate Minimal Gaming Setup
Video: The Ultimate Minimal Gaming Setup in 2022
Digital Creator Andres Vidoza is dedicated to telling stories with tech. His ultimate minimal gaming setup in his video released in October 2022 got more than 100K views.
Vidoza might serve as an inspiration to those creators in a world of tech, makeovers, and setups, thanks to his 222K fans on his YouTube channel. Since learning is the only way to improve, you must start somewhere. Sharing Vidoza's tips and tricks with your friends can save them the hassle of setting up desks.
You're missing out if you're a gamer and streamer and haven't heard of the minimalist gaming setup. It is stripped down to its bare essentials — like a keyboard, mat, microphone, mouse, and a couple of monitor mounts.
Vidoza uses Ergonofis' Shift Standing Desk for a minimalist gaming setup.
5 Top-tier Sit-Stand Desks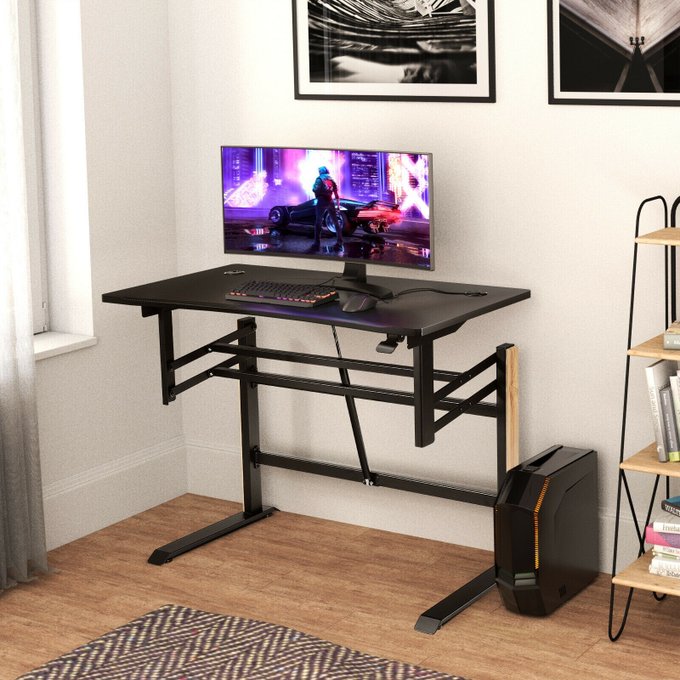 Designed with convenience and functionality in mind, this 55 x 28-inch electric adjustable sit-to-stand desk offers a seamless transition between sitting and standing positions, allowing you to customize your work setup. With its sleek design and advanced features, this desk is perfect for home offices, corporate environments, and educational institutions.
This desk is equipped with anti-collision features with three levels to avoid injuries. Together with that comes a high-quality motor for a smooth and quiet operation. For a tidy workspace, this Costway desk has a headphone hook, a cable management tray, and an under-desk compartment for more storage.
Pros
Anti-collision technology

Quiet motor

Lock and unlock function
Cons
The Amazon Basics is a height-adjustable crank desk. Consider this an option if you can't get the Husky adjustable height work table featured in Omar El Takrori's setup.
This is a 55-inch piece of furniture with sturdy metal legs to ensure stability and give it an industrial feel. Additionally, it has a veneered desktop that can withstand wear and tear without losing its shape or structural integrity over time.
It is very handy for people who are not happy with their sitting or standing position. A lever on the side of the device can be used to adjust the desk's height.
The Amazon Basics also features a raised shelf for the placement of dual monitors. It is intended for more efficient use of the surface area with improved ergonomics when viewing the screens. With its simple instructions and a limited guarantee, you can buy it with confidence as your new workstation.
If you want an expanded workspace or an immersive gaming experience, seeing the features of Amazon Basics is a sign of greater productivity in the future.
Pros
Simple to put together

It has an unlimited position lock

There are no obstacles underneath the desktop
Cons
It is not very stable

The handle doesn't flip up like it's supposed to
The FlexiSpot Essential Standing Desk has a 48 x 24-inch whole-piece desktop. If you want to mimic the workstation of Josh Fenn, then having this can get you started in elevating your work experience.
The wood grain top of the FlexiSpot desktop features a smooth surface that is easy to clean. It has anti-collision technology and can support up to 110 lbs with stability.
The desk's 6-button control panel allows for height adjustment. Four programmable memory settings on the desk allow you to change the level to suit your needs. It also comes with two USB chargers of kinds A and C.
Thanks to the desk's integrated storage box, you can easily manage your wires and connections. For hanging bags, headphones, and other items, there are also 2 hooks. This furniture might satisfy your requirements for a battlestation if you're an enthusiast.
The Flexispot might be your best option that combines design and usefulness for your first setup.
Pros
Its electric motors are powerful

Simple assembly is required

It has many customization options.
Cons
Its motor and additional parts are exposed

Too much weight will be too much for its desktop
The Wuleitex is a 40 x 24-inch electric standing desk. This workstation is just as good as other adjustable-height desks if your goal is to replicate Mike Wat's arrangement.
With the dual motor, it gives, locating the comfiest position for your body is easy. It operates a bit more quickly and smoothly while making noise that is under 40 dB. Custom height adjustments range from 28.75" to 45.25" for the preset buttons.
The workstation comes with two USB charging ports for your phone or tablet. It also has a splice board so that you can easily organize all of your cords. These features can help keep your devices charged and out of sight.
The Wuleitex has an industrial-grade steel frame that allows for a 300 lbs weight capacity. Its dimensions, 55" x 27.5", can provide you enough space for 2 monitors and even 2 laptops plus everything you need for an office.
If you want a design that can offer the convenience of working ergonomically, the Wuleitex can save you from additional and repetitive injury.
Pros
It is affordable

Has excellent quality

Simple to assemble and get started right away
Cons
Noisy when it is adjusted

Its table top is not as thick as advertised
The Designa is a height-adjustable computer gaming desk. This can be your bet to get started if you adore Andres Vidoza's minimal gaming setup.
Nine different heights are available for this 60-inch workplace. It is made to suit users of various heights. This can be raised or lowered to the most comfortable height for you.
Because of its thickness and smoothness, it comes with a high-precision mousepad. You may adopt the most comfortable posture for working, reading, writing, or gaming with its 165 lb weight capacity. It also comes with cold-rolled steel that can support its weight without wobbling or creaking.
The Designa has a round corner safe design to protect you from falling off your chair and injuring yourself. If you work with a laptop, it can protect your laptop from damage if it falls on the ground.
Try Designa if you want a new workspace that can withstand the rigors of daily living while also being fashionable enough to go with any decor.
Pros
It is very sturdy

Table top has decent quality

The pad also covers up the seam perfectly
Cons
It takes time to assemble

The mouse pad may have an issue if the covering wears out
7 Essentials You Need for Your Workstation
Video: A Guide to Organize Your Workspace
1. Mouse Pad
It offers convenience and comfort as you use your PC. A high-quality mouse pad can make your work much simpler by ensuring that your wrists are not put under stress.
2. Monitor Stand
The best stands are adjustable to be used for different screen sizes or positions. It allows you to position your monitor at an optimal viewing angle.
3. Task Lamp
This can provide more light than a regular lamp, making it easier to see small details. They are also adjustable, so you can direct the light where you need it most.
4. Plants
Plants can lower stress levels and increase productivity. Putting up a cactus is a great way to liven up a dull workspace.
5. Desk Mat
Investing in a rubber mat is a good idea if you have a wooden desk. It is not only going to protect your desk from scratches but also increases its life expectancy.
6. Cleaning Goo
The cleaning goo is very sticky and may adhere to anything you put it on. It's perfect for people who don't want their stuff to get lost or thrown away when they clean their desks.
7. Phone Stand
A phone stand can help you to keep your smartphone in an upright position so that you can easily use it. It is beneficial if you wish to configure your camera setup when streaming.
Hand Crank Standing Desks vs. Electric Sit-Stand Desks
Electric sit-stand desks are more convenient and often more cost-effective than hand-crank standing desks. However, if you're looking for something more environmentally friendly and easier on your wallet, hand-crank standing desks are the way to go. See the differences below:
Benefits of Desk Organizers
The main benefits of organizers are that they provide a place to store items that are often in use and they keep the desk free from clutter. Generally, the following are some of the benefits of organizers:
Organization
Desk organizers can help you stay organized by providing a place to store small items such as paper clips, pens, sticky notes, and other supplies.
Stability
When you have messy drawers or piles of papers, it can cause instability and make you less productive. In addition, unstable furniture can be dangerous if someone bumps into it.
Safety
If you have piles of papers on your desk that fall over while you're working, your hands or fingers might get hurt. Organizers can provide a place for cords to be connected.
Conclusion
Buying a desk is a big deal when you're working from home or trying to create an office space in your home. You want something that not only looks good but also meets your needs.
If you are looking for an L-shaped adjustable-height workspace, the Fezibo can fulfill your specific needs. With ergonomics in mind to elevate your working or gaming experience, Wuleitex is the right one for you.
Are you looking for the best setup for you? At Dynamic Setups, we can help you build the setup of your dreams.
Even if you don't know much about desk styles and designs, this list of some of the most popular desk setups on YouTube won't disappoint. Do you have a great idea for a desk setup? Let's hear it! Leave a comment down below.
---