A gaming chair is one of the initial and essential purchases for a gamer. Comfort, toughness, and support are crucial when choosing one for you.
If you want to enhance your gaming setup or realize that your old gear isn't cutting it anymore, this guide can help you pick the best gaming throne available. Let's get started!
Gaming Chair Buying Guide
You must consider the following considerations seriously while searching for a chair to use for gaming. These can help you make a sound purchase and get the quality you are looking for.
Price
Since you'll be using it often, it's important that it fits your budget and makes relaxation reigns. Various gaming chairs are available in the market today, but not all are suitable for everyone's needs.
Material
Ideally, it would last for years without showing any signs of wear and tear. The material should be supportive for long hours of sitting without feeling tired. Materials vary by manufacturer. The top materials are leather, mesh, plastic, metal, and cloth. Each of these materials has benefits and problems.
Adjustability
Adjustability allows you to change your gaming chair's height, angle, and recline. You can also fine-tune the armrests, lumbar support, and backrest. If you are searching for a chair that has good adjustability, then this is something that you should consider buying. The more flexible it is, the better it may be for your health.
Mobility
If you sit for long periods, your body gets stiff and sore. Purchase a chair that lets you get up and move around easily while keeping you relaxed when playing video games on a computer or console.
7 Top Picks for Your Best Gaming Chair Ever
The EWIN Champion Series Ergonomic Office/Gaming Chair - CPB is here, and it's the best chair you'll ever sit in for both work and play. The 2.0 PU leather is resistant to stains and can be cleaned without damaging the outside. The high-density E-WIN Prime foam on the inside of the chair and the movable backrest make it possible to find the ideal sitting posture. 
Hub-Less Casters provide a smooth ride and select chair models with a one-of-a-kind look. You can lock the chair into any reclining position using the full-tilt locking mechanism. Try out the EWIN Champion Series for a luxurious sitting experience with all the bells and whistles.
Pros
Durable 

Stain-Resistant

Smooth Gliding Experience
Cons
Limited Style Choices

Requires Manual Assembly

No Adjustable Armrests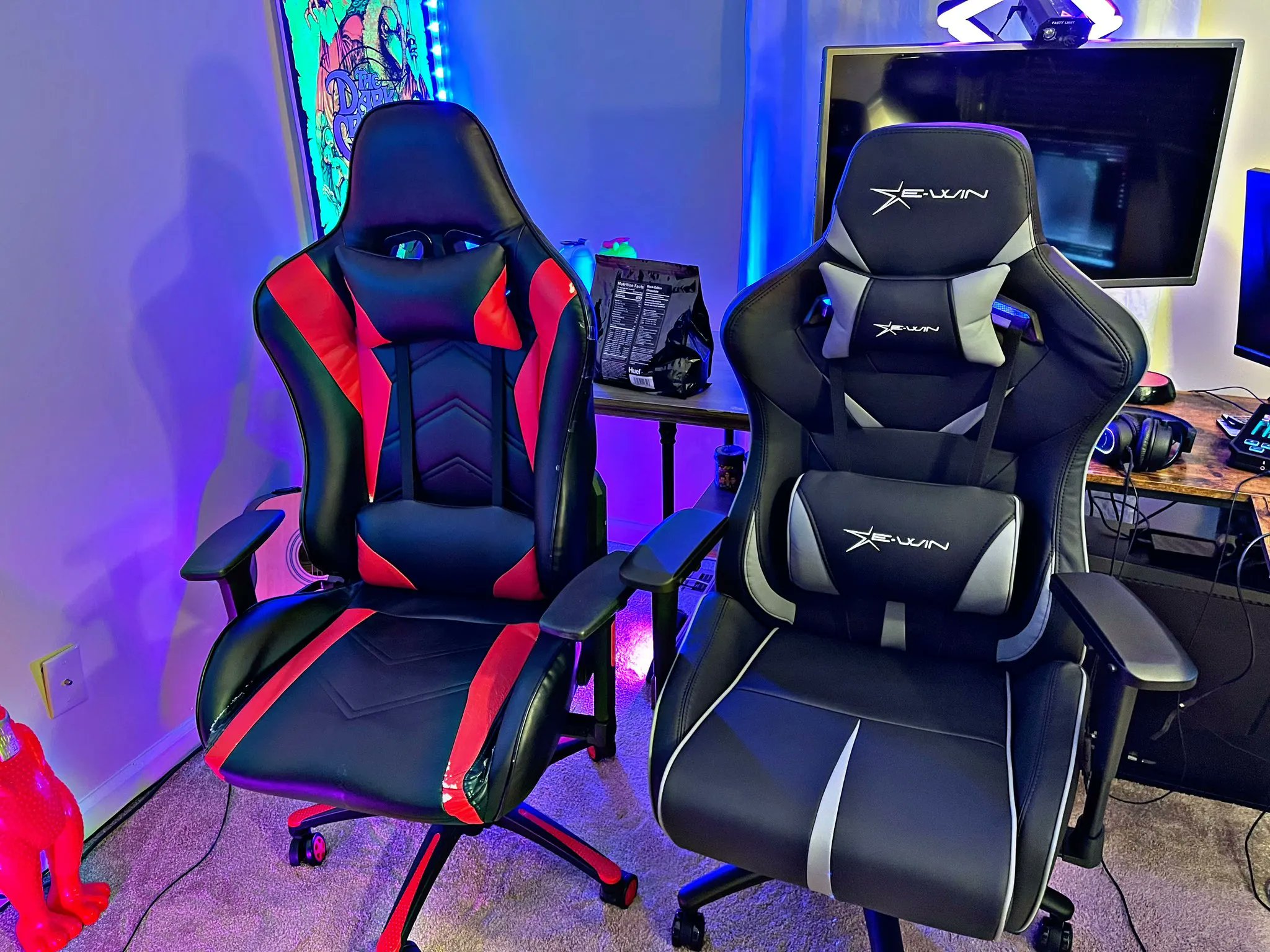 Introducing a chair with large, sturdy, smooth glide rollers that slide easily on various floors without harm or debris, the EWIN Flash XL Size Series Ergonomic Office/Gaming Chair - FLB. This gaming and business chair offers maximum support. Flash XL Size Series is a stylish and functional chair resembling leather. 
High-density foam makes the E-WIN Prime chair comfortable and durable. Our adjustable-back chair is great for gaming, work, and relaxation. Sit comfortably and productively. This chair has a multi-tilt mechanism that provides perfect balance and comfort. Lock it to relax as it offers unrivaled comfort and immersion during long sitting sessions.
Pros
Offers Ultimate Comfort

Sturdy

Adjustable Backrest
Cons
Have A Weight Limit

Sizes Are Restricted

Limited Color Choices
Video: EWIN Knight Series Ergonomic Office/Gaming Chair - KTB Review
This KTB office/gaming chair is the ultimate example of ergonomic design, designed with your long hours at the desk or in front of the computer in mind, so you can relax and focus without getting tired. The EWIN Knight Series Ergonomic Office/Gaming Chair-KTB's high-density foam cushioning and ergonomic design are great for those with back or neck problems. The chair's solidity is ensured by its steel frame. 
The 2D armrests, headrest pillow, and lumbar support all move separately so that you can find the perfect position for you. The beautiful PVC leather used for the upholstery exudes elegance. Thanks to the rolling casters and the reclining back, it's easy to get around. This KTB chair guarantees comfort, durability, and style.
Pros
Made With Durable PVC Leather

Elegant-Looking

Durable
Cons
Expensive

Fewer Color Options
Thanks to the high-density foam padding, pain is lessened, even after extended gaming periods. The adjustable lumbar and headrest cushions provide welcome relief from stress. The steel construction of the TC70 REMIX Gaming Chair ensures its durability and reliability. 
The ergonomic 3D armrests may be moved into several different positions. Even during extended gaming periods, you won't overheat thanks to the PU leather upholstery's built-in ventilation system. The Corsair TC70 REMIX Gaming Chair is the best because it incorporates high-end components into a modern design.
Pros
Comfortable Fit

Sturdy

Adjustable Height
Cons
Take some time and effort to assemble

Pricey

Limited Color Options
The Pink Bunny has a distinctive color combination of white and pink, which stand out in the crowd. Its design is "girly," which is a sign of being too much if you care about maintenance, especially if it gets dirty. This is where sophistication comes into play.
It has a somewhat low-end sit-height adjustment range of 16.5" to 19". Users of all sexes, even those as short as 5'2", will find it an ideal height range. The height range is rather narrow, sitting between 17.0 and 51.1 centimeters (6.6 and 19.9 inches).
This ergonomic gaming chair is designed with high-quality leather and a thick cushion. The dense memory foam allows for a comfortable and supportive place. Additionally, the headrest supports your head enough to prevent it from sagging.
The armrest, lumbar pillow, and headrest may all be adjusted in height, and the chair can be locked between 90 and 155 degrees.
To create an atmosphere of "cuteness," combine the chair with its accessories; the latter is often just as important. This set includes armrest covers in the shape of a round bunny with ears. Plus, a sizable chair mat in pink is provided.
This chair is best suited for female users who do not sweat much. Given that this is not suited for everyone, it might be added to your collection of special thrones.
Pros
It has a premium design

Accessories include a mat

Comfortable backrest

The stand-alone lumbar cushion works better than planned
Cons
Darker chairs hide stains better

Some users revealed unsatisfying control design
The T3 Rush was designed with inspiration from professional motorsport seats. Additionally, the material used is polyurethane which can drain heat quickly. It offers the tailored ease and care needed to compete throughout long hours of gaming.
Regarding PC components, Corsair is well-known for offering top-notch hardware and a wide selection of peripherals. The 4D armrests on this chair may be turned to maintain your posture or adjust in any way.
Also, the chair is available in gray, white, charcoal, and grey. These chairs are alluring and can suit most decor and arrangements. With a 100 mm adjustment range and a class 4 gas lift supported by steel construction, you can easily adjust it to the perfect height.
Everything seems quite sturdy; there are no creaks after a month of everyday use. This throne could fit right into your battle station where comfy confines while having win streaks.
Pros
It has a comfortable and attractive seat

It is made with a breathable material that regulates heat

High in adjustability
Cons
No vibrant color selections

There's nothing to prop your lower back up on
The Razer Iskur can provide total lower back support whether you use it for work or play. This chair offers maximum comfort thanks to an adjustable lumbar curve closely resembling your spine.
Although the chair's tightly woven yarn is exceptionally soft to the touch and resistant to water, oil, and dirt, it is durable enough for daily usage. Additionally, because it is made of fabric, you don't have to worry about trying to keep it clean as you do with PVC leather.
Up to 5 feet, 11 inches tall, people can use the chair (about 180cm). For players with a larger frame, it still doesn't fit well. To find a position that fits the way you sit, you can modify the armrests' height, angle, and forward- or backward-moving capabilities.
The Razer Iskur Fabric was created with you in mind if you appreciate its design and functions but desire absolute relief and something with a little more sophisticated appeal.
Pros
Stylish design with a classic look

It has fabric upholstery
Cons
Price and size of it are not for everyone

Not that easy to clean
Simply under its name, a throne is associated with and often gives authority to the dignitary who occupies it. Who wouldn't want the gaming throne around? It's just another way to mark your territory in the battle arena of home entertainment. It's yours, and you want to sit close to the action.
Have a game room big enough for a gigantic gaming cocoon and $13,000 to burn? The epic Predator Thronos Air covers you from Acer's second generation. If you're a fan of the iconic Predator, you would recognize the structural design of this new technology. The Predator Thronos Air echoes the vibe of a unique battle station.
Its premium abyssal black steel frame design with various teal accents can let any user get inside through its left side door. There is a control pad that any user may find cool. It can manage the scorpion arch to let you in. If you are a serious gamer, your choice for an immersive experience using Thronos Air is the only entry.
It is a gaming station with up to three displays, a shelf for your keyboard or preferred racing wheel, excellent cable management, and now side doors are much more than just a chair.
Thronos features an adjustable peripheral tray and high resilience foam cushioned with a delicate design. Since it has a Zero G-recline, it comes with a tightly gripped latch.
4 Benefits of Gaming Chairs
Gaming chairs have become progressively popular over the past few years. There are several reasons why you should consider using one while gaming, including:
1. Improved Posture
It may help you sit up straight, which can help reduce neck and back pain and improve your posture when sitting.
2. Better Focus
Gaming chairs may increase your focusing skills and attention span, which is especially beneficial if you're playing a competitive game or watching sports on TV.
3. Better Balance and Coordination
Using it may improve your balance and coordination, which can help improve overall performance in sports or other activities where agility is essential.
4. Improved Comfort
Good gaming chairs can make staying comfortable during long gaming sessions easier.
Gaming Chair vs. Office Chair
Both are designed to give you the best experience. Let's see their different features and specifications:
Gaming chairs are specifically designed for gaming but can also be used for other purposes. On the other hand, the office chairs are also spacious and comfortable. The main difference between them is that gaming chairs have more features than office chairs.
Conclusion
Whether new to the space or have been there for a while, gaming chairs are one of the first things gamers purchase. Getting away from a traditional PC setup's limitation starts with a gaming throne.
If you want a retractable footrest, clever backing, and all-around adjustability, RESPAWN 110 Racing Style is best for you. Maybe, Corsair T3 Rush Gaming Chair's top-notch motorsport aura can serve the spot for your monitors. Speaking of monitors, if you're looking to buy one, check out our selection here.
Whatever it is that may bring you up to date, the list offered would not disappoint you. Do you think gaming thrones are overkill or necessary? Share your thoughts in the comments below!
---