Do you want to enhance your visual experience and upgrade your gaming setup? Having an ultrawide monitor might be really advantageous for winning streaks.
Gaming can be much more enjoyable at full resolution with breathtaking results. However, not all monitors are created equal, and finding the best ultrawide monitor for you is difficult. This guide can help you achieve good quality performance with an ultrawide monitor.
6 Considerations Before Buying an Ultrawide Monitor
1. Price
When it comes to gaming and ultrawide monitors, you get what you pay for. That's not to say that you can't get a great deal on a budget ultrawide monitor, but if you really want the best experience, pay more upfront.
2. Screen Size
The larger the gaming specifications screen size, the better it is. Ultrawide displays may allow you to see more of what's happening on screen, making it easier to identify enemies and avoid obstacles. It also makes it easier to play with other people in multiplayer games.
3. Resolutions
While 60Hz might be plenty for most people, some gamers prefer higher refresh rates and smoother gameplay. These monitors' 4K UHD screen resolution means they can support 120 FPS frame rates and offer higher resolutions than standard widescreen monitors.
4. Aspect Ratio
The best ultrawide monitors come with multiple options for viewing angles. Additionally, the aspect ratio determines how much horizontal screen space you must work with. You'll have more space if you're using an ultrawide monitor with a 16:9 aspect ratio. Choose one with all the features you need and doesn't compromise on quality.
5. Curved vs. Flat Screen
The curved screen can give you an illusion of depth when viewing content. A flat-screen can make you focus if you want to view everything easily.
Study how much space you have available for your new curved ultrawide monitor. If you have a limited amount of room, then a curved monitor might be better for you. However, if you have plenty of room to spare, then a flat screen is probably what you're looking for.
6. Panel Technology
Most ultrawide monitors use IPS panel technology with good color accuracy, wide viewing angles, and high pixel density. Some models also include G-Sync or FreeSync capabilities so they can sync with your graphics card to reduce screen tearing and stuttering.
7 Best Ultrawide Monitors for Gaming
You can get the most out of your workspace and enjoy your screen more with the white Ergoton HX Single Ultrawide Monitor Arm. This monitor arm's robust tilt pivot makes it ideal for adjusting the viewing angle of ultra-wide curved panels, making it useful for gamers and office workers. 
You may use it with common monitors like the Samsung Odyssey G9 Gaming Monitor because it can hold displays between 6" and 12" (15.2 and 30.4 cm) deep and 28 to 42 pounds (12.7 and 19.1 kg) light. Make your work or gaming setup more comfortable and enjoyable by mounting your monitor to the desk, freeing up some space. Get more done in less time with the Ergoton HX Single Ultrawide Monitor Arm.
Pros
Enhanced Viewing Experience

This monitor arm frees up valuable desk space.

Versatile Compatibility
Cons
Limited Weight Capacity:

Fixed Size Limitation

Installing the monitor arm may require technical knowledge and time to ensure proper setup.
The 34-inch Samsung SJ55W Ultrawide Gaming Monitor provides stunning pictures and helps you finish more quickly. It is 3440 by 1440 WQHD resolution and produces excellent sharpness and detail images. The 34-inch ultra-wide screen and 21:9 aspect ratio give users plenty of room for simultaneous document editing, gameplay, and movie consumption. 
The Picture-by-Picture (PBP) and Picture-in-Picture (PIP) functions allow you simultaneously show content from two or more sources. Smoother gameplay is yours to enjoy thanks to the elimination of image tearing and stutter thanks to AMD FreeSync technology. The sleek display, classy Y-stand, and metallic bezel are a welcome addition to any office or living environment.
Pros
It delivers stunning image quality with razor-sharp details and vibrant colors.

It provides an immersive visual experience for gaming.

Smooth Gaming Performance
Cons
Limited Connectivity

Limited Ergonomic Adjustability

The monitor's maximum power consumption is 59W, which is relatively high compared to other monitors in its class.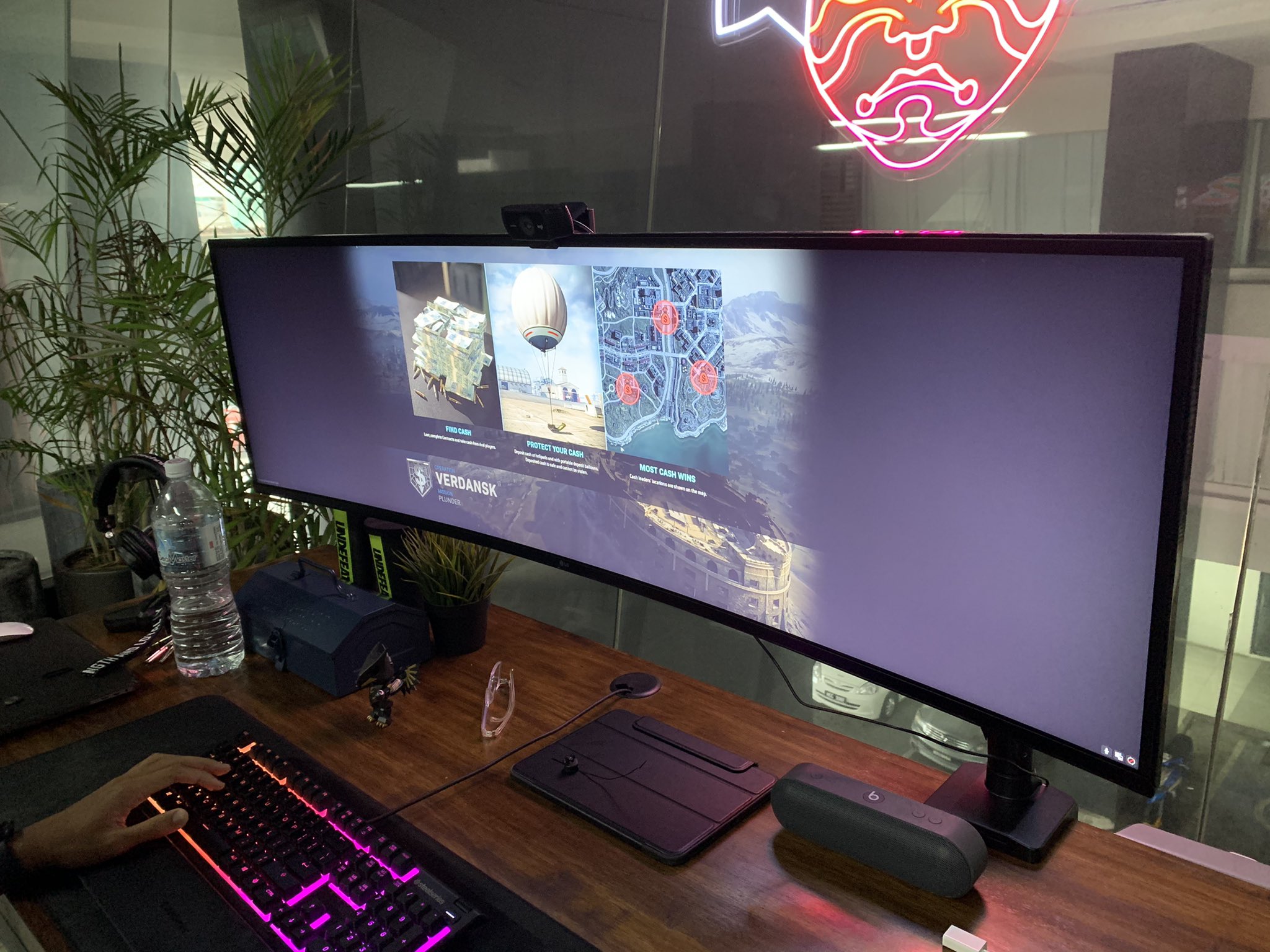 The LG 49WL95C-W Ultrawide Dual QHD Gaming Monitor will transport you into action. The ultrawide 32:9 aspect ratio and 5120x1440 resolution of this monitor's large 49-inch display make for excellent images and a broader field of vision, making for a more immersive gaming experience. 
Detail is brought to life with stunning clarity thanks to 70 percent more pixels than in 32:9 FHD resolution. The IPS display screen offers vivid colors and wide viewing angles, and the nearly bezel-less form factor contributes to the modern style. LG's 49WL95C-W is a top-tier monitor for competitive gamers.
Pros
Immersive Gaming Experience

Enhanced Detail and Clarity

Vibrant Colors and Wide Viewing Angles
Cons
Large Size

High Size

Limited Touchscreen Functionality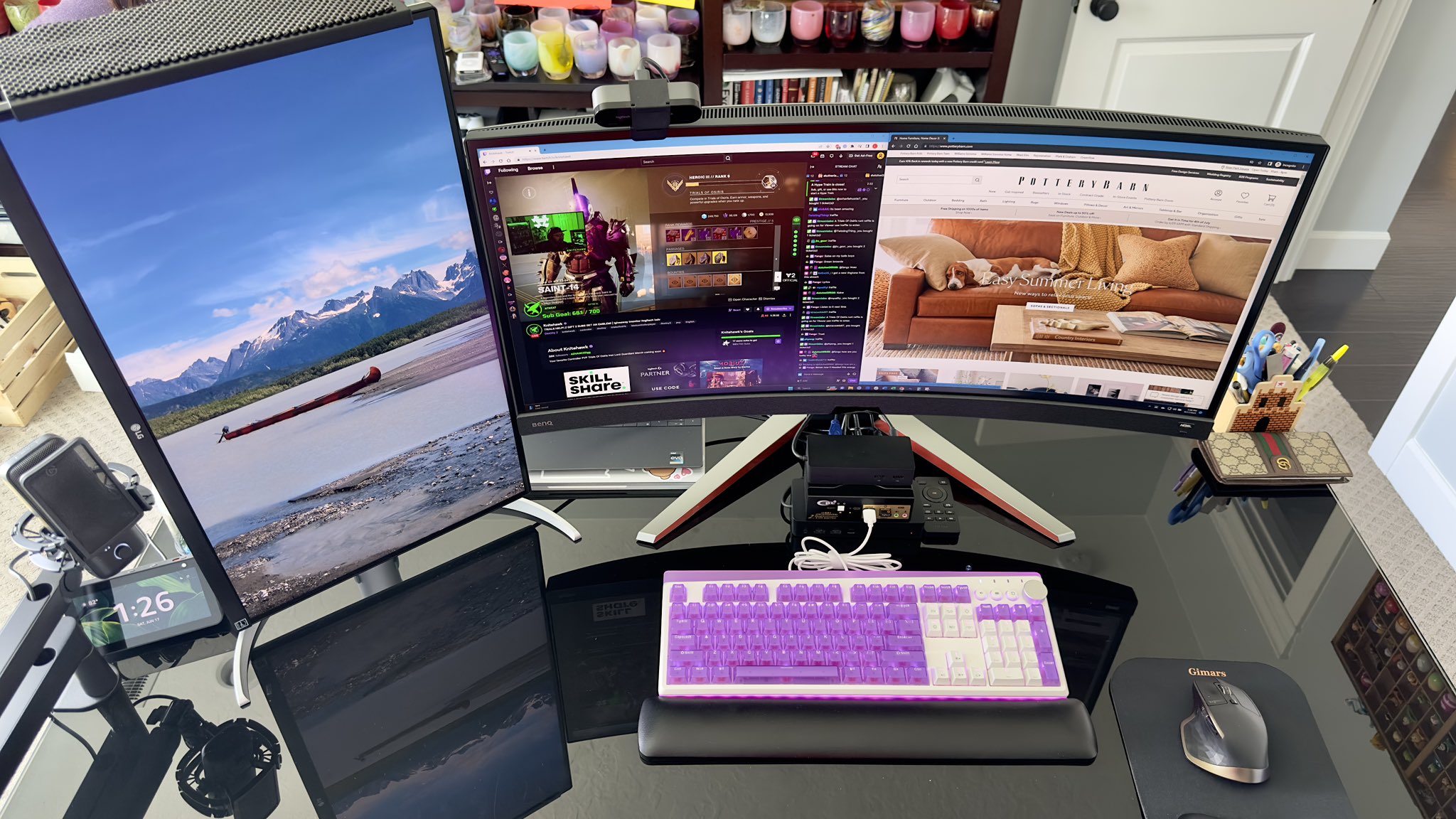 The BENQ Mobiuz EX3410R 34" Ultrawide Curved Gaming Monitor is perfect for competitive and immersive gaming. With the HDRi technology, games have never looked better in aesthetics and strategic depth, thanks to improved color performance, contrast, and clarity. The large, immersive screen made possible by the lack of distracting borders will keep you engrossed. 
The 21:9 1000R curved screen, 144Hz refresh rate, and 1ms MPRT contribute to a very immersive gaming experience. There's no need for bulky additional speakers thanks to the system's high-quality built-in audio. BenQ Eye-Care technology allows you to relax and enjoy your gaming sessions and protects your eyes from potentially damaging blue light and screen flickering.
Pros
HDRi Technology

Immersive 1000R Curved Screen

The monitor provides smooth and responsive gameplay, reducing motion blur and ghosting for an optimal gaming experience.
Cons
Limited Screen Size

The monitor may have limited connectivity options.

The monitor's adjustability options, such as tilt and height adjustment, may be limited compared to other models.
The LG 38BN95C-W 38-Inch Ultrawide QHD+ IPS Curved Monitor offers stunning views and productivity. UltraWide QHD+ displays have three times more pixels than Full HD displays, letting you view more info simultaneously. The Nano IPS display has a wide color gamut that supports DCI-P3 and sRGB and rich, true colors from any viewing angle, making it excellent for image editing and content production.
VESA DisplayHDRTM 600 delivers brighter, contrasty images. ThunderboltTM 3 connectivity eliminates screen tearing and stuttering for smooth gaming. OnScreen Control lets you customize your display, and the right-side dual speakers immerse you in action. Flicker Safe, Reader Mode, and an ambient light sensor make the LG 38BN95C-W productive gameplay.
Pros
It offers a vast viewing area and immersive visuals with three times more pixels than Full HD.

The Nano IPS technology delivers rich, accurate colors with wide color gamut support for DCI-P3 and sRGB.

The monitor supports VESA DisplayHDR 600, providing enhanced brightness and contrast for more captivating images.
Cons
Lack of Height and Tilt Adjustment

Audio Quality
The Alienware AW3423DW raises the bar as it boasts of being one of the best ultrawide OLED monitors for gaming. It offers a breathtaking display with exact color.
Your viewing experience can be great while racking up winning streaks, thanks to an infinite contrast range and a wide color palette. Each pixel on an array can be illuminated by an OLED (Organic Light Emitting Diode), resulting in richer colors and a more colorful display.
By several crucial parameters for gaming, it outperforms any LCD-based display by a significant margin. The Alienware AW3423DW uses QD-LED technology to provide every gamer with DCI-P3 color space and a maximum brightness of 1,000 nits.
Additionally, the contrast and response of a monitor is the most important thing if you are going to use it for gaming. Alienware AW3423DW got you covered. It can help you differentiate colors and make your eyes work better.
The response time of a monitor is the time it takes for the pixels to change color when turned on or off. Fortunately, this ultrawide monitor has a faster response time. To achieve it, make sure that it is set in HDR mode.
Since it is not flawless, the absence of USB-C connectivity also restricts its usability on a larger scale.
Additionally, it's important to note that just one DisplayPort input can deliver the full 175Hz. The two HDMI ports' 100Hz limitation is not a concern if you are not connecting it to the newest gaming consoles.
If you're into height adjustment and anti-glare screens, this can be the ultrawide gaming monitor you want.
Pros
Excellent motion clarity is present

It performs HDR in a spectacular manner

There is no need for user input or calibration
Cons
It doesn't support DSC

Lack of latency is a weakness

It is not a very effective multi-use panel
Video: Acer Nitro XV340CKP review: Close to Ultrawide perfection!
Acer Nitro XV340CK is an ultrawide monitor suited for a gaming setup. If you are a committed gamer who strives to choose wisely constantly, your monitor may benefit from having no input latency, quick response times, and a high refresh rate.
Nitro XV340CK can provide a smooth and responsive gaming experience even if you are tight on budget. Yes, this is the best budget ultrawide monitor and more mainstream when speaking of its design.
Its screen has a 34-inch IPS panel, ideal for you if you are not picky with the brightness. Additionally, it offers the 3440x1440p resolution you require without compromising visual quality, a 144Hz refresh rate, and a 1ms reaction time.
Two HDMI 2.0s and two Display Ports are also included. The bundle includes two USB ports, one USB upstream port, and a headphone jack. USB and HDMI cables can also be of service to you.
Keep in mind that the HDR and contrast ratio is, at best, average, not delivering much more than the standard SDR experience. To calibrate your gaming monitor so the screen doesn't glare, you may need to find a setting that works for you.
If you're looking for a one-screen, decent value option, Nitro XV340CK can be your affordable ultrawide monitor. Therefore, it can fit your needs and budget.
Pros
It is affordable

Great gaming specs are available

Very quick response time
Cons
Its contrast ratio is only fair

The brightness is insufficient to prevent glare

As opposed to a curved ultrawide, it is less immersive
Ultrawide vs Dual Monitor Gaming
Ultrawide monitors are the newest monitor technology trend and have swiftly established the industry standard for high-end gaming. They can provide a staggering amount of screen real estate, allowing viewers to see more of the action without sacrificing quality.
Dual monitors are excellent for productivity but have one huge disadvantage when gaming: they take up significantly more room.
If you want a gaming monitor that combines these features, then it's time to check out ultrawide monitors. Here's what you need to know about them:
Advantages of Using Ultrawide Monitor for a Gaming Setup
There are many advantages to using an ultrawide monitor for gaming. For one thing, it can give you a much more immersive experience. This is because you can see more of your game and everything around it.
Ultrawide monitors may also allow you to play games in a better way than normal monitors do. This is because they give you a wider field of view when playing games, making it easier to find enemies and other objects on the screen real estate.
The other thing gamers love about using an ultrawide monitor is how easy it is to set up and use in their system with minimal configurations.
Conclusion
Gaming on a PC is easier than ever, thanks to the vast amount of gaming monitors on the market. One thing that's still hard to find is a large display that can be used for both work and play. The best solution is an ultrawide monitor, which has become very popular over the past few years.
When playing games with ultrawide panel technology, using Samsung Odyssey Neo G9 may feel like you are inside your game's world. Acer Nitro XV340CK may be your best option if you are on a tight budget.
Maybe you need a portable monitor for when you're on the go? Check out our awesome selection here.
The list of the best ultrawide monitors here won't disappoint you. Whatever you choose, an immersive gaming experience is what you pay for.
Has your experience with ultrawide monitors been good? Share your thoughts in the comments below! 
---